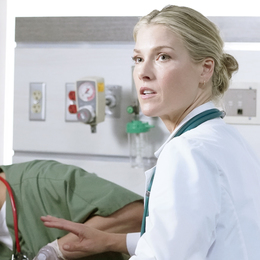 Getting Personal
Cherry Hill native Ali Larter reflects on her career, her favorite vacation destinations and which artists are on her playlist.

With a recurring role in the new season of ABC's The Rookie, the actress who was launched to fame in Varsity Blues is embracing a new challenge. "I play a doctor named Grace Sawyer. She has an 8-year-old and is in the middle of getting separated. She runs into an old flame and they reconnect. ... It's a really fun character for me," she says. "Usually I'm [playing] a tough chick in an action role. This is someone who is more composed and embraces her intelligence, but at the same time she is a really great mother and a caring woman."

This month, Larter recounts childhood memories and the importance of family time:
I feel incredibly lucky that I grew up in Cherry Hill.
I have such fond memories of my time there. I lived in the same house until I was 18 years old. My sister and I walked to school with our dog Dusty. We'd ride our bikes to Covered Bridge Swim Club. My parents would take us to an old bar called The Pelican; they would get cocktails and we'd get hot chocolate.

Living in LA, I really miss having the four seasons. I'd love to be able to go sledding.
When I'm not on the set, I love cooking.
I published a cookbook five years ago and I cook with my kids
at least a couple days a week. We have family dinners at least three days a week and it's a way for me to show my love. I do miss Panzarottis and Jersey tomatoes.
I feel incredibly blessed to do what I love and make a living at it.
This business has a really short span for a lot of people. My first movie was Varsity Blues in 1999 and that had such a huge impact on people and an entire generation. It's interesting in this business what connects with people, you never know what will.
When I began modeling as a teenager, I loved being exposed to New York.
I blossomed in that world. It juxtaposed how I was brought up in Cherry Hill where I was quiet and a tomboy. When I went to New York, it was the next stage in my life and that would have never worked if I wasn't raised with such a strong family foundation.
I'm a classic girl and not a very trendy person.
I love a great pair of Levi's, a white shirt and my
Air Jordans.
My family just built a house
, so I love sitting outside with a good glass of wine and watching the sunset. We also love to go swimming or take walks to the park; we are a busy family.
Some of my favorite singers
these days are Leon Bridges, Kacey Musgraves and Halsey.
I love going to Tokyo, I've been there five times and I can't wait to take our kids there.
I also love Europe—my husband and I go to Paris a lot. It's a dream of ours to get to South America and go to Patagonia; that's next on our list.

To read the digital edition of South Jersey Magazine, click

here

.



Published (and copyrighted) in South Jersey Magazine, Volume 16, Issue 7 (October 2019).

For more info on South Jersey Magazine, click

here

.
To subscribe to South Jersey Magazine, click

here

.
To advertise in South Jersey Magazine, click

here

.