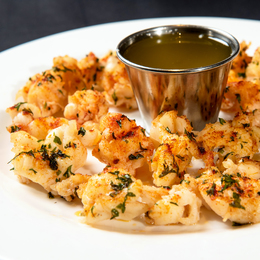 Palate: Turning a Corner

Things haven't always been easy for our beloved Moorestown Mall. What started with recession woes led to massive shop closures. Instead of clinging to the stores and retail chains that were struggling to draw crowds, the Moorestown Mall team turned its sights on the food industry, transforming the township with new liquor licenses and redesigning the mall through restaurant concepts meant to bring hungry South Jerseyans in for a bite.

First came Marc Vetri's Osteria, a fine dining Italian eatery featuring high-end entrées alongside wood-fired pizzas. Then there was Distrito, a modernized Mexican restaurant owned by Philadelphia celebrity chef Jose Garces, alongside several other eateries and a remodeled food court to boot.

Almost as quickly as they arrived the doors started to close, as Osteria left in 2015 and Distrito followed in 2018. The closures were no fault of the area or the diners: Vetri's Osteria was closed shortly after he sold his restaurant group, and Garces lost big when he filed for bankruptcy, selling off his restaurants and shuttering many in the process. It was easy to feel like, once again, South Jersey dining was getting the short end of the stick.

But the Moorestown Mall dining scene is getting its second wind once again, after taking notes from the locals and figuring out what works. Newest to the scene is Joe Italiano's Maplewood, which is filling the space of Osteria after a brief stint by Catelli Duo.

Another Italian space may seem like a stretch for some, but with two other South Jersey locations, Maplewood has developed into its own brand that pays close attention to what our local diners really love. Each dish comes with handmade pasta and a starter of salad, more than enough for a truly satisfying meal. And you'll find Italian-American classics that are familiar enough for a more refined palate alongside new and exciting house specialties.

The menu is very seafood friendly, especially when it comes to shellfish. Our meal started with a plate of lobster bites, which consisted of broiled bits of lobster tail, lightly tossed in a butter sauce and served with lemon and melted butter.

They don't skimp on the serving, and it was the perfect size for sharing among several people. The bites were tiny but still buttery and bursting with flavor.

Another starter of fried ravioli delivered exactly what was promised: Large, cheese ravioli coated in classic seasoned breadcrumbs and fried. They were served with a house-made marinara sauce that I could have easily eaten with a spoon. It was the perfect blend of savory and sweet, hit with just the right amount of seasoning and blended until smooth.

The sauce from the ravioli initially made me desire a marinara-based entrée, but that changed as soon as I tried the Joe's Special. It starts with house-made spaghetti, tossed with jumbo shrimp, clams, mussels, massive chunks of crab and chopped conch meat. It's all served in your choice of red or white sauce, and I went with the white option. It was rich, buttery and bursting with fresh garlic flavor, soaking into the super-tender pasta and brightening up the delicately cooked shellfish.

House-made spaghetti made another appearance in the entrée of Scallops and Shrimp Blush. A massive portion of scallops was tossed in a hearty, creamy blush sauce, and then finished off with three large shrimp over pasta and fresh chopped parsley, which added the perfect touch to each bite by helping cut the heaviness of the dish. The shellfish was, once again, perfectly cooked, melting into each bite and adding its own bit of flavor without overpowering the sauce or pasta.

The finishing touch of two cannoli arrived, each packed with chocolate chips and a light creamy filling and perfect for sharing. It was a triumphant end, not too heavy and just the right amount of sweetness balanced with the crispy outside shell.

Like I said, things haven't always been easy at the Moorestown Mall, but despite changing times and an uncertain retail future, the dining in the mall continues to respond to what our area wants. Maplewood is shining proof of that: It gives locals the Italian food flavors we've come to know and love in a setting that's upscale but still comforting. Maplewood shows that we don't need the big-city celebrity chefs to come in and tell us what we should be eating: The best of the best has been right at home all along.

Joe Italiano's Maplewood
400 Route 38 | Moorestown
856-242-2851 |

JoesMaplewood.com



To read the digital edition of South Jersey Magazine, click

here

.



Published (and copyrighted) in South Jersey Magazine, Volume 16, Issue 7 (October 2019).

For more info on South Jersey Magazine, click

here

.
To subscribe to South Jersey Magazine, click

here

.
To advertise in South Jersey Magazine, click

here

.