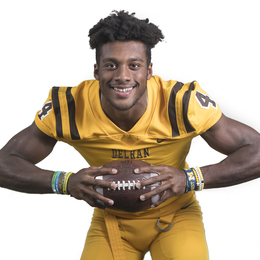 Cream of the Crop
These nine standout student-athletes from South Jersey are primed for greatness this fall.
RJ Moten, Delran football
An outstanding all-around athlete who plays running back and safety, Moten scored 20 touchdowns and intercepted five passes as a junior to help Delran post an 8-2 record. Also a standout center fielder in baseball, he will play both sports next year at the University of Michigan.
SJM:
What are your major goals for your final season of high school football?
RM:
To put Delran back on the map. That's not just my goal but the goal for our team and our coaches.
SJM:
Last year was a great one for the team, but there was a lot of controversy about Delran not making the playoffs despite a 7-1 record at the cutoff. Did you and your teammates grow from that experience?
RM:
Yes, 100 percent. Going into last year, I knew we had a good team but I didn't know how good. Our coach told us we were going to do something special. We had great talent and a great line. I thought we were going to make the playoffs, but it didn't happen. We're coming back with the same mindset this year, to compete every single day.
SJM:
Do you feel like you're in a leadership role as a senior?
RM:
Yes. We have 18 seniors and we've all been playing together since before fifth grade. Everybody knows this is our last chance to play together and we're all working to win a state championship.
SJM:
What led to your decision to commit to Michigan?
RM:
When I first got the offer my dad was like, 'It's Michigan. What's not to like?' I was excited to visit, but I just wanted to see what they had to say. Talking to my safeties coach [Chris Partridge] and coach [Jim] Harbaugh himself, I got to see what everyone's goals are. Playing under [defensive coordinator] Don Brown is also a huge deal, and the academics there are great, so that was a plus when my mom came out. I just felt like it was home and I knew it was the one.
SJM:
Is Jim Harbaugh as intense in person as he seems on TV?
RM:
[Laughs] No, not at all. A lot of people ask me that. He's actually a goofball and he's always joking. … I knew he had a joking side when I asked him about playing baseball and he ran into the back of his office, grabbed a bat and started swinging. He was just ranting about his baseball career and challenging me to go down to the baseball field next time I'm out there.
SJM:
Are you looking forward to playing in front of huge crowds against rivals like Ohio State?
RM:
Oh yeah. Everybody says Michigan Stadium is big; I Googled it and it's one of the biggest stadiums in the world. But once you walk down that tunnel, it really hits you. That place is huge.
SJM:
Do you know what you want to study in college?
RM:
Criminal justice. My grandfather passed before I met him, but my mom always told me stories about him being in the Army and the military police. My dad was a chief in the Camden County Prosecutor's Office, so growing up I was always hearing stories about homicides and stuff like that. As bad as it sounds, I found it interesting. I started watching all the cop shows and it just seemed like something interesting to do.
SJM:
Your dad, Ron, also played football and was drafted by the Eagles. Does he tell you stories about his playing days?
RM:
All the time. A lot of people will compare me to Bo Jackson since I play football and baseball. I remember one time someone asked my dad about that and he just smirked. He said, 'I played against Bo Jackson. I had to tackle Bo Jackson. He's no Bo Jackson.' But he always tells me to be appreciative, to thank God and to stay humble.
SJM:
Have you seen old Bo Jackson clips?
RM:
Yeah, I've seen them. It would've been fun to play against him.
SJM:
Are you an Eagles fan because of your dad's ties to the team?
RM:
Yeah, I guess you could say that. But I'm more of a college fan. It would be crazy to play in the NFL, but it's kind of boring to watch.
SJM:
Was baseball always right up there with football as your favorite sport?
RM:
Oh yeah. I started playing baseball first, but I would always get my sister to play football with me and have her be the running back so I could tackle her. I eventually played football and baseball and it just became a part of me. I play baseball up until August, and then football starts. I've gotten used to playing both back-to-back. Some schools told me I couldn't play baseball [in college], but I knew there was going to be one that would let me and Michigan did.
SJM:
What do you love about baseball?
RM:
I like having my own world out in center field. If the ball is in the air, it's getting caught. That's how I think about it. Baseball is my relaxing time.
SJM:
Do you get your swings in at the cages during football season?
RM:
I usually don't start swinging until December, because my mode right now is football. But I will do some football stuff during baseball season.
SJM:
South Jersey has produced a lot of football talent recently, such as Jonathan Taylor, a Heisman Trophy contender right now. What are your thoughts on that?
RM:
It's a blessing. A lot of people say that all the college football talent comes from Florida or California or Arizona. But guys like [Xavier Coleman from Lenape] and Fadil Diggs [from Woodrow Wilson] are all getting heavily recruited. We're trying to prove to people what South Jersey can do. For me personally, to see what Delran went through, I never thought I could have [Penn State coach] James Franklin walking through my school or [Jim] Harbaugh walking through my school. Just to get that call from a teacher saying that Notre Dame is here, that's pretty cool.
SJM:
Aaron Lewis from Williamstown is also committed to Michigan. Have you gotten to know him?
RM:
Yes, and we also have Jordan Morant from Bergen Catholic. Our class is going to be something special. We all text in a group chat and we're going up to Michigan for either the Notre Dame game or the Ohio State game. I can already tell we have a bond.
SJM:
What do you like to do when you're not playing football or baseball?
RM:
I'm pretty much doing something with sports every day. I'm not really a homebody, but now I kind of am since my girlfriend is at college. Even when we hang out, we'll go out and have a lacrosse catch because she's a lacrosse player, or she'll play quarterback and throw me the ball. Her and my sister both play lacrosse, so I'll play them to help them get better. I'm always around sports; Sunday is my only down day.
Amanda Attanasi, Washington Township soccer
Attanasi, a junior midfielder, burst onto the scene two years ago as a freshman, setting a school record with 29 goals. The James Madison recruit followed up with an all-state selection last year and is once again one of the premier talents in all of New Jersey.
SJM:
After two tremendous seasons to start your high school career, what's it like now to be one of the older kids?
AA:
It's a little bit different. Being an upperclassman, you fit in with the seniors more, and being a captain, you get to know everyone all the way down. You're also more experienced, so I like it.
SJM:
You came in as a freshman and set a school record with 29 goals. Were you surprised to be so successful right away?
AA:
Yes. I did not expect to do that well at all. The players around me were from my club team so we kind of had the chemistry and it made things a little easier. I'm small and tiny and I wasn't experienced at all, so I was surprised my teammates were playing me the ball. But we got in a groove and I figured out how everyone played, and we were successful.
SJM:
That season brought you a lot of attention. Did it change how others teams strategized against you?
AA:
I get a lot of double teams now and it gets frustrating sometimes. Against Williamstown, one girl said they designed their whole game plan around me. But I'm not the whole team; my teammates are also great assets and anybody can score.
SJM:
It seems that even though you're still scoring this year, you also have a lot more assists.
AA:
Yeah, more than I've ever had. I picked up the midfielder role this year to help our team out. Having [Giovanna Castorina] on the side and our striker Megan Smith, they know how I like to play through balls so they know to run on and it kind of splits the defenders.
SJM:
Do you like playing against great teams like Eastern and Shawnee in the Olympic Conference and Group IV?
AA:
We have a lot of rivals and we play the best competition. Having three great teams going up against each other all the time is great. I get up for Eastern and Shawnee. They're both great teams and I have a lot of respect for them.
SJM:
Who is someone else from South Jersey you admire as a player?
AA:
Riley Tiernan and Kelli McGroarty from Eastern, for sure.
SJM:
Do you play any other sports?
AA:
I play basketball but I don't think I'm playing this year. I tried other sports growing up, like softball and cheer. But soccer and basketball were always my two favorites, and now I'm narrowing it down as I get older and trying to focus on one.
SJM:
A lot of female players are being forced to give up high school soccer because of their commitment to the Development Academy. Was that ever an option for you?
AA:
It was an option but I like playing high school soccer. I didn't want to miss out on the memories I'm making, especially with my last two years coming up. I still play club in the winter and spring.
SJM:
What was it like growing up as a triplet along with your sisters Taylor and Paige?
AA:
It was fun. We all played the same sports, but we were different. One was good, one was bad, one couldn't hit the ball. As we got older, we started to separate as far as [our activities]. Paige does cheer and Taylor plays soccer with me. But we all talk about everything and we share the same room.
SJM:
You also have an older brother, right?
AA:
I have an older brother who's a senior and a little brother who's a freshman. There's always someone around. I feel like if you're an only child, you're always looking for someone to hang out with, but I always have someone to hang out with. It's fun.
SJM:
Why did you commit to James Madison?
AA:
I was getting interest from a lot of colleges and they were never really on my radar. But after they reached out, I went down and I loved it there. I loved the coaching staff and the players and how they're growing as a unit. The campus is so pretty too. I picked it and I haven't regretted it one bit.
SJM:
Do you know what you want to study in college?
AA: Probably law enforcement. I take after my dad [a retired policeman] a little bit.
SJM:
What do you like to do when you're not playing soccer?
AA:
I watch Netflix a lot. I always like to be doing something, like going out for a run. I like to listen to music and hang out with my friends. I don't do too much aside from soccer.
SJM:
Who is the funniest person on your team?
AA:
Isabelle Pingol. She always adds something funny to the conversation or makes a funny face. She's always dancing randomly.
SJM:
What do you like about growing up in Washington Township?
AA:
I like the pride around it and the support everyone gives. Every game is always packed, no matter how good or bad we are. I like the colors too.
Pallavi Goculdas, Cherry Hill East tennis
A varsity singles player since her freshman year, Goculdas has held down the No. 1 spot for the Cougars the last three seasons and led them to a sectional championship in 2018. She also won a pair of matches at the state singles tournament and is being recruited by several colleges
.
SJM:
After a memorable junior season, are you excited to see what you can accomplish as a senior?
PG:
Yes, I'm very excited. It's really busy at the moment but I'm looking forward to seeing how everything goes. I'm trying to go undefeated in the regular season and our team is hoping to go to the state championships and the Tournament of Champions. That would be excellent.
SJM:
What did it mean to the team to reclaim the sectional title last year?
PG:
That was very important to us. We worked so hard and everyone had a great team mindset. It was nice to see the end result.
SJM:
You reached the final of the South Jersey Interscholastic Championships last year and lost to Moorestown Friends' Renna Mohsen-Breen. Is she toughest player in the area?
PG:
Yes. She's one of my good friends and I'm really looking forward to playing her again. We actually train together at High Performance Tennis Academy. She's a really great player and a great person too.
SJM:
What's it like competing in the state singles tournament?
PG:
It's definitely tough. You get a lot of good tournament players so it's an excellent experience. I'm looking forward to going there again.
SJM:
What kind of influence did your brother Rahul, a former No. 1 player at Cherry Hill East himself, have on you?
PG:
We grew up playing together and I've always admired how physically fit and mentally strong he is on the court. I've always looked up to him as a person and a player, and we both look up to our parents. Whether I'm at work, in the classroom or playing tennis, I always think about my brother and my parents and how hard they work and try to model that.
SJM:
Were your parents athletes too?
PG:
They both grew up playing sports. My mom did track and my dad did ping-pong, squash and a little bit of tennis. We got into tennis, soccer and swimming growing up, but tennis is what we both stuck with.
SJM:
Which professional players do you like to watch play?
PG:
I like Dominic Thiem, Ashleigh Barty, Roger Federer and Rafael Nadal. Barty is not one of the household names yet, but she great variety and she really uses her mind while she plays. I like watching her a lot.
SJM:
Did you watch the U.S. Open last month?
PG:
Yes, and I went for two days. It's an awesome experience; it's so different to see them in person. I saw the second round and then the third round the following day. I also got to see some juniors that I actually know personally, so that was really cool. People I have played against were playing in the Junior U.S. Open, which was amazing to see.
SJM:
If you could pick another Grand Slam to see in person, which would you choose?
PG:
Probably the French Open, because I love clay so much. I love to play on clay because I like to use slices and drop shots, and that's perfect for clay courts. I also like to slide on the court, so I would love to see the French Open.
SJM:
Are you hoping to play tennis in college?
PG:
Yes. I would really like to go to a strong business school with an excellent tennis program and some great extracurricular activities, clubs and organizations. Hopefully I'll be set up to have a great internship and then a full-time job in investment banking and venture capital. I've always been interested in math and business, especially since my parents have been in different sectors of business. I grew up loving Shark Tank and Mark Cuban and The Profit, and I'm in the marketing club at school. I participate in the DECA high school business competition and I also work at Code Ninjas, which is a place that teaches kids how to code and use computer programming. So I've learned a lot about business and found that I'm passionate about finance specifically.
SJM:
What do you do for fun?
PG:
I like to listen to music a lot and I also love to read. I love J. Cole and in general I like R&B and hip-hop. I read all kinds of books, but my dad and I are very similar in that we love non-fiction books, especially those involving business, because there's always something new you can learn. I have six AP classes right now so I'm busy with school, work and tennis, but I also love to hang out with my friends whenever I get a chance.
SJM:
What do you like about growing up in South Jersey?
PG:
It's a very diverse place and I love that everyone has a different cultural identity or background. Not everyone believes in the exact same thing, so I think you grow up being fairly accepting and exposed to different cultural backgrounds.
Ethan Wechsler, Cherokee cross country
As a junior, Wechsler became just the second South Jersey runner since 2001 to capture the Group IV state championship, and he also won titles at the Olympic Conference and sectional meets. He is looking forward to adding to his list of accomplishments as a senior.
SJM:
After a huge junior year in cross country, what are your goals for your senior season?
EW:
I definitely want to go after the Meet of Champs title and pretty much win every race I can.
SJM:
Last year you became the first South Jersey runner to win the Group IV state crown since 2012. Did you see that coming?
EW:
That was totally a surprise. It's hard to tell because some teams don't always race their best kids [leading up to states] and some kids have good times but they're not at Holmdel; Holmdel is just a completely different stage for everyone. So going in, I knew it wasn't going to be easy, even though I obviously wanted to win. I was so excited when I won. I had won my conference and sectionals before that, but that was the big one.
SJM:
Do you like running at Holmdel for states and the Meet of Champions?
EW:
I love it. It sorts out who can run cross country. I've noticed that a lot of my races up there, even on the track, end up pretty good. I guess I have good energy up there so I hope that doesn't end this year.
SJM:
Cherokee has a great tradition of distance runners. Do you and your teammates feel a responsibility to carry on what the guys before you have done?
EW:
The class before us was pretty small; there was really only one guy who ran cross country. Our class, the class of 2020, has a lot of runners and we really felt the need to extend the team culture over the last few years. It's great to be a part of it. Every year, there seems to be another amazing runner. We haven't really pulled it together as a team yet [with a state championship], but that's what we're aiming for this year.
SJM:
Why do you think Cherokee produces so many successful distance runners?
EW:
Because [Steve Shaklee] is the best coach. You determine how well you're going to do by how much you listen. If you listen to Shak, you'll be fine.
SJM:
How did you get interested in the sport?
EW:
I started running track when I was really young, like second grade. Cross country became a Marlton Rec program when I was in fifth grade, and that was founded by Bill Shea, who is [former Cherokee standout] Jack Shea's father. Jack's brother, Brett, is one of my teammates now. They started that and a lot of good runners come from that program. We get experience there before coming to high school and that really helps.
SJM:
What's your mindset when you're running?
EW:
I've noticed lately that when you're running with your teammates, it goes by so much faster because you're talking to each other about your day and stuff like that. But in the race I just stay focused on who's in front of me. Racing goes by so fast that when it's over, I usually don't even remember the race.
SJM:
Do you have a routine you follow before a big race?
EW:
No, I'm not really ritualistic. I just get lots of sleep the night before and eat well the day of the race. I don't ever listen to music or anything. One of the things I didn't really like about our team in the past was that you couldn't even talk to certain kids or be near them before a race. It was just a bad vibe. I like to be approachable. You want to take it seriously but not make it overbearing.
SJM:
What are your interests away from running?
EW:
I spend all of my time with the team. They're all my best friends. We're also friends with a lot of the kids on the other teams, so sometimes we'll go hang out with them. All runners will tell you that we don't do much, because we exert so much energy. During the summer, we would practice in the morning, go to Wawa and get some breakfast, and then just lay around someone's house for two hours.
SJM:
Are you looking to run in college?
EW:
Definitely. I took visits to Syracuse, Penn State and American University and I'll probably be choosing one of them soon. I'm excited about it and scared, because I just don't want to be denied by anyone. There are so many kids who can run around here and across the country, so I don't want to have someone commit before me and then miss out. So every day I'm waking up and saying, 'I have to figure this out.'
SJM:
Do you know what you want to study?
EW:
I'm thinking business right now, but that could change. If I end up in Washington, D.C. [at American], I might go with political science.
SJM:
What do you like about growing up in South Jersey?
EW:
Everything. You can always go to the Shore, which is great. I love Wawa; I was just joking with a friend that one of the colleges I'm looking at has Wawa and another doesn't, so that's a big factor. The sports are also great around here, especially running. There are so many programs that they just don't have in other parts of the country. More people are driven to run around here.
Xavier Coleman, Lenape football
Coleman, a junior running back/safety, is a three-year varsity player who broke out last season as a sophomore with over 750 yards rushing and 10 touchdowns. He has emerged this fall as one of the most electrifying players in the area and is being recruited by a host of well-known college programs.
SJM:
What are your goals for this season?
XC:
Obviously, our hopes are to get to MetLife [Stadium for the Group V bowl game]. I feel like this team gets even better as time goes on. We have a lot of people back from last year and I think we can open up our offense because our coach trusts us more.
SJM:
You've been a varsity player since freshman year, but do things feel different now that you're an upperclassman?
XC:
I feel like the more I get on the field and the more experience I get, it definitely helps me. A lot of people are in their first or second year. Being in my third year, I've already been in a lot of games and seen obstacles come my way.
SJM:
As a kick returner, you're always a threat to score. What is your mindset in that role?
XC:
My coaches put me back there for a reason, so I feel like I have to make a play. That's the third aspect of the game: offense, defense and then special teams. If you're good on special teams then you can be a great team.
SJM:
Have you always played running back?
XC:
Yes sir. I like having the ball and as soon as it gets in my hands, I can make a play. Being able to help my team is the biggest thing.
SJM:
Is there a running back you admire that you like to model your game after?
XC:
There are a lot of them. Alvin Kamara is a big one. I like guys who can catch the ball and run the ball effectively. My favorite running back right now is Le'Veon Bell. He can play the slot, he can run the ball and he can pass block.
SJM:
How is the recruiting process going?
XC:
It's been a blessing and I'm taking it day by day. A lot of schools are talking to me and I have some great opportunities, but I'm not letting it derail what I'm trying to do this season. It's on the backburner right now since I'm in my season, but I'm still talking to schools and I appreciate [their interest]. It's a blessing to have those offers.
SJM:
Some big schools are interested, including Washington State, Baylor, West Virginia, Temple and Rutgers. Has it always been a dream of yours to play at that level?
XC:
Ever since I was a little kid, I always watched college football before my games on Saturday. I thought, 'Can I get on this stage?' All the hard work and effort I've put in, and the people by my side, have helped me get to this point.
SJM:
Do you know what you want to study in college?
XC:
Right now, either accounting or sports management. I feel like there are a lot of job opportunities in accounting after football. And if I did get the opportunity to play in the NFL, sports management would help me understand things from a management standpoint and build relationships.
SJM
Are you and Eagles fan? What are your expectations for their season?
XC:
Yes sir. They're starting out a little slow but I think they'll pick it up at the end. That team can be great with the coaches and players they have.
SJM:
How do you get ready for a big game?
XC:
I have a Friday playlist that I always listen to. It's got some Drake on it, some Meek Mill, some Chief Keef. That gets my head right and ready to have some fun out there. This is what I love to do, so I get myself amped up and super excited for the game. Once I see my mom out there, she's the reason I play this game, so that definitely gets me ready to go on Friday nights. She's my No. 1 supporter.
SJM:
What do you do for fun away from football?
XC:
Listen to music, draw and spend time with family. I have a big family and they're all super supportive, so I appreciate them. I have four brothers and I'm the second oldest. My older brother has always been a role model, and I have to look out for my younger guys.
SJM:
What do you like about Lenape?
XC:
It's a family atmosphere. Everybody knows each other and says hello. When I came to Lenape from Pennsauken, I saw that it was a family-oriented place. I also have a good relationship with all of my teachers.
SJM:
What's the best thing about growing up in South Jersey?
XC:
South Jersey is so different from everywhere else. We just have that grit. There are a lot of football players around here who are going on to become big-time college players. I've been playing against RJ [Moten] since Pop Warner. You can build a lot of relationships like that.
SJM:
When you see someone like Jonathan Taylor from South Jersey become a Heisman Trophy candidate, does it give you confidence that someday you can accomplish big things?
XC:
Definitely. If I put in the work, I think I can make plays for my team on the big stage, whatever school I go to. I hope I can be in that position, for sure.
Tara Somers, Eastern field hockey
A senior midfielder who contributes at both ends of the field, Somers made the all-state second team last year after helping the Vikings post a 27-0 record and win the Tournament of Champions. She hopes to lead them to their 21
st
straight state title this year before continuing her career at St. Joseph's.
SJM:
Eastern has been a powerhouse in field hockey for a long time now. What does it mean to you to be part of that tradition?
TS:
It's awesome. There's a lot of pressure, but I feel like we deal with it really well. We come together as a team and when we go on the field we give it our all. There's definitely [a bull's-eye] on us, but when we go out on the field we just work hard and play our game.
SJM:
Do you like playing for coach Danyle Heilig?
TS:
She's obviously tough, but she makes us better as players at the end of the day. She grows our game tremendously. I came in as a tiny little freshman, and you can definitely tell throughout the years that she's built my game more and more.
SJM:
Was it cool to be part of her 500th career win last year?
TS:
It was so special. As a player of hers, seeing her accomplish that made me so happy for her. I was proud to be part of it.
SJM:
Do you like playing in the midfield and being involved in the entire game?
TS:
Yes. I have to work on offense and defense and I like being a part of both sides.
SJM:
Are you stepping up offensively since Kara Heck, one of your best scorers, is out for the year with an injury?
TS:
There was obviously a hole that needed to be filled. She was a huge part of our game, but we've worked around it and come together and we're still super strong. She still comes to our practices and games and cheers us on.
SJM:
The rivalry with Oak Knoll is always a good one and they handed you a tough loss earlier this year. Are they your biggest obstacle to repeating at the Tournament of Champions?
TS:
We always have them in the back of our mind because they're our toughest competition. I feel like we play our best when we go up against them, and the same thing for them. Both of our levels go up.
SJM:
Can you describe the feeling of winning the Tournament of Champions?
TS:
It's great. It's everything you worked for throughout the season and it finally pays off. I think we can get back to that point, but there are always bumps in the road that we have to overcome.
SJM:
How did you get into field hockey in the first place?
TS:
My whole family—all my sisters and cousins—play field hockey. I was in first grade when I started and I've always loved it. I played with one of my sisters when I was a freshman, and another one is a freshman right now on JV. It's fun going to practices with her and everything. It's pretty special.
SJM:
Aside from your sisters, who are the players you looked up to as a kid?
TS:
My cousin Jade Dixon; she graduated from Eastern eight years ago. I've always looked up to her and I always go to her for talks and everything, and she gets me through it.
SJM:
Why did you pick St. Joe's for college?
TS:
I love how it's close to home, but also when I'm there it feels like home too. I like the girls on the team and the coach, so I'm very excited.
SJM:
Do you know what you want to study?
TS:
I have no clue. I should probably start thinking about that. I like social studies and history, so maybe I can do something with that. I'm actually pretty good at math too, even though I don't really like it.
SJM:
Is there anyone on your team who can lighten up the situation with a joke during a rough practice?
TS:
We have a couple of people like that. We're such a close team and we're all good friends outside of the sport, so we can all make each other laugh. We have each other to get through tough times. We're serious on the field, but in the locker room we can joke around and have fun.
SJM:
What do you like to do away from field hockey?
TS:
Me and my mom do a lot of yoga, although not during the season because I don't want to get hurt. I also like to go to the beach and I like to surf. I'm not that good at it but I'm getting better. I also like to paint.
Bella Turner, Shawnee cross country
Turner's sensational career at Shawnee includes back-to-back sectional championships in Group IV, and she went on to finish ninth at states and 16th and the Meet of Champions last year. She has high expectations for herself and the team in her senior season.
SJM:
Looking back at your high school career, are you happy with how everything has gone?
BT:
Yes, definitely. It's kind of bittersweet looking back. I can't believe I'm a senior already. It was all so new to me coming in my freshman year. I never really looked at times or knew who I was competing against; I just went out and ran. I've tried to remind myself to keep that freshman mentality going into races: go out and do your best, don't worry about who you're running against and your experience on the course. I try to always enjoy it for what it is.
SJM:
You've won sectionals two years in a row. Is getting a three-peat one of your biggest goals for this season?
BT:
Yeah, that's definitely one of my goals. I also want to move up placing-wise at states and the Meet of Champs. Last year I came in ninth at states and I'm hoping for top three this year. I came in 16th at the Meet of Champs and I'm hoping for top 10.
SJM:
Do you like the course for states and Meet of Champions?
BT:
I love Holmdel. It goes by very quickly because of the hills. I break it down into three parts, so once I finish the first part I think, 'Only two more.' Then when I get to the third part I give it my all.
SJM:
How did you get into running?
BT:
I've always seen my entire family working out and being active, and that definitely influenced me. My background was actually in soccer and swimming. I always played soccer my entire childhood up until freshman year, and I even did all of the summer training and preseason for Shawnee that year. But then around Aug. 22, there was a five-mile race in LBI, the Dog Day Race. I had been talking to the cross country coach all summer because I was teetering back and forth about whether I wanted to run cross country. She told me to run that race and I did it with my sister. As soon as the gun went off, I loved it—the thrill I got from it, the adrenaline rush. So the next day, I contacted the cross country coach and told her I was going to join the team.
SJM:
Do you ever miss soccer?
BT:
I have a lot of friends on that team and sometimes I miss it when I watch their games. But I would never change anything. I'm very happy with my decision.
SJM:
How is the college search going?
BT:
It's really fun. I've learned a lot from the girls I've met along the way and it's a fun process thinking about your future like that. I've loved all the colleges I've visited so far. I want to go south—I'm chasing that warm weather—so I've looked at Vanderbilt, Virginia and Wake Forest. The most northern ones are Penn State and Lehigh.
SJM:
What are you interested in studying?
BT:
I want to study biomedical engineering. I want to work on prosthetics for athletes or any other types of equipment that would help injured athletes. My dad is an emergency medicine physician, so I've always had a fascination with medicine and the human body. Being a runner, I always love to learn about how the human body works and its mechanics. So I knew I wanted to do something with medicine and science. I was thinking about becoming a doctor, but I think I would like the creative side of an engineer and the trial-and-error process of working on designs and working with a group.
SJM:
Is it a big help to have another standout runner on the team like Claire Hauser? Do the two of you push each other?
BT:
Definitely; Claire is awesome. I think this year we are the closest we've ever been, both in terms of running times and relationship-wise. She is an awesome person to run with. She's very positive and we feed off each other's positivity. When one person is down one day, the other one picks her up and vice versa. We definitely push each to be our best.
SJM:
What gets you in the right mindset for a big race?
BT:
I always just try to stay positive and believe in myself. I tell myself that my mind is the best tool I have; if your mind believes it, your body can achieve it. The night before I like to listen to music and watch inspirational videos and that gets me pumped up. The day of a meet, I go through all my stretches and muscle-activating exercises so my adrenaline is rushing, and I like to get my team pumped up too.
SJM:
What other hobbies do you have besides running?
BT:
I still love to swim. We go down the Shore in the summer, so I like to do all things outdoors, from paddleboarding to surfing to kayaking to swimming in the ocean. I also love to read—I can always sit down with a good book—and I love to hang out with my friends.
SJM:
What's your favorite Shore town?
BT:
Surf City, LBI. We've grown up going there and it's like my second home.
SJM:
What genre of books do you like?
BT:
I like realistic fiction, so your typical love stories.
SJM:
What do you like about Shawnee?
BT:
It's a great environment. We're very lucky, because everyone you meet is a great person. I've never come across anyone who said Shawnee hasn't helped them in one way or another. Shawnee helps develop the individual person through respect, responsibility, being conscious of your actions. I think it's instilled a lot of important values in me and I've had an awesome experience there. Everyone is always rooting for each other, so I've always felt like I've had a whole family and support system behind me at Shawnee.
SJM:
What are your go-to Netflix shows?
BT:
I don't get to watch too much Netflix, but I'm always down for a comedy. Modern Family or The Office.
SJM:
Do you have any favorite movies?
BT:
I don't have a lot of time to watch movies but I do love them, all genres. I read all of The Hunger Games books and I loved the movies. I also loved The Great Gatsby, the book and the movie. I'm a big Disney fan so I love all the remakes they're doing too; my favorite is probably Cinderella. My family is big into Disney—I love going on rides and I think the cool thing about Disney is that anyone can act like a kid there. I'm excited to go with my friends for Senior Trip.
Tommy Mollis, Haddonfield soccer
Mollis, a senior center midfielder, made the all-South Jersey team last year after recording 11 goals and 12 assists and leading Haddonfield to the sectional semifinals. He is once again one of the top playmakers for one of the premier programs in the area.
SJM:
Does it feel weird to be in your senior year?
TM:
Yeah, it is a little weird to be the oldest kid in the hallways and the oldest kid on the team. Last year I became a captain halfway through the year, so I was growing into a leadership role. Now I'm one of the key leaders on the team and the other seniors help me out with that.
SJM:
Have you always played center midfield?
TM:
No, actually. For my club team I usually play out wide, but over the last few years I've started to move from the outside [to the middle] for my high school team. I like having the ball at my feet more. You get a lot more chances than you do on the outside.
SJM:
You're part of a balanced attack at Haddonfield. Does that make it hard for other teams to defend against you?
TM:
We have a lot of guys who can score. Their whole back line has to be good, because it's not like we have just one guy. We have so many attacking options on offense.
SJM:
Do you play another sports besides soccer?
TM:
I run track and field too. I usually focus on the 400.
SJM:
What do you love about soccer?
TM:
From a young age I've always been pretty good at it. I love watching it on TV and seeing great players.
SJM:
Your team got to play at Talen Energy Stadium last year, home of the Philadelphia Union. What was that experience like?
TM:
It was fun. That's probably the last time I'll get to do that. The conditions weren't great—there were puddles all over the field—but it was pretty cool to score in overtime and get the Union chant going. I've become a pretty big Union fan over the last couple of years, so it was pretty cool to score a goal in their stadium.
SJM:
Medford's Brenden Aaronson is now playing for the Union. Do you think that shows that South Jersey can produce big-time soccer talent?
TM:
I think it definitely shows that. It doesn't matter where you're from. If you can play, you can play.
SJM:
Do you follow the pro game closely?
TM:
I love to watch all of the Premier League games. I know a lot of people have a favorite team but I just like to watch players. I like to watch [Chelsea's Christian] Pulisic, because he's an American. I also like the guys who are really small and fast and the ball sticks to their feet, like [Lionel] Messi and Eden Hazzard.
SJM:
The Haddonfield program has had a great tradition over the years. What does it mean to you to be a part of that?
TM:
It's pretty cool to even put on a jersey that hundreds of guys have worn and to know that you're contributing to the program.
SJM:
What do you like about Haddonfield?
TM:
I moved here in sixth grade. Everybody knows each other—there are positives and negatives to that—and I think it's crazy how we produce so many great athletes.
SJM:
Are you looking to play soccer in college?
TM:
Yes, but I'm not really sure where. I think I want to study finance, but that could change. I'd rather stay close to home and it doesn't matter if it's a big school or a small school.
SJM:
What are you interested in aside from sports?
TM:
I like playing video games, like FIFA of course. NBA 2K is another one of my favorites.
SJM:
Who is the person on your team who can make everyone laugh during a tough practice?
TM:
We have a lot of those guys. It's hard to pick one, but I guess I'd say Alex Clarke. He's crazy and he always makes everyone laugh.
Dov McGuire-Berk, Moorestown soccer
A four-year varsity player, McGuire-Berk is a senior midfielder who made the all-conference first team last season after helping Moorestown post an 11-7-3 record. He is a key two-way player and leader for a team with lofty goals this fall.
SJM:
What's it like to be in your final season at Moorestown?
DMB:
It's very strange. I think as a freshman looking at the upperclassman, they appear to have everything together. Now that I'm here I realize you really don't have everything together. But it's a nice change.
SJM:
What are your goals for yourself and your team?
DMB:
Two years ago we got to the [sectional] semifinals and last year we got to the quarterfinals, and I just want to change the ending. It sounds a little cliché, but the general attitude on the team is that we've got a stronger squad than last year and we're ready to go further. As for personal goals, I'm all about the team. It's nice to have individual success, but I think it's better to win as a unit. I want to win the conference and the state championship and I think we have the guys to do that.
SJM:
You're a well-rounded player in that you can score, set up your teammates and contribute defensively. Is that important to you?
DMB:
Yes. For my club team I'm actually a center back, so I have plenty of experience playing defense. What I like about midfield is that you can go up and score goals and also be the big guy in the back if you need to be. It's rewarding in that sense.
SJM:
Are you going to play in college?
DMB:
I hope to. I'll probably play center back in college, but I'll play wherever they need me. The search is going OK so far. I have a few options and I just have to narrow it down and see which school I like best. I'm looking to play D-III, just because I don't necessarily want soccer to be my entire existence in college. If it's a job, I'm not going to enjoy myself. I just want a place where I can play great soccer with a good group of guys and win some things.
SJM:
What do you want to study in college?
DMB:
I'm definitely more of a humanities guy so maybe history. I'm more interested in that sort of thing. I'm not sure yet what I want to do for a career.
SJM:
What do you like to do when you're not playing soccer?
DMB:
All kinds of things. I'm actually class president at my school, so that takes up a good amount of my time. I'm in the band; I play trumpet. I've been doing that for a while and it's something I enjoy.
SJM:
What do you like about growing up in Moorestown?
DMB:
I've been there my whole life and I think it's a nice place to grow up. It's a great community with very supportive people. We always have a bunch of people come out for soccer games, which is great. The town really comes together around Main Street and there are all kinds of great events.
SJM:
Which rival do you most look forward to playing?
DMB:
Definitely Delran. Being on varsity for four years, when I was a freshman I thought Delran was untouchable; at least they're talked up that way. When you're 14 going against 18-year-olds, it's kind of a different game. Every season we talk about what Delran is doing and when the Delran game is. It's a special day every time we play them. We beat them 2-0 at home last year and it was incredible. It's probably my favorite experience from high school soccer.
SJM:
Do you have a favorite teacher at Moorestown?
DMB:
Yeah, I do. I had a math teacher last year, Mr. [Paul] Sinatra, and he was also my freshman volleyball coach so I've gotten to know him pretty well. We're pretty great friends and I can talk to him about anything going on. He's a smart guy and a good teacher.
SJM:
How do you get ready for a big game?
DMB:
We have a warmup playlist that we listen to. Personally, I don't really do anything special. I'm usually the guy in the middle of the circle who does the pregame pep talk and gets everyone hyped up. I like to get the guys going.
SJM:
Who are the professional teams or players you like to watch?
DMB:
My favorite team is Southampton. They're not doing too well right now but I've liked them for a long time. As for players, I respect Virgil van Dijk in the back. Seeing a guy dominate like that on such a big stage, I look up to him. He's special.

Star Watch
Fadil Diggs, Woodrow Wilson: A dominant force on both sides of the ball, this senior tight end/defensive end will focus on defense next year at Texas A&M.
Malin Jasinski, Seneca: A three-year starter at quarterback, this senior has a big arm but also keeps defenses off-balance with his ability to make plays with his feet.
Aaron Lewis, Williamstown: Lewis, a senior defensive end, emerged as one of the top defensive players in the area last year and earned a scholarship to Michigan.
Matt Papa, Shawnee: Papa is a key piece of Shawnee's stingy defense at linebacker and also contributes on offense at tight end.
Isaiah Raikes, St. Augustine: A senior fullback/defensive tackle, this Texas A&M commit is a beast around the goal line on offense and a disruptive menace on the D-line.
Jack Accorsi, Clearview: A four-year varsity player, Accorsi is on his way to leading the Pioneers in goals for the third straight season.
Astin Galanis, Moorestown Friends: Galanis, an important two-way player in the midfield, leads a stellar junior class for the Foxes.
Kevin Witkowski, St. Augustine: Witkowski, a senior midfielder, is one of the top playmakers for South Jersey's best team.
Alexa Endres, Shawnee: A senior midfielder, Endres set a Shawnee record with 25 assists in 2018 and is once again making her presence felt for one of the premier teams in the state.
Kelli McGroarty, Eastern: After setting the single-season program record with 37 goals last year, McGroarty has a shot at the all-time mark but is more focused on winning a second straight state title.
Riley Tiernan, Eastern: Tiernan became the program's all-time assist leader earlier this season and she's only a junior.
Abbie Brown, Kingsway: Brown, a senior midfielder, is hoping to lead Kingsway to another undefeated regular season and deep playoff run before continuing her career at Lehigh.
Kaitlyn Cummins, Camden Catholic: A Temple commit, this senior midfielder is one of the major reasons the Irish look like sectional title contenders.
Cassidy Strittmatter, Seneca: A junior who has already committed to James Madison, Strittmatter is one of the most dangerous playmakers in the area.
Renna Mohsen-Breen, Moorestown Friends: An elite player in South Jersey since her freshman year, Mohsen-Breen is looking to close out her memorable career with another strong season.
Emma Regovich, Moorestown: Moorestown's No. 1 singles player for the second year in a row, Regovich hopes to lead the Quakers back to the state final.
Austin Gabay, Cinnaminson: After placing third at states and 13th at the Meet of Champions as a junior, Gabay expects to be in the mix at both races this fall.
Martin Riddell, Haddonfield: A senior, Riddell is a two-time sectional champion who placed sixth at states as a junior.
Kate Inglis, Moorestown: The expectations for Inglis' junior season are high after she captured her second straight conference crown and placed fourth at sectionals as a sophomore.
Kate Rathman, Cherokee: Rathman, a senior, earned Burlington County and Olympic Conference titles and was the runner-up at sectionals last year.
Samantha Scully, Moorestown: Just a sophomore, this outside hitter has already established herself as one of the most potent offensive weapons in the state.
Helena Ta, Washington Township: Ta was an all-conference first-team selection at setter last year, and the senior recorded her 1,000th career assist earlier this season.
Paige Westman, Cherry Hill East: A senior libero, Westman shines defensively and with her serve for one of South Jersey's most consistent programs.
Felicia Poblete, Shawnee: Poblete, a junior, is aiming for her third straight all-around crown in the Olympic Conference and should make her presence felt at the sectional and state meets as well.
Rylee Langdon, Seneca: Along with her sister Kelsey and fellow sophomore Delaney Insinga, Langdon leads a Seneca squad looking to repeat as champions at the conference meet.


To read the digital edition of South Jersey Magazine, click
here
.
Published (and copyrighted) in South Jersey Magazine, Volume 16, Issue 7 (October 2019).
For more info on South Jersey Magazine, click
here
.
To subscribe to South Jersey Magazine, click
here
.
To advertise in South Jersey Magazine, click
here
.