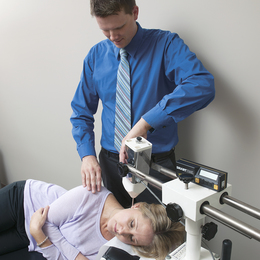 Sponsored Content: A Sound Decision
Sandoz Chiropractic mixes modern technology with old-fashioned values.

For 30 years, Peggy Montgomery waged a constant battle with migraine headaches. It seemed no matter what doctor she saw or what treatment she tried, she always came out on the losing side.

Then one day she came across an article about Dr. John Sandoz, a South Jersey chiropractor who uses a unique sound wave treatment for problems of the spine. When Montgomery learned that a misalignment in her upper neck area could be contributing to her headaches, and that the Atlas Orthogonal Procedure utilized by Dr. Sandoz could help, she figured it was worth a shot.

Soon her struggle with migraines was a thing of the past.

"I had really bad migraines for a long time," says Montgomery, a longtime Berlin resident who now lives in Lansdowne, Pa. "I practically lived at one chiropractor's office; I was there three times a week, and I couldn't get rid of them. Then I saw in a magazine about Dr. John and I read everything being said, so I figured,'What's it going to hurt?'

"I made an appointment and it didn't take long for me to see a difference, and now I have been migraine-free for the last 15 years. I can't say enough about Dr. John or [his son] Dr. Josh."

John Sandoz has been a practicing chiropractor for more than30 years, and for the first 13 of those years he used a traditional approach focusing on manual manipulations. Today, he is joined at Sandoz Chiropractic in Mount Laurel by his son, Dr. Joshua Sandoz, and their alignments are done strictly through sound waves, with no twisting or manipulation of the neck.

The elder Sandoz first became aware of the Advanced Orthogonal Procedure after battling his own chronic neck injury, which led him to the originator of the technique, Atlanta chiropractor Dr. Roy Sweat, who developed the instrument at Georgia Tech.

"I saw 30 different chiropractors in eight years," he says. "I went three days a week to chiropractors. I had this chronic neck and back problem that everybody helped for a short period of time, but nobody could fix. I went and saw Dr. Sweat down in Atlanta, and after a week of treatment, a chronic eight-year problem went away. He was able to apply a very specific, detailed mathematical approach to adjusting my spine."

Sandoz became a student of the technique and began using it in his own practice in the spring of 1994. The procedure focuses on the upper neck area and the top two vertebrae of the spine, called the Atlas (C1) and Axis (C2). An unresolved misalignment in these vertebrae can disrupt brain-to-body communication, resulting in numerous dysfunctions or diseases throughout the body. It can also weaken the discs in the back, leading to bulges or herniations.

The Atlas Orthogonal Procedure uses X-rays and digital computer software to analyze the misalignment. The analysis provides exact mathematical coordinates for the spinal correction, which is individually calculated for each patient. The treatment is delivered by a percussion sound wave instrument and results in a correction that Sandoz has observed lasts for a much longer period of time than with traditional, manual alignment.

"The idea is to get the exact coordinates to put into the instrument," Sandoz says. "There is no guesswork. The X-rays are like our GPS system. That's what we rely on to get the most specific correction possible."

Out of approximately 70,000 chiropractors in the United States, John and Josh Sandoz are two of about 200 doing this type of work, and are two of only 70 with Atlas Orthogonal certification. The procedure has been featured on television programs such as The Montel Williams Show and The Doctors. Patients with a number of conditions—including back and neck pain, headaches, arthritis, neurological disorders such as multiple sclerosis and epileptic seizures—have benefited from the treatment.

"If you think about it, your brain and nerves control every function and every tissue in your body, and we're dealing with the brain stem," Sandoz says. "Montel Williams has multiple sclerosis, and many of his neurological symptoms were helped by this treatment. We're not saying we treat multiple sclerosis, but patients with many of these problems have seen benefits from this treatment.

"My own son [Josh] had chronic migraines when he was 9 or 10 years old. For about 18 months straight, I probably adjusted my son every single day to give him some form of relief to his chronic condition. After his first Atlas correction with this procedure, he didn't get a headache for 48 days."

Sandoz's patients have similar stories to share about the treatment. Burlington native Chris Sabatino had never been to a chiropractor and was unfamiliar with Sandoz's unique method when he was referred to the doctors after suffering a back injury. Now he sees Sandoz on a regular basis.

"I had some lower back issues," Sabatino says. "My massage therapist that I used recommended Dr. John and Dr. Josh, and I've been happy ever since the day I started going to them. It's been about a year and a half and they've really helped me tremendously. I feel so much better after my visits."

Lisa Cooper of Mount Laurel suffered from severe neck pain for years due to the heavy lifting and long hours from her job as a home-care nurse. She endured the pain for so long because she was skeptical about seeing a chiropractor.

"I can't have anybody touching my neck and adjusting me that way because I would hit the roof—the pain gets so bad," she says. "That's what I thought chiropractors did. I thought I would go in there and they would crack every bone in my back and neck, so that's why I didn't go."

But after a friend recommended Sandoz Chiropractic and the Atlas Orthogonal Procedure, Cooper gave it a try and became instantly hooked.

"It feels like nothing is happening— they just put this little thing behind your ear and you hear it click, but you don't feel anything," Cooper says. "When I sat up for the first time, the tingling that I had and the pain on my right side was immediately gone. Everything was looser, I was able to move my shoulder better. I was completely amazed by the whole thing. So I said, 'OK, I'm going to keep going.' It really helps with my job. The more I lift and the longer hours I work, I can feel the pain again. But as soon as I go back and get the treatment, my pain is gone.

"I'm so surprised that I now routinely see a chiropractor because that's just not me. I would never have thought that I'd do this, but I really am a firm believer in everything that they do."

Since becoming a patient 15 years ago, Montgomery has always tried to spread the word about Sandoz Chiropractic. It took many years, but she finally convinced her husband, Bob, to give the treatment a try.

"I kept telling my husband about it. Finally, I talked him into it and he started going last week because he did something to his back," Montgomery says. "Now he is being helped. The chiropractor Bob was going to, he was just doing manual manipulations and that's it. He was hobbling around the house, but he finally gave in and he's already seeing a difference.

"That's the thing with Dr. John: If he can't help you, he'll keep trying to figure out what's wrong with your body. He cares about his patients so much and they're on his mind all the time. Dr. Josh has done the same thing as his dad. He's very, very concerned about his patients and tries to figure out how to get them on the way to recovery."

And that is the overall philosophy at Sandoz Chiropractic. They believe that no matter how fancy the treatment methods may get, the bottom line is to handle the patients with care and understanding.

"We want to be modern in our approach and have the most up-to-date treatments," Sandoz says. "In addition to the Atlas Orthogonal treatment, we have many other state-of-the-art treatments to help people with their chronic pain and for their overall health.

"And when we talk about traditional values in my office, we mean we're putting the 'care' back in health care. We treat people, not a neck condition. When we hire in my office, the employees have to have a love for people. They have to have true compassion. When a person walks in my office, the 'wow' factor isn't just from the technology of the treatment. I really believe that people don't care what you know unless they know that you care, and I preach that to my staff."
Sandoz Chiropractic is located at 2057 Briggs Road, Suite 204 in Mount Laurel.
Call 856-206-9560 to schedule an appointment.
To read the digital edition of South Jersey Magazine, click
here
.
Published (and copyrighted) in South Jersey Magazine, Volume 16, Issue 6 (September 2019).
For more info on South Jersey Magazine, click
here
.
To subscribe to South Jersey Magazine, click
here
.
To advertise in South Jersey Magazine, click
here
.