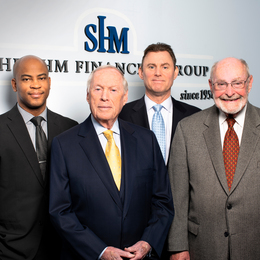 Sponsored Content: Financial Wisdom for Seniors
Stan Molotsky and the team at The SHM Financial Group have been helping local clients reach their goals since 1958.

It's important for people of all ages to pay close attention to their finances. But for those who are 55 and over, there's perhaps an even greater sense of urgency. After all, they're likely close to retirement and have a more immediate future to plan for.
When we asked Stanley H. Molotsky, president and CEO of The SHM Financial Group, what the 55-plus group should be most concerned about, he rightfully said "everything." There are a lot of important areas of one's personal financial health— and all of them deserve attention.
We asked Molotsky to share a bit more of his insight into how this age group can plan for the future.
Q: When it comes to the 55-and-over crowd, what financial knowledge would you impart?
Stan Molotsky:
It's really important to know your risk tolerance. The stock market has been positive for the last 12 years—but how much of a decline could you handle? This is your risk tolerance and it is based on your assets including the stability of your family's income flow and your family's overall health and Medicare needs, as well. For a complimentary copy of your risk analysis based on a series of questions, you can contact our office and mention this article.
Q: What are some of the biggest concerns that you see?
SM:
The biggest concern for any age group is complacency. More often than not, people don't think about the possibility of things changing for the worst. You honestly must be prepared for anything. Nobody is going to blow the whistle and give you a warning that the stock market is going to hurt you; or that starting tomorrow, your interest rates will go up. You just have to be prepared. Life events often have a big impact on finances. There's the cost of college and possibly having to help [children] financially once they've graduated. You could lose a job. Your roof could blow off of your home. Some of it you can anticipate—other things are a total surprise. No matter what, you must prepare for all of it, as difficult as that may seem.
Q: In general, what are some steps that our readers can take to protect their financial health in light of being prepared?
SM:
In today's world, we definitely believe there are some extra steps that you can be taking to protect yourself. For one, have a reserve of at least six months to two years of assets available that can be converted to ready cash in an emergency situation—or a sharp downturn in the market. This way you will not be forced to sell anything.
We also feel that you should have cash—$50 and $100 bills—stashed somewhere in case you cannot access an ATM machine, or the ATM machines are not working due to a bad storm or some other major disaster. It is always prudent to be financially prepared.
Finally, when preparing for your future with the stock market, it's important to keep in mind that the average bear market in stocks lasts one and a half years and the average bull market lasts eight to nine years. You should keep this timeline in mind as you make decisions and always have an exit strategy.
Q: As our readers near retirement age, how should they plan accordingly?
SM: We
advise that as you get close to retirement, you protect your assets and divide them into short-term deposits (one to three years), intermediate-term assets (three to six years) and long-term assets
(more than six years). Establish a multi-year liquidity in your portfolio. This is an ideal way to protect against disaster and always have an adequate cash flow.
Q: For those who own a business, what additional advice would you offer?
SM:
You must have an exit strategy—no matter what type of business you have. People are living longer than ever, and they need to plan ahead for that. You need a certain amount of money in reserve because of all the possible contingencies that exist nowadays. Keep a tab on the trends and watch the market, but no matter what, have an exit plan and protect your income flow with proper insurance coverage.
Q: Our readers have a lot of choices when it comes to choosing a financial planner. Why should they consider SHM?
SM:
We have been helping clients through these various cycles since 1958. There are not too many economic situations that we have not already helped clients get through. As Barron's publication recently stated, "The technical expertise in this country, the resources, the entrepreneurship—those things will get us through these crises."
We've already been through many crises and we've helped our clients make it through.
Q: How can readers know what to look for in a financial advisor?
SM:
Ultimately, no matter who you deal with, know who they work for. Is it you— or do they work for a company with a particular product line? You need to know who the custodian of your assets is and how your cash dollars are protected—FDIC coverage or not. You should also make sure you know how your advisor gets compensated. That will help you to know whether they truly have your best interests at heart.
For a complimentary copy of SHM's book Exit Strategies for a Secure Retirement, mention this article when you call SHM Financial Group at 1-800-MONEY SHM.
The SHM Financial Group

Offices in Voorhees, Collingswood and Lakehurst

1-800-666-3974 |
SHMFinancial.com

To read the digital edition of South Jersey Magazine, click here.

Published (and copyrighted) in South Jersey Magazine, Volume 16, Issue 6 (September 2019).

For more info on South Jersey Magazine, click here.
To subscribe to South Jersey Magazine, click here.
To advertise in South Jersey Magazine, click here.