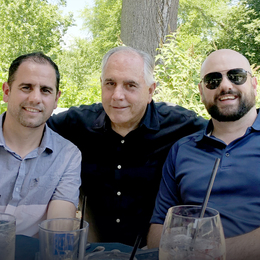 Sponsored Content: Family Pride
The family behind Whitaker Brothers North is honored to provide South Jersey homeowners with the very best in audio and video solutions.
But nothing compares to satisfying their neighbors right here at home.
After more than four decades in business, the team at Whitaker Brothers North—a family-owned company specializing in audio, video and technology solutions for a wide range of clients—has worked with happy customers all over the world, from the New York Jets to nightclubs in the Bahamas.

Kevin Whitaker Sr. and his sons, Kevin Jr. and Sean—all South Jersey residents—derive great pleasure from meeting local customers, listening to their wants and needs, and then offering solutions that otherwise didn't seem possible for their living rooms and outdoor living spaces.

"Often we don't talk about the equipment itself; we talk about the experience the client will have in their home," Kevin Whitaker Sr. says. "When we demonstrate how they can choose their favorite music or adjust the volume from their tablet or phone, the overall vision, rather than the equipment itself, becomes the priority. They have the confidence and the trust in us that we can make that happen, and it gets to be really exciting when we do."



Starting the Family Business


The origins of Whitaker Brothers North date back to a vinyl record shopowned by Kevin Sr. and his brother over 40 years ago.

The company continued to evolve through the years, adapting to changes in technology and consumer demand, and in one of its earliest strategic developments, aligned itself closely with Bose Corporation as a premier Bose dealer. Nowadays, Whitaker Brothers North is the area's leading design and installation provider of audio and video solutions for residential and commercial clients, as well as houses of worship.

Kevin Jr. worked for the company while in school as a part-time technician, and eventually moved into a management position after graduating from college. He now oversees the day-to-day operations while Kevin Sr. focuses on client relations and sales and Sean manages all of the on-site projects.

All three live in Burlington County, are parishioners in local churches and volunteers for several organizations in South Jersey.

"It is incredibly rewarding to work side by side with my father and brother," Kevin Jr. says. "We also consider the rest of our team as members of the family. Our professional systems manager and most of our technicians have a long history with us, and together we have well over 100 years of experience in the industry."

Putting the Customer First
Because of the team's extensive experience in custom design, installation and support, Whitaker Brothers North prides itself on not using any outside subcontractors. Customers work with the same team from the initial consultation to completion and training of the system.

With all three Whitakers living locally, they are also easily accessible and a visible presence during each project. It is no wonder that their company has established a strong reputation, and they are often brought back for future work or referred to their clients' family and friends.

"Customers appreciate that familiarity," Kevin Jr. says. "Customer focus is a core value of ours. That's what generates the repeat business."

They have also made it a priority to keep up with trends in the industry, which is why Whitaker Brothers North is a go-to company for outdoor living spaces, an industry that has exploded in recent years. As Kevin Sr. notes, putting televisions in the backyard was not even considered 10 years ago, but now they are a must-have for the space.

"Every spring and summer we're working outside at least three days a week, because there is such high demand for outdoor living environments," Kevin Jr. says. "We've recognized that and it's certainly something a lot of our clients are looking for. We have built strong relationships with landscape architects, designers and builders."

Other requested outdoor elements include speakers around the yard or the pool, increased Wi-Fi coverage and surveillance.

The team is committed to staying in front of all the technology changes associated with home networking as well, especially since many of the homes they work in reach over 5,000 square feet, and a simple Wi-Fi router will not suffice.

"Everything we do is predicated on the network of the house," Kevin Jr. says. "We'll come in and increase the Wi-Fi coverage to create a strong network—whatever it may be—to be able to support all the technological advances in the house."

Home automation—for everything from controlling music and smart lighting to the garage door—is another common request, and Whitaker Brothers North is well-versed in home surveillance systems too. "You can watch the house wherever you're connected," Kevin Sr. says. "If you're on the beach in Florida, you can see your driveway in New Jersey."

Whatever the customer's needs are, Whitaker Brothers North can deliver thanks to their strong partnerships. In addition to Bose, Whitaker Brothers North also has direct relationships with Sonos, Sony and Samsung, allowing them to compete with the big chain stores so many people turn to first. "Once our clients learn we can provide them the same television they've been eyeing elsewhere at the same price while delivering a high level of service at the same time, they're thrilled," Kevin Jr. says.

But at the end of the day, on top of all the ways Whitaker Brothers North can improve their customers' lifestyle, it all comes down to personal relationships. That is why the company has been successful for over 40 years and shows no sign of slowing down.

"People love the fact that they feel connected to us from a trust standpoint and the level of support we give them," Kevin Jr. says. "They want to do business with us because they have that confidence in us and they're also getting the best price."

Whitaker Brothers North has completed countless successful projects over the years. Here are a few of the notable ones in South Jersey and beyond:
Our Lady of Good Counsel Church
Laurel Creek Country Club
Gloucester County DREAM Park
New York Jets Training Facility
Corona Brewing Factory
Whitaker Brothers North
Serving South Jersey
609-932-4368 |
WBNorth.com
Find them on Instagram @whitaker_brothers
To read the digital edition of South Jersey Magazine, click
here
.
Published (and copyrighted) in South Jersey Magazine, Volume 16, Issue 6 (September 2019).
For more info on South Jersey Magazine, click
here
.
To subscribe to South Jersey Magazine, click
here
.
To advertise in South Jersey Magazine, click
here
.