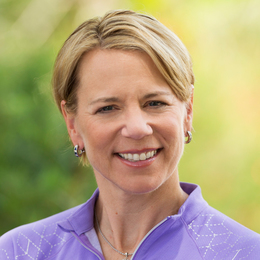 A Lasting Legacy
No one can argue with Annika Sorenstam's success on the golf course during her playing days, but now she's working just as hard to inspire the next generation while creating a loving environment for her family.
Having stepped away from professional golf more than a decade ago, Annika Sorenstam has had lots of time to reflect on her hall of fame career. There are her 72 LPGA victories, including 10 major titles. She was named Player of the Year eight times and still tops the all-time career money list for female golfers with more than $22 million in tour earnings. There's plenty more, too. Like the groundbreaking moment in 2003 when she competed against her male counterparts in a PGA event, and, of course, that one time when she just happened to shoot a 59—the only sub-60 round in LPGA history.
But on this particular day, Sorenstam doesn't have time to be consumed by her past accomplishments and accolades; she has to pick up her children from camp and find time between that and this interview to get dinner on the table.
"I enjoy it," Sorenstam says of motherhood and family life. "I always tell everyone my kids are my Grand Slam of life. You can't compare it to winning major tournaments; I had my professional career and I enjoyed that. But you get to that point in your life and I'm glad to have family be part of that picture."
That's not to say that Sorenstam has left the game of golf in the rearview mirror completely. Even before she turned in her scorecard, she created the Annika Foundation with the goal of developing women's golf by inspiring young girls through not only mentorship on the finer points of the game, but also by providing lessons on life skills, health and wellness and more.
We had the fortunate opportunity to talk with Sorenstam about being an inspiration for young women, why she thinks her children should play other sports besides golf and the South Jersey course she calls her favorite.
I wanted to first ask you about the Annika Foundation. You didn't simply slap your name on it, you are actively involved, attending all the events, making sure they have access to you. How important is it for you to be that hands-on with the mission the foundation sets out to accomplish?
I think it's very important when your name is on anything that you are involved. It represents who I am, my thoughts, my beliefs, my work; I try to be part of what I do and hopefully inspiring the girls.
You could've easily taken your honors and accolades and distanced yourself
from the game after all you accomplished. Why was it important for you to become an ambassador for the game and inspire others?
I love to be able to give back; I love to inspire the next generation and to be able to share my story and to give back to the game of golf. If it wasn't for golf, I wouldn't be where I am today. That's my way of saying thanks. I always believe you should do something to better for tomorrow and that's why I engage these young girls to live their dream like I am living mine. Being a role model and sharing stories, my experience and to help them make decisions. You got to do what you say.
And you are teaching them about more than just how to swing a club or tap in a putt, you are giving them real life skills as well.
Absolutely, it's all about sharing what golf is all about, but also the similarities between golf and life—integrity, patience, determination, being able to adjust where life takes you.
You were introduced to the game of golf because your parents played the sport. What do you recall about being initially attracted to the game?
I love it, it's a social game. I love that it's outdoors, and it's for any age and any gender. It's just a game for life and I love the things it represents. And the difficulty of it, it's a difficult sport.
You were also a very good tennis player in your youth; do you think you could've pursued that? Might we have seen you at Wimbledon?
[Laughs] I mean that was my dream, but I realized I wasn't good enough. I practiced, I was committed, but I didn't have it. Golf suited me a little better. And the more I played golf, the more enjoyment I got out of it. With tennis, I started too early. I practiced too hard and got burnt out.
You have discussed your struggles with being shy when you were younger and in some cases trying to avoid the spotlight by intentionally losing tournaments so to not have to face the public. How were you able to overcome that and do you use that to motivate kids you encounter with similar issues?
No. 1 is to accept your weaknesses and fears, we all have different fears. I didn't raise my hand in school, I was afraid if I said something wrong, people would laugh at me. In tournaments, I missed shots on purpose because I didn't want to be on the podium and have to give a speech. My parents noticed that I was always missing shots at the end … I sucked it up and it wasn't as bad as I thought it would be. I realized that I am extremely competitive and that outweighed my fears.
Of course, so many people know you from golf, but you are also a wife and a mother. What's family life like for you?
Running a business, a foundation and trying to be a mom, taking my kids to all the activities and having a household, cooking healthy meals; it's a balance, but extremely rewarding. My goal is to create an environment where [my children] can find their potential, whether that is in sports, the arts, or whatever they want to do.
Since you travel around the country, have you had the chance to play any courses in our area?
I played Pine Valley only once, it's absolutely my favorite golf course, so fun, what a classic, traditional course. I'm a big fan of classic courses. Some people don't like narrow fairways and small greens, but I do.
Besides golf, what other hobbies or passions do you have, how do you like to unwind from the stress of your day?
Our whole family likes sports, so there's a lot of sports activities in the summer. I go on the lake, I work out, do yoga, go mountain biking. In the winter, it's skiing, I love to ski. We like to be moving. … As I said, cooking is my thing and I like a little bit of photography.
When people refer to you as one of, if not the best female golfer in history, how do you react to that high level of praise? Is that something you shy away from or embrace?
It's obviously a compliment, it's very nice. When I started to play, I never thought about more than just playing the best golf I could. You fast forward and you are in the World Golf Hall of Fame. I try to live up to those expectations in terms of giving back and being an ambassador to the game, but I don't wake up in the morning thinking about it.



To read the digital edition of South Jersey Magazine, click here.

Published (and copyrighted) in South Jersey Magazine, Volume 16, Issue 6 (September 2019).

For more info on South Jersey Magazine, click here.
To subscribe to South Jersey Magazine, click here.
To advertise in South Jersey Magazine, click here.