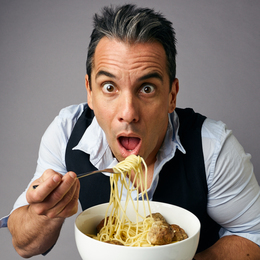 Still Hungry
Comedian Sebastian Maniscalco brings his chiding humor and exaggerated gesticulation back to Atlantic City.
Sebastian Maniscalco doesn't know how to be complacent. Although he's selling out comedy shows, has a top-ranked show on SiriusXM and is nabbing supporting roles in movies with some of Hollywood's most revered performers and acclaimed directors, he's always looking ahead to the next thing. That much was evident when he wrote his debut book, Stay Hungry, about not resting on your laurels and always pursuing more. That's how Maniscalco says he's gotten to this point in his career: He never eats his fill, so that he may always stay insatiable, and, therefore, striving.
Maniscalco, who's been called "one of the funniest comics working stand-up today" by Esquire and was named one of "The World's Highest-Paid Comedians" by Forbes, spoke with South Jersey Magazine ahead of his Oct. 5 and 6 performances at the Borgata and told us about rising through the comedic ranks, how becoming a dad has changed him and the oddest place he's ever performed stand-up.

Q&A
What inspired you to write your book Stay Hungry?

I wrote the book initially because I wanted to share some stories that I had that were not really made for the stage. They were a little bit longer and they started with a beginning, middle and an end and talked a little bit about my struggles to make it in stand-up comedy. … And I just wanted to kind of tell my story of how no matter how much you fail in life that if you work hard, your dreams will come true. And I never meant it to be inspirational at all but from what people tell me, they say that they enjoy the read and enjoy my story. So I guess it hit home with people.
Critics often note the physicality you bring to your stand-up. Has that always been a part of your act or did that develop over time?
No, that came with time. I try to be as comfortable as I am on stage as I am telling a story to my family. When you first start out in stand-up comedy, you don't really get that comfortableness right away. You kind of have to peel back the onion and it just took a while to do that. So that happened organically over time. … Those actions and those movements aren't pre-meditated. They're very in-the-moment type things. It's not like I'm sitting at home practicing in front of a mirror.
What is the oddest place you've ever performed?
The first one that comes to mind is a place that had a boxing ring. It was like a bar with a boxing ring and behind the boxing ring, off in the distance, was a bowling alley. So we went to go perform and I asked the guy, "Where's the stage," and he said, "You're going to be performing in the boxing ring." … The dig on stand-up comedy is people think they can just throw it up wherever and it's going to work. And that's not the case. You need proper lighting; you need people to be focused. … Then I go in the boxing ring and people are—they had the TVs on. They were watching sports, but the volume was down. So people are watching sports, I'm in the boxing ring, and behind me some guy is trying to pick up a spare.
So it's like those difficult situations you get put in early on in your career. I think it definitely builds tough skin and kind of prepares a comedian for any type of environment because anything can happen in a live performance, especially when it's just you up there with a microphone. Who knows what's going to happen? One guy wanted to fight me from the audience one night at a comedy club. He took his shirt off and he stood up. All are building blocks for what's to come in the future and I'm glad I did those gigs because it definitely made me a better comedian.
How did you prepare for your role in the upcoming biographical crime film The Irishman?
When I got the role, I was very excited to be working with Martin Scorsese and Robert De Niro and Joe Pesci, and Al Pacino's in the movie. For me, Italian kid from Chicago growing up watching these guys and now I'm going to be in a movie with them? It was surreal for me. And [my character] Crazy Joe was a real guy so what I did was I tried to get as much information on him as possible. What I wanted to do was get some of the body movements he might have had. If he was expressive. Or if he smoked, I wanted to know what hand he put the cigarette in. He went to prison for a little bit and then he came out of prison and he got married right out of prison. I talked to his best man over the phone just to kind of get an idea of who he was. So I did some investigating on him and kind of added my own little flair to the character.
You were also in the Oscar-winning film Green Book, which is another film based on a true story.
Yeah, another true story. Apparently, I'm only in movies that are true stories. … But I like true stories and I actually like doing dramatic roles or doing a dramatic movie and adding a little comedy to it. I actually prefer to do that rather than like a straight-out comedy because, for me, I get my fill of comedy through stand-up. And to do a dramatic piece is a nice change for me because I'm not a real life-of-the-party type of guy. I'm not always trying to make people laugh.
You have a radio show as well. Can you tell me a bit about that?
The Pete and Sebastian Show is a Sirius XM radio show that we do every Friday on channel 99 and then it comes out over the weekend as a podcast on Apple Podcasts and the show is basically—[Pete Correale] is a comedian as well—just two guys kind of sharing their personal and professional lives for an hour a week and it's not guest driven at all. We have a really unique chemistry. When we get on the show it's kind of like the odd couple almost where he's [a] beer-and-peanuts guy and I'm like a wine-and-cheese guy and the way we live our lives is completely different, but it makes for great comedy.
How did the idea for this show come about?

We met in Toronto on a comedy tour with two or three other comedians and we were in a van going from city to city and quickly became fast friends. And then we would talk to each other on the phone and we would crack each other up. We'd die laughing. And this is five years ago when everybody had a podcast. … But this kind of happened organically where I'm like, "Pete, maybe we should do an hour a week and record the phone call?" And that's what it basically is: two guys talking on the phone about their lives, but it just happens to be funny.
Has fatherhood been what you expected so far?
No one could really prepare you for fatherhood. What it's done for me is kind of rediscover things that you might not pay attention to. And they're little things, but in the eyes of your daughter, she's seeing it for the first time. … And to watch her discover life and what is around, it is something that I didn't expect. … And we happen to have a daughter who is so happy. We're really blessed to have a kid that wakes up with a smile on her face. She's like her mother. My wife is so happy; [she's] constantly got a smile on her face. And [my daughter is] definitely taking after her. But she's taking after me in the sense that when someone comes into the house that she doesn't know, she's very kind of like— she'll almost like size them up. She doesn't give them a big hug or anything. She is, "Who is this person? What do they want? Why are they in the house?" Which is kind of what I do.
It's interesting that you say your daughter is discovering all these little things because I find that your comedy a lot of times can be observational about little things in the world.
Do you see fatherhood providing any new material for you?
Definitely material is coming out of situations that we find ourselves in. We had a birthday party for her at the house when she turned 1 year old and everything around the birthday party is my newest bit [and] talking about even the difference in birthday parties. Because my wife grew up in a well-to-do family and the way they did their birthday parties differed from the way my family did birthday parties growing up, just coming from different economic backgrounds. I always find the funny in differences or maybe this is the way it used to be [and] this is the way it is now. People seem to relate to that. … So yeah, there's a lot of material coming out of having a baby.



To read the digital edition of South Jersey Magazine, click here.

Published (and copyrighted) in South Jersey Magazine, Volume 16, Issue 6 (September 2019).

For more info on South Jersey Magazine, click here.
To subscribe to South Jersey Magazine, click here.
To advertise in South Jersey Magazine, click here.