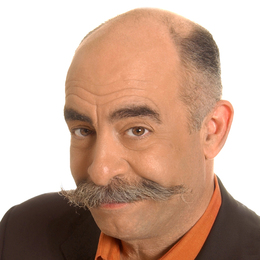 Getting Personal
WMGK morning host and longtime Philly disc jockey John DeBella riffs on his signature 'stache, his love of Shakespeare and his favorite places to visit from Disney World to around the world.
1. I have a college degree … but not in communications. I studied scenic, lighting and costume design in college. (Yes, I'm a man who can sew.) I never planned on going into radio.
2. I haven't seen my upper lip since 1967. I grew my mustache when I was a junior in high school. I had every imaginable style of mustache until sometime in the mid '70s when I grew a beard. That stayed for about five years and when I shaved it off this mustache appeared. Even when I think I have it under control; I don't. The present handle bar style was its choice.
3. Prior to being in radio I worked on an ice cream truck, worked for Joe Papp in the New York Public Theater, built costumes for the New York Shakespeare Festival, managed a rock band and ran a chain of movie theaters.
4. My love for dogs comes from not having one. My mother was not a fan of dogs and I wasn't allowed to have one. But I was the "he followed me home" kid. I got to keep them until we found the owner. I got at least four or five dogs that way. My father said I must smell like bacon.
5. My love for music is my grandfather and Lloyd Price's fault. No one in my family played a musical instrument, but music was on wherever we were. I grew up listening to standards and big bands until Elvis came along. For my 9th birthday my grandfather gave me an Emerson transistor radio. One of the first songs I heard was Lloyd Price's "Personality." I've been addicted to music ever since.
6. You don't have to ask me twice. My three favorite places in the world are Venice, London and Disney World. I would go to any of them at the drop of a hat … and have.
7. If you saw the recently watched list on my TV it would be shows about history, outer space/space travel and Shakespeare. Yes, I really love Shakespeare.
8. My son Casey is an insanely talented musician, writer and producer. That is not paternal pride. By 11 years old he figured out recording and overdubbing on his own. He only applied to one college: the Berklee College of Music in Boston, and got in. He lives and works in LA and his new album is on its way.
9. I married Elly May Clampett. My wife Lisa is a very talented painter, decorator and real estate agent. Lisa is also a huge animal lover. She bred Old English Sheepdogs for years and at one time we had four sheep dogs and two cats, along with freshwater, saltwater and pond fish. If she's watching TV it's usually some show about, vets, aquariums or behind the scenes at a zoo. Personally, I believe she should have been a lawyer because I rarely win an argument.
10. Former Phillie Garry Maddox started my passion for helping veterans. After a meeting to build a Vietnam veterans memorial in Philadelphia, Garry approached me and personally asked for my help. I explained that as a former hippie I still had a lot of anger about that war. Garry said, "John, it's time to separate the war from the warrior." Those words became the epiphany that changed my life forever.



To read the digital edition of South Jersey Magazine, click here.

Published (and copyrighted) in South Jersey Magazine, Volume 16, Issue 6 (September 2019).

For more info on South Jersey Magazine, click here.
To subscribe to South Jersey Magazine, click here.
To advertise in South Jersey Magazine, click here.