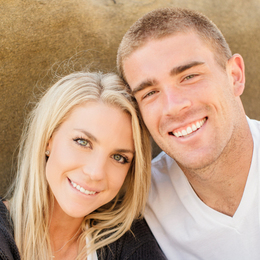 A Winning Pair
Strong faith and tremendous support for each other have enabled Zach and Julie Ertz to become the power couple we've all grown to love.
Zach Ertz had just finished practice with the Philadelphia Eagles on a beautiful Sunday morning at the team's complex when the record-setting tight end decided to put in some extra work and catch a few more passes from a quarterback known more for kicking and not throwing.
Julie Ertz, Zach's wife of 2 1/2 years, was in town fresh off helping the United States women's soccer team win a second straight World Cup. A star midfielder on the national team, Julie showed off her kicking skills by punting one of the footballs. Then she tossed a ball back and forth to her hubby, displaying soft hands and an accurate arm. Some of the media members covering practice quickly shifted their attention away from whatever they were doing to capture video and photos of the cute couple sharing a special moment. #RelationshipGoals may have been trending on Twitter or Instagram within minutes.
Zach and Julie Ertz aren't your typical couple and it's not just because they're both world-class athletes at the top of their sport. Their schedules are hectic—he's in Philly playing for the Eagles and she plays for the Chicago Red Stars of the National Women's Soccer League—so they don't see each other all that much. Depending on the season, they may spend only five or six days a month together. That explains why Zach and Julie would happily share some quality time having a catch after an Eagles practice.
Long-distance relationships aren't easy, especially for a power couple like Zach and Julie, but they rely on their strong Christian faith to help them build a strong, stable marriage.
"Our relationship is built on the love of Christ first and foremost," Zach says. "I can say with absolute certainty that what we've done in the past 2½ years of marriage would be dang near impossible if the foundation wasn't on Christ. It would be impossible without understanding we represent something so much bigger than just Zach and Julie. Our marriage was built on that foundation and will continue to be built that way."
Shortly after catching the touchdown pass that beat the New England Patriots and won Super Bowl LII for the Eagles, Zach Ertz took his first international trip to a country other than Canada or Mexico. Ertz joined teammates Carson Wentz and Nate Sudfeld on a mission trip to Haiti in April 2018. Wentz made his first visit a year earlier and was inspired to build a state-of-the-art sports complex through his Audience of One Foundation. The players played soccer and football with orphans, gave them meals, put sandals on their feet, prayed with them and painted a house.
"There's so many things I'll never forget about the trip," Ertz says. "It was honestly amazing. It was eye-opening. When I was in the villages with the people, I could feel the presence of the Lord. These are people that really have nothing compared to what we have. Our struggles are nowhere near the struggles that they are experiencing and they are finding so much joy throughout everything they are going through. It had a profound impact on me. I don't know how much of an impact it made on them in the long run but I know it had a profound impact on me."
Zach and Julie had dreamed about one day using their blessings and their platforms to give back to others. Once Julie heard Zach talking about his experience in Haiti, she knew the time was now to put their vision into action.
"He saw that there were so many lives that you could touch and help," she says.
So the couple launched the Ertz Family Foundation in 2018. Their goal is to impact communities in America and abroad. One of the campaigns is based on the number of catches Ertz makes during the season and he set a single-season NFL record for tight ends with 116 receptions last year. It raises money to help underserved Philadelphia communities through youth education, sports and family enrichment programs. Another program is a scholarship fund for students in Haiti.
"We know we're not going to have these platforms forever," Julie says. "But it's amazing to think [that] a little hope or compassion or even just an opportunity can help someone succeed."
Love is the driving force.
"The love we have for each other and the love we feel in our faith, we just want to give that back to people all over to the world and this country," Zach says. "The main goal is to show people love, show people hope. No matter where they are, let them know people out there love them and care about them."
The sincerity in Zach and Julie's voices when they talk about making a difference in the lives of other people is evident to everyone who knows them.
"Zach and Julie are the type of couple whose faith in Jesus, love for one another and true compassion for others is truly inspiring," says Kyle Horner, senior pastor at The Connect Church in Cherry Hill where the couple attends regularly. "They are genuine, authentic, and light up any room they enter."
When the Eagles dominated the Minnesota Vikings in the NFC championship game to advance to the Super Bowl, Julie was in San Diego playing with the women's national team. She scored a goal in a 5-1 win over Denmark and broke down in tears afterward when she learned the Eagles won. Of course, Julie wouldn't miss the Big Game. She was in Minneapolis rooting for Zach and the Eagles and enjoyed the celebration after the 41-33 win over the Patriots. This summer, their roles were reversed when Zach spent three weeks in France cheering on Julie and her teammates in the World Cup.
"It's very similar to how she feels watching me play," Zach says about being a spectator and rooting for his wife. "It's special. It's definitely unique in a sense as an athlete, you always feel you have control of the game or of the situation. When I sit in the stands, I'm just a casual person with a vested interest in seeing a team succeed, seeing Julie succeed. It's a lot different (than playing) because you have no control when you sit in the stands.
"It's awesome being married to Julie, being able to support the people we love doing what they love to do. I've seen all the work she does each and every day and I've seen all the adversity she's faced over the past seven years we've been together. I've seen the injuries. I've seen her cry. I've seen the blood. I've seen the tears. Because she loves the game, I'm so invested in seeing her succeed."
Spending part of his summer in France was a unique experience for Zach, who wasn't used to the cuisine.
"I love the French people, and the French food was cool," he says. "But snails, beef tongue and pigs' ears on the menu, I was kind of shying away from that. Their ham sandwiches were like a big baguette with one slice of ham and a little slice of cheese. Definitely a different experience."
Zach couldn't spend too much time with Julie on most days and he had to make sure he stayed ready for the upcoming season so Nike arranged for him to use the French Olympic training center. He trained for five, six hours a day and quickly realized it's not as comfortable as being in the United States.
"It was like 115 degrees, it seemed like in Europe," he says. "I don't know if they don't believe in AC, but they really don't have it."
The best part was being there when Julie and her teammates defeated the Netherlands 2-0 in the championship game. That shifted bragging rights in the Ertz household back to Julie, who was also part of the 2015 women's national championship team.
"She's up 2-1. I'm extremely proud of her," Zach says. "She'll always say they only play every four years though so she always has that in her back pocket."
Zach and Julie Ertz added another title to their impressive résumés in 2019: authors. Both wrote children's books aimed to inspire kids in their faith and in their pursuits on the field and in the classroom. Julie's book—Chase Your Dreams: How Soccer Taught Me Strength, Perseverance, and Leadership—was released in July.
"I hope my stories will help young girls and boys who read it to chase their dreams with passion and virtue," she says.
Zach's book—Focus and Finish: How Football Taught Me Grit, Teamwork, and Integrity—hit stores Sept. 3. He writes about basketball being his first love and working his way up from being an oversized lineman in middle school to earning a football scholarship to Stanford after playing only six varsity games in high school to making the winning catch in the biggest game of his life. He credits his mom, Lisa Ertz, his coaches and Jesus Christ for his success.
Zach Ertz isn't satisfied with winning one Super Bowl or breaking Jason Witten's single-season record for most catches by a tight end. The 28-year-old, two-time Pro Bowl pick is driven to help the Eagles capture a few more Vince Lombardi trophies and one day be selected for the Pro Football Hall of Fame.
The Eagles enter the season as favorites to win the NFC East title and legitimate contenders for the Super Bowl. Carson Wentz is healthy and the offense is stacked with talent. DeSean Jackson returns to Philly to join Alshon Jeffery, Nelson Agholor and rookie second-round pick J.J. Arcega-Whiteside at wide receiver. Second-year pro Dallas Goedert teams with Ertz to form possibly the best 1-2 punch at tight end in the league.
"Everyone is excited for this team, one of the most talented I've been on," Ertz says. "So much depth and experience on this team. We're excited about the future. It's gonna be a fun fall."
If the defense holds up and the offense lives up to expectations, another parade on Broad Street could be on the horizon for the Eagles. It wouldn't be surprising to see Ertz in the middle of it again, once more with Julie supporting him every step of the way.

Rob Maaddi has covered Philadelphia sports for the Associated Press since 2000. He is an on-air personality at 97.5 The Fanatic and hosts the Faith on the Field show, a syndicated, Christian-based sports talk program. He has also written and co-written eight books.


To read the digital edition of South Jersey Magazine, click here.

Published (and copyrighted) in South Jersey Magazine, Volume 16, Issue 6 (September 2019).

For more info on South Jersey Magazine, click here.
To subscribe to South Jersey Magazine, click here.
To advertise in South Jersey Magazine, click here.