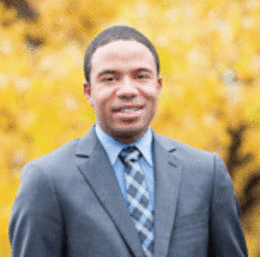 Tale of Triumph
A decade after his fateful football injury, Adam Taliaferro is not only thriving—he's helping others on the road to recovery.
Time could have stopped for Adam Taliaferro on Sept. 23, 2000, the day the rising football star, then 18 years old, was dealt a life-altering blow on the football field.
It was his fifth game as a freshman Penn State football player. The talented running back, who had been captain of his Eastern High School Vikings football team in Voorhees, had a full athletic scholarship and dreams of reaching the NFL. But when the 5-foot-10, 183-pound Taliaferro collided with 231-pound Ohio State tailback Jerry Westbrooks during the fourth quarter of the game that sunny Saturday, everything changed in an instant.
It was a crash that reverberated across our region, resulting in an injury that made it unlikely Taliaferro would ever walk again. Yet Taliaferro didn't allow time to stop, his life to end there. In fact, time flew.
"Sometimes, it still seems like yesterday," the 28-year-old says, "even though so much has happened since then."
A decade later, Taliaferro is an attorney at the Cherry Hill office of the international law firm, Duane Morris, and the founder of the Adam Taliaferro Foundation, which has raised more than $500,000 to provide financial support to athletes who have suffered spinal injuries. The resilient Talia­ferro has made it his mission to give back—to the community, to his friends and family, and even to total strangers.
Still, 10 years ago, when his helmet struck Westbrooks' knee and both players hit the ground hard, it didn't seem like the kind of tragedy that would have a bright side. Play was stopped and the stadium hushed, as Westbrooks got up quickly. Taliaferro didn't move. Teammates and medical personnel gathered, waiting for any hint of motion.
"I'd never really had an injury playing football before, so I figured it was just a stinger, where parts of your body go numb temporarily," he recalls. "I was kind of dazed, but didn't think anything that bad had happened."
After about 10 minutes, when he still hadn't regained any movement in his limbs, Taliaferro realized that "something was definitely going on." But even then—even after being unable to give a thumbs-up to the crowd as he was carted off the field—Taliaferro "never thought that I might end up paralyzed; not even for a minute."
Taliaferro had burst the fifth cervical vertebrae in his neck and had bruised his spinal cord. Two days later, he underwent extensive surgery at Ohio State Medical Center. He was airlifted back to Philadelphia's Thomas Jefferson Hospital to begin his recovery. While the surgery was deemed successful, Taliaferro was given only a 3 percent chance of ever walking again—something he wasn't told at the time. "My parents, I found out later, heard that prognosis, and they would intercept visitors coming to see me at the hospital and tell them, 'Don't go in there crying; act like everything is normal,' so that I wouldn't get disheartened."
From Jefferson, Taliaferro began in-patient rehab at Philadelphia's Magee Rehabilitation. The routine, he recalls, was grueling: two solid hours of rehab each morning, and two more in the afternoon. "[I knew] my recovery was going to be a long, difficult process, [but] no one told me how bleak the prognosis was at the time," he says. That left room for hope.
That optimism, coupled with his youth, strong physical condition and hard work, paid off with what many call a miracle: Taliaferro first walked with crutches that very December. And on Jan. 5, 2001, little more than three months after he fell on that Ohio football field, Taliaferro walked out of Magee with the use of forearm crutches to begin his out-patient rehab, which would continue for another five months.
That fall, he returned to Penn State to resume his studies. Wearing his No. 43 jersey, Taliaferro led the Nittany Lions onto the field for their season opener before a record crowd of 109,313. Only this time, he wasn't a player.
"When I got back to school, that's when it really hit me that football was over for me," he recalls. "But I also knew that I was very, very lucky. Here I was, walking again, getting a second chance." He remained part of the Penn State football team as a student-assistant coach under Joe Paterno, and earned his bachelor's degree in Labor and Industrial Relations in 2005.
Less than a year after his injury, he also founded the Adam Taliaferro Foundation with the support of his high school football coach Larry Ginsburg and other friends and supporters, including Mary Schmidt, Magee's spinal-cord injury program director, and Washington Township businessman Dave Maxwell.
Maxwell, who is still involved with the foundation, says Taliaferro is "noth­ing less than amazing."
"I saw him play football when he was still in high school and he was, without a doubt, the best high school player I'd ever seen," Maxwell says. "Then I got to know Adam as a human being and found he's even a better person than he was a football player."
South Jersey resident Kathy Moscufo, another foundation supporter, says Taliaferro's true gift is that "he gives so many people hope, and that's not something that comes easy to someone with a spinal cord injury."
The Adam Taliaferro Football Classic—a high school senior all-star game held each June at Rowan University—is a big draw and a huge fundraiser for the foundation, which raises money to support Magee and awards grants to injured athletes and, on occasion, others who have experienced catastrophic injuries.
"Looking back on my injury, the amount of support I received was unreal," Taliaferro says. "I didn't really have time to ruminate; I was so busy with my therapy and with visitors always there, cheering me on. I've come to realize that not everyone has that same kind of support, and I want to offer that because, having been in that situation, I know how important it is to keep positive."
While his health is excellent and he still works out—very carefully—some physical reminders of his accident remain: "My right side is a little weaker than the left, and it's hard to run."
Still, with a law career blossoming and a wedding planned for next fall, Taliaferro has no complaints, and leads a life without regrets.
"I'm very grateful for everything I have," he says. "I'm glad that the foundation can do some good: it's been as much a blessing for me as for anyone we've helped. I was helped so much on my journey; it just makes sense to try to help someone else on theirs."
Published (and copyrighted) in South Jersey Magazine, Volume 7, Issue 9 (December, 2010).
For more info on South Jersey Magazine, click here.
To subscribe to South Jersey Magazine, click here.
To advertise in South Jersey Magazine, click here.