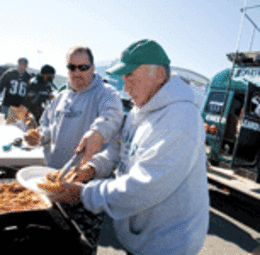 Any Given Sunday
South Jersey Eagles fans are a devoted breed. We asked the team's most avid supporters about their tailgating traditions.
For Moorestown's Patrick Moeller, the love affair with Philadelphia Eagles tailgating started off innocently enough. "I went to a tailgate party with a buddy of mine, and my kids had a lot of fun: it was a family affair. So we decided to get the RV," he recalls. That was in 2006. "Then I went to one away game, and I figured I'd keep on going. I didn't stop."
That might be an understatement. Moeller put 28,000 miles on his customized RV last season alone, bringing his family of six to each home game, and flying his kids out to see the team on the road at stadiums as far-flung as Seattle and San Diego. If this is Eagles fever, the symptoms are full blown.
Moeller's RV, (which summers in a garage on Long Beach Island with "Eagles 1" tattooed across the door), is sleek, with multiple flat-screen TVs, including one on the exterior. It boasts a chart tracking the vehicle's Eagles-related travels, and an enormous wraparound graphic of quarterback Michael Vick poised to throw. "I had to get the graphic changed. I had [previous starting quarterback Kevin] Kolb on it at the beginning of the year, and then I had to change it to Vick. And I thought I was going to have to change it back to Kolb again when Vick got hurt," Moeller says.
You might call Moeller an extreme fan. But really, of the thousands of South Jersey residents who spend up to 14 hours a day for each of the football season's eight home games gathered outside Lincoln Financial Field, who isn't? Eagles tailgaters take their fun very, very seriously—and whether they have elaborate customized buses or just a hibachi and a cooler in the trunk, they know how to party in style.
"The Eagles only play eight home games so it's an event," says John Reilly of Woodbury Heights, who's been tailgating with friends for 25 years. At the Nov. 7 game against the Indianapolis Colts, Reilly and 40 of his closest friends hired Westville's Bob's Barbecue to set up three grills cooking ribs, chicken sandwiches and burgers. They showed up at the stadium at 8 a.m. and waited another hour to be allowed to park.
A new Eagles rule that prevents fans from parking before 9 a.m.—rather than the traditional pre-dawn start—is decidedly unpopular among this crowd.
Reilly's friend Mick Caswell, a 20-year season ticket-holder, remembers going to games with his father at Veterans Stadium: "We sat in Section 708 and the motto over there was, 'Section 708 is for the Birds.' Get it? We had T-shirts made up and everything. Them were the days." He says that more regulations come every year, but nothing can quash the fun of the tailgate. "For the most part, tailgating's tailgating: you're going to cook food, you're going to drink alcohol and you're going to have fun," he concludes. "For me, I work six days a week and they say on the seventh day you rest. Well, we don't rest—we come out and have a party, especially at Eagles games."
One thing that has evolved is the entertainment. This group has set up a flat-screen TV with an HD satellite link to watch the day's football showdowns. Yet they also have more traditional entertainment on tap, including washers, a low-rent alternative to horseshoes. The other official games of tailgating are bean-bag toss, beer pong and ladder golf, the common theme being games that can be played with a beer in one hand.
For avid tailgaters like Marlton's Brad Tice, one of the owners of a decked-out Eagles bus affectionately named One Bad Bird, these get-togethers are a chance to turn business acquaintances into lasting friendships. Their company, Ribbons Express of Cherry Hill, sponsors the bus and organizes parties—complete with pig roasts—featuring the vehicle. "We bought it on eBay; it was pretty much a mess," he says. But now it's been rehabbed, the interior furnished with seats from both Veterans Stadium and the Spectrum. The exterior, in addition to the de rigueur green wrap, includes an oversize ad for their business.
Another Marlton resident, Bob Bachman, says he and his friends are still in the process of overhauling the big green school bus they bought in 2008—a shared investment that's yet another way to bond over football. "Before, we had a little white van that we used for eight years, until we invested in the bus—our pride and joy," he jokes. "We have high expectations for it," including a wet bar, couches and, of course, televisions. It's a lot of work, but it's worth it.
"I look forward to this [starting] every Monday; this is what my week builds up to," Bachman says. "It's exciting, the camaraderie, the friends, the food, the whole scene. It's something that gets me pumped up for each game, regardless of how the Eagles are doing. For many years, the tailgate was probably the most exciting part of the day when the Eagles weren't doing well. But this year, we're going to go to the playoffs."
Mount Laurel brothers Bill and Jim Meehan agree that their devotion to tailgating has tinged every facet of their lives. "It was my wedding transportation," says Jim of the former senior citizens' bus that he and his brother wrapped in green, crowned with a roof deck, armed with a fire truck horn and labeled with FLYEGLS Jersey plates. That dedication could, however, present a quandary later in the season. "My first-year anniversary's on the day of the Cowboys-Eagles game," he notes.
Yet part of what makes tailgating so much fun is the chance to prove yourself a diehard through sheer stamina. Ask anyone in the parking lot their best Eagles memory; the answer is most often a truly epic tailgate. Jim Meehan recalls: "We did the Phillies World Series game Saturday night, and it was delayed so it didn't start until 10 o'clock. We got home at 3 a.m., got back on the road at 6 a.m., and were down here for an Eagles-Phillies double-header the next day."
Add in bitterly cold weather, and it's a perfect day, insists William Allen of Cherry Hill. "When the temperature is cold and the conditions are bad, you gotta get together. You draw support from each other," he says. "Adverse conditions but good company."
Mullica Hill's Keith Czaban loves tailgating so much that, six years ago, he decided to make it his business. Now, PhillyTailgate.com draws up to 1,600 fans to home and away tailgates for Eagles games as well as some Phillies and Flyers games. He cooks everything from hot dogs to mussels to filet mignon, and brings live bands or DJs to round out the experience. "It's gone from a fall seasonal job with road trip planning in April and May and it's now become a year round job with Phillies planning starting before the Eagles season is even over," says Czaban.
Still, for most South Jersey tailgaters, this tradition remains about friends and family.
"The best part is being able to hang out with my family and watch the Eagles game at the same time. It's a good escape from the school week, and a nice ending to the weekend," says Blackwood's Ashlea Mergenthal. Her father's airbrushed RV, complete with a fiberglass Eagle protruding from the roofline, is a gathering place for dozens of relatives and neighbors who bring a potluck feast each weekend.
Patrick Moeller's wife, Monica, agrees that tailgating has brought her family closer together.
"It's a good family activity. We have three boys and only one daughter. At first I thought it was a little crazy, but the nice thing is that it's a passion that they have, and they'll always want to be close. They're not playing video games today, we're all outside hanging out, so it's a good thing."
Published (and copyrighted) in South Jersey Magazine, Volume 7, Issue 9 (December, 2010).
For more info on South Jersey Magazine, click here.
To subscribe to South Jersey Magazine, click here.
To advertise in South Jersey Magazine, click here.