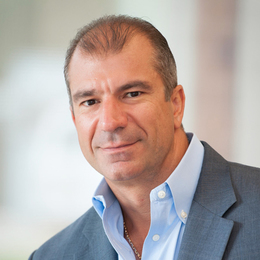 Sponsored Content: Brave the Shave
After recovering from a severe stroke, Mike Saccomanno of Friedman LLP is giving back to the community in an upcoming event, Brave the Shave.

Mike Saccomanno, an active father of two teenage boys, considers himself lucky. It was just three years ago, at the age of 43, he suffered a massive stroke. Fortunately, he had a fairly quick recovery and is feeling great to this day. Knowing there are many others who went through the same thing but haven't recovered like he has is the motivation behind Brave the Shave—a charity event where Saccomanno will shave his head to fundraise for three local charities.

Saccomanno, a partner at Friedman LLP, also feels lucky to work for a company that is extremely charitable and provides employees like him opportunities to give back to the community. Together they are going to make a difference in the lives of people who aren't as fortunate.

We spoke with Saccomanno about the life-changing day in 2016, how he has helped other stroke survivors since, the details of Brave the Shave and where the proceeds are going.

South Jersey Magazine: Can you tell us what happened to you the day of your stroke?
Mike Saccomanno: It was a typical morning for me, as I was home running on my treadmill and suddenly collapsed. My wife, Barb, luckily came downstairs, knew something was wrong and immediately called 911. More importantly, after calling 911 she called a close friend, Scott Dickson, who was an emergency room doctor at the time. He took control and diagnosed my initial assessment and spoke to the attending doctor prior to my arrival at Virtua. After my arrival and assessment, the Virtua team flew me to Penn. It was at Penn that I was told that I had a massive stroke due to a blockage in my carotid artery.

South Jersey Magazine: How are you feeling today?
Mike Saccomanno: I am one of the lucky ones; there are so many people who have had strokes that continue to suffer the effects every day. This is not to say I do not feel the effects of what happened, because I do. However, the realization is that I can honestly say I am 95 percent back to normal. My recovery has been extraordinary. Believe it or not, I was back to work within a week. I am definitely a walking billboard for what the Virtua and Penn Medicine Strategic Alliance has done for patient care.

South Jersey Magazine: How did your coworkers, business associates and/or clients react to your stroke?
Mike Saccomanno: In the beginning, I was nervous about letting anyone know what had happened. My department and my partners at Friedman LLP really stepped up in ways I will never be able to fully explain. I could have easily gone on pretending as if nothing happened. Shortly after my stroke, Virtua contacted me and asked if I would do a video to discuss my recovery. I agreed, and believed that if my video could help just one person, that is the only thing that would matter. Almost exactly two years to the day of my stroke, I received a call from a long-term client who didn't know I had suffered a stroke. During the call he told me that his son-in-law, a year younger than me, had a stroke and he was researching online and saw my video. After this call, I spoke with his son-in-law a few times to discuss some of the recovery issues and the long-term perspective. This one call made me understand the importance of telling your story in an effort to assist others.

South Jersey Magazine: How did you come up with Brave the Shave?
Mike Saccomanno: Since my stroke, my family and I have struggled with the question, "How can we make a difference?" I am truly blessed to be part of a firm that recognized whatmy family and I wanted to do. Friedman LLP offered to assist in any way they could with their Friedman Gives Back employee-inspired philanthropy initiative. Over the years I have told my friends and partners, if they raised enough money, I would shave my head. Now, with the backing of my firm, family, friends and my partners, I am putting my hair on the line.

South Jersey Magazine: What are the details of Brave the Shave?
Mike Saccomanno: On Wednesday, July 10, we are planning a memorable evening at Caffe Aldo Lamberti in Cherry Hill. We are having an exclusive VIP reception from 5 p.m. to 6 p.m. where Rizzeri Salon and Spa has generously offered to handle the technical side of shaving my head. Tickets for the VIP hour are $1,000. Then, beginning at6 p.m. we are opening the doors to everyone who purchased a $75 ticket. Tickets include hors d'oeuvres and drinks, and 100 percent of all the night's proceeds will go to three local charities: the Alicia Rose Victorious Foundation, the Johnny M Foundation and Samaritan Healthcare& Hospice.

South Jersey Magazine: How did you pick the charities the proceeds will go to?
Mike Saccomanno: With our Friedman Gives Back initiative, it allows our partners and staff to create relationships not only with our clients, but with people who live and work in the communities where we operate. This initiative has provided us opportunities to assist numerous charities in and around the cities and towns we operate. As we collaborated on how we can make a difference, we decided to use our resources and ask for the communities' generosity to recognize these three local charities. All three of these charities are near and dear to our hearts at Friedman LLP in more ways than one.

To read the digital edition of South Jersey Magazine, click

here

.



Published (and copyrighted) in South Jersey Magazine, Volume 16, Issue 3 (June 2019).

For more info on South Jersey Magazine, click

here

.
To subscribe to South Jersey Magazine, click

here

.
To advertise in South Jersey Magazine, click

here

.