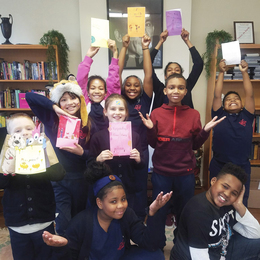 The Write Stuff
Mighty Writers Camden encourages local children to find their voice through its educational and enjoyable programs.

She may only be 13 years old, but Deonna Benbow has already given considerable thought to her future and the goals she hopes to accomplish. One of them is to write a book; an inspirational tale with autobiographical elements that she believes might help girls her age who have faced similar obstacles.

Last year at this time, Benbow's only options for working on her craft were during English class at school or on her own. But since the launch last summer of Mighty Writers Camden, Benbow—like a host of other South Jersey kids between the ages of 7 and 17—has found a place to develop her skills in a program that is educational and fun at the same time.

"I enjoy writing so I decided to come to Mighty Writers on my own," she says. "This is a good place for me because it's a different way to get my words out. I have very strong opinions, so working with Mighty Writers has helped me express my opinions in a different way. My ability to write without stopping and my ability to stay on topic have both improved."

Benbow, a Winslow Township resident and eighth-grader at Sacred Heart School in Camden, enrolled at Mighty Writers in September for its first full semester and rejoined for the spring. She has made considerable progress in that time, according to Vanessa Malave, program manager.

"When she initially came in she was an average writer, but speaking to her I saw that she had a lot more to give that she wasn't sharing right away," Malave says. "I encourage my students to give it their all and say what they think; I'm never going to censor them. Once I gave her that permission, she started lighting up the page with her strong opinions. She has grown so much more confident and so much more articulate and her writing is very strong. I can see this young lady in politics down the line."

Founded in Philadelphia by Tim Whitaker, a former teacher who became a professional writer and editor, Mighty Writers is a free program that aims to help children think and write clearly through its daily academies, which run all year. There are currently six locations in neighborhoods throughout the city.

Responding to multiple requests to bring Mighty Writers to New Jersey, the organization opened in Camden in July 2018, and Malave was a natural to lead the mission on this side of the bridge.

Growing up in Camden, Malave spent hours upon hours putting pen to paper in any way imaginable, whether it was journaling, writing poetry or coming up with original short stories. But she studied business at Rutgers- Camden and worked in corporate America for many years before finally deciding to seek a career more person- ally fulfilling.

That led her to Mighty Writers, and the fit was a perfect one.

"I know exactly where these kids are coming from," she says. "I grew up in this town and I know the ins and outs here. It was an amazing opportunity to give back to someone who is just like me; someone who is searching for guidance and opportunities. To be a part of Mighty Writers is something I'm very proud of. These kids teach me something every single day, and as an educator I hope that something I'm teaching them sticks with them and can be a catalyst in their lives."

Mighty Writers Camden is located at the Nick Virgilio Writers House and partners with nearby Sacred Heart. But while a majority of its students come from the school, it welcomes children from all over South Jersey to enroll.

In the elementary program for kids 7 through 10, Mighty Writers is currently teaching a creative writing course focused on moral lessons. Every three or four weeks, a different topic is introduced—such as stranger danger—and after learning about the topic, the children write their own stories and bring them to life in front of the class with a puppet show.

For the middle school program, offered to students between 11 and 13, this semester's focus is on a workshop titled "Pitch Perfect." It teaches children to pursue their entrepreneurial spirit by creating their own product, writing a business proposal and making a pitch at the end of the semester to Malave and other volunteers, much like the television show Shark Tank.

"We're offering a prize for who- ever gets the investors to invest in their business plan," Malave says. "We have some very interesting businesses coming out of this project."

In the high school program, open to students between 14 and 17, the spring semester has centered on writing poetry, from a number of different perspectives. "Some of these students were never exposed to poetry before or had never written poetry themselves," Malave says. "It has helped them come out of their shells and provided a platform for them to say what they want, say how they feel and say what they think."

Benbow is currently taking the "Pitch Perfect" course and has also experienced other programs at Mighty Writers. She plans on partici- pating in the journalism workshop that is beginning soon in partnership with WHYY-FM.

"Mighty Writers is definitely something to look forward to," she says. "Miss Vanessa makes sure the plans aren't boring. She incorporates games and makes our lessons fun."

Since the various programs are after regular school hours, Malave and other volunteers will also help students with homework, but she stresses that it is a comfortable setting.

"One thing I tell people all the time is that Mighty Writers is not school," she says. "We don't want to give that image and we don't want the children to feel as if they're coming from a long day at school to come to another school. This is about giving them something to learn but in the most fun way possible. If you're going to cultivate a passion for writing, you have to enjoy what you're writing about. … I created this curriculum to give them what they want, and because they're interested in it, they're more eager to write, to put forth effort and do a good job."

Benbow, who represented Mighty Writers at the International Youth Conference hosted by Rutgers earlier this spring, is one of many success stories in the group. Malave points to 9-year-old Tina Tran, who struggles with a speech impediment but has thrived in the program thanks to her imagination.

"Mark my words, this child will be an amazing movie producer or director or writer someday," Malave says. "She is a creative genius and I don't think I've ever met another student with more creative passion and confidence than this young lady."

Then there is Danae Fletcher in the teen program, who entered Mighty Writers as very much an introvert. An accomplished gymnast who has received an athletic scholar- ship to college, Fletcher never thought herself capable of being a writer before, but has delved into poetry and had an article published in the last several months.

"She found her own voice at Mighty Writers," Malave says. "She was so quiet and it was hard to get her to open up. She still doesn't talk very much, but if you give her paper and a pen, she can write down what she thinks and what she feels, and it's in a strong way."

Malave calls it "a community effort" to keep Mighty Writers up and running, as it relies heavily on volunteers as well as grants and donations for funding. Students from Haddon- field High School recently raised $1,500 for the organization.

If the Camden location continues to flourish and receive support from the area, Malave envisions further expansion in New Jersey.

"I get emails from parents all around the state asking about Mighty Writers," she says. "If you ask me, I could definitely see it expanding to other locations in New Jersey. Camden is the first one, but I can imagine us in places like Atlantic City or northern towns like Edison or Newark. In the next five to 10 years, I believe we'll be there."

"Mighty Writers is going to be very successful because of how they treat the kids and bring their writing out," Benbow adds. "A lot of kids don't like writing and I've heard a lot of them come into Mighty Writers saying that. But they leave loving it."

To read the digital edition of South Jersey Magazine, click

here

.



Published (and copyrighted) in South Jersey Magazine, Volume 16, Issue 3 (June 2019).

For more info on South Jersey Magazine, click

here

.
To subscribe to South Jersey Magazine, click

here

.
To advertise in South Jersey Magazine, click

here

.