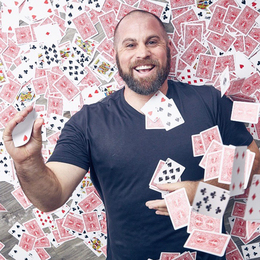 Pure Magic
It's no mystery why former eagle Jon Dorenbos is a crowd favorite.

Jon Dorenbos is nothing if not resilient. He entered the NFL in 2003 after being signed by the Buffalo Bills as an undrafted free agent. After playing the better part of almost two seasons with the team, he was cut. A little over a month later he joined the Tennessee Titans, but again, his time on the gridiron would be short-lived. The following year, he became the long snapper for the Philadelphia Eagles in late November, playing in the final seven games of the season and finally cementing his place in the league. While not front and center like a quarterback or flashy like a wide receiver, the affable Dorenbos emerged as a fan favorite, the kind of down-to-earth player that the city loves.

And if he wasn't smiling, chances are he was making someone else smile through his gift of magic. He would routinely amaze teammates, coaches, front office staff, reporters and more in the locker room with his sleight of hand maneuvers and intricate card tricks. See, while football was Dorenbos' career, magic had long been his passion. For him, it was something he used to escape the harsh realities of the world, not the least of which was the unfathomable tragedy of his father murdering his mother when he was just 12 years old.

In 2015, his skill was put on the national stage as he competed on America's Got Talent and captivated the hearts of the country. Much of what Philadelphia and South Jersey already knew was now on display for everyone to admire and it resonated. Dorenbos made it all the way to the finals of the competition, often having to leave Philadelphia at the drop of a hat and fly out to LA and film the show.

All in all, Dorenbos would go on to play in over 200 games in the NFL and made two Pro Bowls as a member of the Eagles. Then in August 2017, the team traded him to the New Orleans Saints. It was a moment that would change his life forever.

While taking his physical for the Saints, Dorenbos was diagnosed with an aortic aneurysm, which required immediate surgery in order to save his life. The news was sudden as was the realization that his football career was now over.

After taking some time to recover, Dorenbos returned to the Eagles organization as a team ambassador. He was once again amazing teammates, but this time, not just with the tricks he would perform, but also because of his amazing character and determination to fight through the tough times. It's one of the reasons that when the Eagles won Super Bowl LII, team owner Jeffrey Lurie made sure Dorenbos received a ring, more importantly a players' ring, for his time served with the organization.
These days, Dorenbos has successfully transitioned to life after football. He appears regularly on The Ellen DeGeneres Show and travels around the country combining his magic prowess with self-revealing stories meant to inspire and uplift others, all the while doing what he does best: putting smiles on others' faces.

This month, he'll take the stage for two shows at the Borgata on June 28 and he took time to tell us how he's been preparing for this moment for quite some time.

You have been performing on stage for a while now and you have these shows coming up at the Borgata this month, what can you tell us about them?
I love my show because I spend a lot of time trying to figure out what I want the show to be about, because I want it to be different. Is it a magic show? Yeah. Is it inspirational? Yeah. It's my life story and how magic played a role in my life and how I go through certain aspects of it.

There will be comedy, inspiration and people will maybe reflect on their own life in ways they didn't expect and hopefully find peace in things they have been stewing about. It's how I got to where I am and the magic that correlates with the story.

How different is it being alone on stage connecting with an audience versus being on the field and hearing the fans in the stands going nuts?
Both are rock star, man. You are there to entertain and there to inspire, I don't care if you are on the football field or on stage. When things go right, you celebrate, when things go wrong, you rally to resolve the issue. Being on stage is the same way. … I have a team backstage. It takes coordination, planning and total teamwork to make this thing go along.

I'm super fortunate that the two things I love in life are the only two things I've done for a job. There are a lot of similarities too in things you wouldn't necessarily think about; the thought process, the preparation, knowing the situations. Ultimately, it's about giving the fans a great show. They should feel like they got their money's worth.

You have talked previously about the tragedy of losing your parents at a young age and discovering magic. Were there any magicians you were inspired by or tried to pattern yourself after when you were starting out?
A ton. A magician I saw on TV named Bill Malone. And if you are in our era and don't say David Copperfield was an influence, you are a liar. Ken Sands, he was a mentor to me. It wasn't him teaching me tricks per se, even though he did. It was his ability to help me find out who I was as a performer. I don't want to be David Copperfield … what makes me different? He was a pivotal person in my life at a young age.

I never wanted to be that performer, like here comes Dorenbos; he wants to be so and so, so bad. You don't want to be that guy.

Do you remember the first trick you ever learned?
Yeah, two of them. One was called the Chicago Opener, a card trick.

And the other was a sponge ball trick when the magician puts a red ball in your hand and one in his hand and his disappears and it's in my hand.

When you were traded by the Eagles, I'm sure you had to be disappointed to be leaving the team and the community behind, but it turned out to be a blessing when it was discovered you had a life-threatening heart condition. What was that range of emotions like to go from being traded to being in an operating room?
I'm an optimist. I truly believe—it's not easy, it's hard—but the sooner that I can come to terms with my reality; the sooner you can get a positive from it. I knew the Eagles were looking to change directions and you can be bitter, you can be angry, but I was thankful for the 11 years of friendships and relationships. And when it settled in, I was excited. I have to go prove myself to another fan base and organization; it put a little pep in my step.

As an athlete, you are used to bouncing around and you don't have a choice who you play for, you have to adapt. I love Philly, the organization. Jeffery Lurie is amazing. ... My reality was I was done, I told myself I was excited.

When the whole thing went down, I asked [executive vice president of football operations] Howie Roseman "Has anyone ever traded for a long snapper?" He said, "I don't think so." I said [screw] it, I'm going to be the first long snapper to be traded for a draft pick. I thanked him for sticking by me for 11 years. When you get cut or traded, it's an ego blow, its personal. I've seen players burn bridges because of it and I didn't want that to happen. I was just thankful for the opportunity to compete for so long.

Was it tough to know that playing football was no longer going to be part of your life?
Yeah, it was. But at the same time I told myself, if you play, you die. Is it really that bad? And fortunately I spent a lot of time and took a lot of pride in theoffseason to perform and keep learning my trade. I was 37 and when you get to that age you are lying to yourself if you don't think about what life is going to be like after football. I'd been prepping for that and knew what I wanted to do. America's Got Talent was a great platform, it got me on Ellen DeGeneres, and it was an easy transition for me because I was planning for this for 20 years. It all played its way out. I was super fortunate to perform on TV; it showed the world what I was about. And now I can go to a theater and sell a couple thousand seats.

The Eagles welcomed you back into the fold and you got to take the journey with them to the Super Bowl. It's funny the way life works out sometimes.
It was really cool, I remember a long time ago in like 2007 or something like that, Jeffery Lurie and I had a conversation, and I remember telling him the only way I'll get a Super Bowl ring is if I play in [the game], because I have no desire to coach. This whole thing goes down, I have heart surgery, and the night before [Super Bowl LII] he says, "If we win, you are getting a players' ring. You thought you would only get one as [an active] player, but you deserve it for everything you've done over the years." It was kind of cool it worked out that way.

Besides the Borgata, have you ever spent much time in South Jersey or on this side of the bridge? Any favorite haunts or fond memories?
The Shore area is all good … Avalon, Margate, Ocean City. … My wife and I go to A.C. and stay at the different properties. I'm actually excited to do this show at the Music Box. I love the room and venue and super excited to do my own shows there.

You became a household name when you advanced far in the America's Got Talent competition. What was that experience like for you, and how hard was it keeping everything a secret?
It was so chaotic and so fast and so much stuff had to be done so quickly, that managing that process and doing it was a whirlwind and super fun. And what I loved about it was I was doing multiple round-trip flights from Philly to LA during training camp and I never missed a practice, never missed a special teams meeting and never missed a rehearsal … and I was creating new tricks.

I went to tape the finals, and we played the Cleveland Browns, it was our home opener. The game ends, I sprint right off the field and had five or 10 minutes to get changed and get to the airport to fly to LA. They say if you worry about getting hurt in a game that is the game you are going to get hurt in. But that one game, I was like please don't break an arm today.

You have a book coming out, what can you tell us about that?
The book got picked up by Simon and Schuster, it's my life story. It's not the seven steps to success, I'm not guaranteeing anything. It's my life, the things I went through and the things I did to get out of it and find happiness. If there are things there that can help you—and I think there are—wow, what a great thing.

How rewarding is it to see someone's face light up in disbelief after you've performed a trick?
It reminds me of when I first saw magic and I lost my parents and just that moment of forgetting all your problems. What else is cool is when you are walking through an airport in a random state and someone says, "Hey, it's not just the magic, it's what you say and you are a positive influence for me and my kids."

When I did America's Got Talent and did the finals, I was like OK; this is who I want to be. You have David Blaine, David Copperfield, these guys have their niche. I'm the inspirational guy and I love it.

More than anything, you hear others talk about what a great guy you are, how genuine you come across. Does that mean as much to you as people lauding your football accomplishments or praising your magic?
That means 10 times more, that's a way bigger compliment. People have asked me, "How did you manage both?" To me it was kind of easy; it was something I did in my spare time. I never wanted to be identified as a jock or an illusionist. These are pieces that make me, me, that make me different. I ride that and it's worked out. When people compliment your character, that's way bigger than any accolade, that's amazing.

To read the digital edition of South Jersey Magazine, click

here

.



Published (and copyrighted) in South Jersey Magazine, Volume 16, Issue 3 (June 2019).

For more info on South Jersey Magazine, click

here

.
To subscribe to South Jersey Magazine, click

here

.
To advertise in South Jersey Magazine, click

here

.