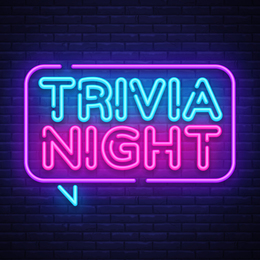 Trivia Night
Regular crowds across South Jersey are eager to test their knowledge on everything from pop culture to history. Is it just for fun or do they have something to prove?

It's 7 p.m. on a Thursday at Mount Holly's Village Idiot Brewery and there's barely a seat to be had. Groups are chatting energetically while sipping their beers and sharing a pizza from the spot across the street when all of a sudden a hush settles through the room and a voice comes over the loudspeaker.

"On April 8, 1974, this baseball player broke Babe Ruth's home run record. Name the baseball player."

The patrons whisper frantically and turn to the papers on their tables to write down their answer just in time to hear the next question. The scene ensues for several rounds, with topics ranging frompop culture and geography to literature and music, mixed with the ebb and flow of emotion as teams wait to hear what they got right and where they fall on the scoreboard.

This is trivia night in South Jersey.

Sometimes referred to as Quizzo, trivia nights have been gaining popularity over the past decade or more. All around our area, these events are hosted at bars and breweries. Steve Volkert, founder of The Quiz Kids, says his company's trivia nights were created in 2011 after a local bar owner told him he was looking for something to bring in a crowd on a weeknight. They now host at eight locations, including The Village Idiot.

"I think the appeal of trivia is that we all have instant access to knowledge right in front of us and this is a challenge to prove what you know without Googling the answer," Volkert says.

For most people, trivia is an opportunity to go out for a couple of drinks with the added entertainment value. At Village Idiot, Marlton's Valerie Cavanaugh and Maple Shade's Paul Rush have been attending trivia night events for two years. "You can go out any time to get a drink, but this is an activity, with a little bit of competitive edge," says Rush. "It's a mental challenge and something we enjoy. The goal is to win, but it's mostly about having fun."

But for something that should just be a fun night out with friends, competition can get intense. To keep the playing field level, no electronic devices are allowed to be used while a round is in progress—and that goes for any trivia night, not just Quiz Kids', and if players try to sneak it past the trivia runner, chances are that other players will rat them out.

Quiz Kids host Dan Blackman says it's easier for people to cheat at the larger venues and when it has happened, it was the other teams who let him know. "One team had a perfect round and someone came up and told us they had been using their phone," he says. "I had to call them on it. They cursed me out and they got tossed out. The whole bar was happy."

It begs the question about what kind of prizes are up for grabs. Prizes range from gift cards that will cover that night's bar tab to T-shirts and swag for runners-up. At the Telford Inn where Scott Chappelear has been playing weekly for four years, teams compete for a $50 gift card, but there is also a six-week tournament for the top two teams to win a carving station party for 20 people that includes 20 pounds of meat, rolls, alcohol and all the fixings.

Perhaps more than the prizes, bragging rights are on the line. "We know a lot of the people on the other teams and have a friendly rivalry so whenever we meet them in the head-to-head final, we have fun with it," Chappelear says. "It's always nice to win that big prize."

A big prize is up for grabs at the inaugural Haddon Avenue Trivia Challenge, a 24-day event taking place at The Pour House, Treno and P.J. Whelihan's inWestmont/Haddon Township hosted by Geeks Who Drink. Each team's top eight scores are tabulated to determine who takes home the $1,000 cash grand prize. This was enough motivation for Collingswood's Christina Micarelli who says she used to love playing trivia in college but since life has gotten busier, her group of friends has less time to devote to this hobby.

"When I saw this tournament I knew I wanted to rally up some friends and make a team," she says. And it's going well so far, coming in first place three times, and a few others second and third. "There's definitely one team that is our biggest competition. They often place in the top three and they have a pretty interesting strategy of not celebrating so we aren't sure who exactly they are. … Winning would be awesome, especially after investing eight weeks into this competition. The prize obviously is great but bragging rights would be even better."

It's not uncommon for teams to cultivate players who are strong in specific categories to improve their chances. Micarelli says her best skill is music. "Our team is pretty good in the sense that we all bring something to the table, whether it's music, movies, art, geography, etc. However there have been several times all six of us have been completely stumped," she says.

While every trivia host company does it a bit differently, some keep the themes generic and others have special categories mixed in. Volkert says some of the most popular themes he hosts include Disney, Friends and Game of Thrones. This can sometimes alienate people who feel like they don't have a shot at winning, but then there are others, like Dana and Robert Wallace, who aren't deterred because for them, it's not about winning.

At Oaklyn Manor's trivia night, a recent theme was board games and Game of Thrones, meaning two of the four rounds were devoted to those topics. The Wallaces say they wouldn't have normally come since they don't follow the popular show, but they love the chance to get out of the house now that their kids are older.

"We've been coming here regularly since last fall. We happened to be here on trivia night by accident and there was a good crowd," says Dana. "We love the host and there are always new people here to play, and the topics always spark memories and conversations."

The couple has even won a few times. "We've won shirts and swag, or gift cards. When it happens we're more shocked than anything," she says.

Regular players find themselves looking forward to going week after week. Chappelear says he does get a bit disappointed if he has a schedule conflict and can't attend, but he has come to accept it.

Micarelli says showing up is about more than trivia. "For me, it's about being with the group. I love hanging with my friends, we're all super busy. … We always have such a good time together so it's definitely something I look forward to each week," she says.

Chappelear's teammates, which include his wife but also some people he originally met at Telford, have become true friends. "I love getting to know people and that's one of the fun things about trivia, even when you're playing you're learning about them and what they know, how they approach the game," he says. "I do love trivia but it wouldn't be nearly as fun if I didn't have people to hang out with. I know a lot of things, but I don't know everything."

To read the digital edition of South Jersey Magazine, click

here

.



Published (and copyrighted) in South Jersey Magazine, Volume 16, Issue 3 (June 2019).

For more info on South Jersey Magazine, click

here

.
To subscribe to South Jersey Magazine, click

here

.
To advertise in South Jersey Magazine, click

here

.