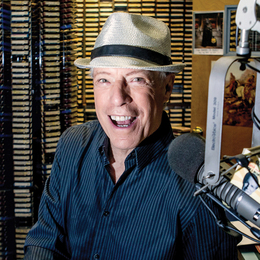 Getting Personal
Rock and Roll Hall of Famer Jerry Blavat will be a fixture this summer at his Margate club Memories, but first he tells us about what makes him truly happy, his biggest fear and his favorite all-time songs.

1. Some of my first jobs were quite memorable. When I was 10 I used to go to the stable at 5th and Bainbridge [in Philadelphia] and rent a pony for the day for $3. Then I would charge 25 cents to take people down the street on the pony or 50 cents to go around the block. My first employed job was head of the dance committee on Bandstand, selecting the records for Bob Horn to play, rotating the dancers who were chosen to appear every week on the show and taking care of the guest artists who appeared. I got $15 a week for that.
2. I'm at my happiest when I am performing in front of an audience, or doing my radio show and playing the music that I want to share. If I like something, I want to share it and I've been able to do that for 60 years now. The freedom for me to follow my passion for music and entertainment is the most rewarding thing, and money cannot buy that.
3. My favorite songs are ones that speak to the things that we feel in our hearts and that we all have in common—songs that relate to the experiences that we all share together, the greatest one being love. Some of my favorites are "Love Is a Many Splendored Thing," "I Only Have Eyes for You," "When I Fall in Love" and especially "Till."
4. The heroes in my life are those who not only achieve and accomplish something but also give back to others who are less fortunate. Anyone who in their line of work—especially medicine, religion or teaching—who is able to help other people who are less fortunate. The one who gives to others unselfishly.
5. My biggest fear is disappointing other people who believe in me.
6. What I most value in my friends is their sincerity, and their honesty—even if they disagree with me, as long as they are honest.
7. The historical figure I most identify with is Native American Indian chief Crazy Horse, who never abandoned his belief in who he was and never wanted to give up the freedom that he and his people had with their way of life, which unfortunately we changed.
8. If I could change anything about myself, it would be to become more tolerant, more understanding and more patient in my ability to cope with the changes that are going on in this world today.
9. There's no better feeling than making other people happy and giving to others.

10. If I were to die and come back as another person, I would want to be a teacher.

To read the digital edition of South Jersey Magazine, click

here

.



Published (and copyrighted) in South Jersey Magazine, Volume 16, Issue 3 (June 2019).

For more info on South Jersey Magazine, click

here

.
To subscribe to South Jersey Magazine, click

here

.
To advertise in South Jersey Magazine, click

here

.