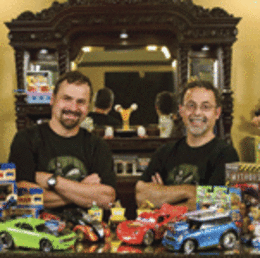 Southern Exposure: December, 2010
Toy Story
As you partake in the frantic hunt for this holiday season's hottest toys, consider for a moment where these colorful plastic creations originate. If the item on your children's wish list is a figurine inspired by the popular movie Ironman 2, or one of the customizable Ridemakerz cars sold in Disney parks, it was probably designed right here in Medford.
Tucked away in a historic former silent movie house just off Main Street, in a sort of mad scientist's rec room—complete with scores of games and toys and a massive antique wood bar from the old Indian Chief Hotel in town—the 10 designers at Scrambled Eggz Productions churn out hundreds of items targeting children and the childlike.
"We try to put ourselves in the minds of kids, of what they want and what they would think is fun," says creative director Tom Watters, who owns the 25-year-old company with partner Jim Mendillo (both pictured). "If you're working on a boys' product, it might be action packed, or if it's a girls' product, there's nurturing and things like that. So when we develop a product we try to think about what a kid's looking for."
Still, the end results are highly sophisticated. Since the company does toy and product design, packaging and illustrations all in-house, they've been commissioned to make everything from SpongeBob toy cash registers to Spiderman figurines, Dora the Explorer candy dispensers and Disney Cars-themed cookies. And, they also invent products from the ground up and pitch them to toymakers.
Like all designers, they're perpetually on the hunt for the next hula-hoop or Frisbee. Of course, it doesn't always work out. "We did a Tootsie Roll Pop lick-o-meter," Watters recalls. "You know that old ad, 'How many licks does it take to get to the center of the Tootsie Roll Pop?' We thought, 'This is the big one,'" Watters says of the digital lick-counter, key chain and lollipop saver he helped create. "But it turned out not many people really cared how many licks it takes to get to the center," he laughs.
Still, Scrambled Eggz has had far more success stories than flops. And, there's one thing you can say about thinking like a kid for 40-plus hours each week, Watters says: "It never gets old."
Did You Hear?
"A presidency is one of those things you don't own. You carry it for awhile."
—Rowan University President Donald Farish, on his plans to step down as of June 2012
College Daze
Tuitions are going up—and so are some towering new college developments. Yet some students are paying less than their counterparts five years ago. You do the math. Building Blitz
$300 million: Projected cost of Rowan Boulevard, which recently broke ground on its newest building, the Whitney Center.
$130 million: Projected cost of the 200,000-square-foot Cooper Medical School of Rowan University.
$30 million: Projected cost of the three-story, 107,000-square-foot sciences building that recently broke ground at Camden County College in Blackwood.
$2 million: Funding Rutgers-Camden is seeking to renovate its Honors College.
That's the Kicker
On Nov. 2, Randy Brown won a second term as mayor of Evesham Township, itself no minor feat given the bitterness of the race and the controversy around his decision to switch political parties before the campaign. A few days later, on Nov. 7, he celebrated again when Baltimore Ravens kicker Billy Cundiff made all six of his attempted field goals, helping the team to a 26-10 victory over the Miami Dolphins.
That's because Brown, in addition to being a small-town mayor, is also a kicking consultant in the National Football League. He is the only New Jersey mayor—and the only NFL coach—to hold both titles simultaneously. "They're both very high-pressure jobs," says Brown, who retraces his route along I-95 to Baltimore several times each week during the season. "The unique similarity between both of them is the intensity you have to have. At both of those jobs you have to be at such a high level at all times."
Still, Brown's used to it. It's his seventh season working with NFL teams; he spent two seasons each with the Chicago Bears and the Philadelphia Eagles before following Eagles' special teams coach John Harbaugh to the Ravens, where Harbaugh's now head coach.
Brown, a high school and college football star, worked out with more than a dozen NFL teams, but never made it onto the gridiron as a pro athlete. He says that experience taught him technique and mental toughness, which have served him well on the sidelines. Each June, he also runs a two-day kicking camp in Marlton for area youth. Still, balancing these two careers presents its challenges.
"There's always a win/loss involved in both jobs," Brown says. His biggest win in Evesham has been restoring Fourth of July celebrations, complete with fireworks, a rally for the troops, a 5K run and a bike parade. "Bringing that community back—that was something missing from our town—that was one of the proudest moments I've had so far," he says. On the field, Cundiff's game-winning field goal, kicked in overtime against the Buffalo Bills on Oct. 24, was similarly satisfying.
"Never in my wildest dreams did I believe I was going to be a mayor and coaching in the National Football League—either one of them," Brown says. "I live a dream every day."
Strong Arm
Dan Meyer, an alumnus of Kingsway Regional High School in Woolwich Township, has attained every South Jersey kid's dream:?a one-year contract with the Philadelphia Phillies. The former Florida Marlin, who had a rocky season in 2010, will be stepping in as a left-handed reliever for his hometown team starting this coming spring.
DATA POINT
42,300Jobs lost in New Jersey from September 2009 to September 2010, per the Bureau of Labor Statistics.
Surreal Estate
It may be five years since we watched in horror as Terrell Owens made a spectacle of himself with those now-infamous driveway sit-ups, but his mammoth Moorestown mansion, at 40 Landing Court, only just recently sold. Here's a look at a few other ex-Eagles and the properties they left behind. The lesson? Great football players rarely make great real estate investors.
Terrell Owens | Moorestown
The asking price fell from $4.4 million to less than $2.7 million over the five years since T.O. left the Eagles—that despite the 7,917 square feet, five bedrooms and 7.5 bathrooms on offer. We'll call the financial hit a fitting farewell to our most maligned ex-Bird.
Jevon Kearse | Moorestown
Released by the Eagles in 2008, "The Freak" got $1.3 million—well below the initial $2 million asking price—for his manse complete with pool, movie theater, barber shop, kitchen with industrial ovens and a deep fryer, game room, gym and five-acre backyard with a pond.
Donovan McNabb | Moorestown
Think zen bridges over lakes and waterfalls spanning 11 acres for the QB, now of the Washington Redskins. The price has already dropp­ed from $2.5 million to $1.8 million despite the indoor pool and game room. Might it be worth more if it came with a Super Bowl ring?
Sheldon Brown | Marlton
Brown, who was shipped off to the Cleveland Browns this spring, sold his four-bedroom house with an outdoor kitchen and theater room for $730,000 in August—$100,000 less than what the cornerback paid in 2004.
Brian Dawkins | Voorhees
The safety, who joined the Denver Broncos in 2009, wanted $555,000 for his Kresson Road colonial—just four bedrooms on less than half an acre. Given that he paid less than $300,000 for it back in 1998, he may be savviest ex-Eagle of all.
Home Grown
When Mount Laurel's Donna Pixton-Hacker got into soap making, it was out of necessity. "My son was born allergic to hypoallergenic soap so I found an herbal soap recipe and, when I made it and gave it out to people, they asked for more," she says. Now, 14 years later, she's still fulfilling those requests. Her business, Chamomile Cottage, sells soaps, sugar scrubs, lip balms, massage oils, bath salts, room sprays and lotions, all made with fair trade, natural ingredients. The Light & Lovely lavender lemongrass lotion, $18, loaded with shea, mango and hemp butters, is a bestseller. Pixton-Hacker also teaches classes in soap making at her Mount Laurel workshop. Find it in the summertime at Johnson's Corner Farm market in Medford, or online anytime at ChamomileCottage.com.
Names to Know
Edgewater Park native David Giannetto, , a writer, decoy carver, wildlife photographer, Rutgers professor and business theorist, has published his latest book, The Decoy Artist, a "nonfiction novel" about his father Vincent Giannetto III, a renowned Edgewater Park carver.
Cherry Hill's Mark and Maureen Schultz, Nickelodeon veterans who launched Suite Spot Studios in 2006, have already lined their trophy cases with Emmy, Telly and Cine Golden Eagle awards. The two produce content for Sesame Street, Comcast and many others.
Joel Magaziner's Cherry Hill-based TMG Systems is pleasing concerned parents with TextZapper, a new smartphone app that blocks text messages while teens are driving and also intercepts bullying texts.
Southampton cancer survivor Brenda Jones has shipped hundreds of Hug Wraps—a cozy, more stylish upgrade to the hospital gown—to cancer patients around the world.
Dr. Elizabeth Fong-DeLeon,Virtua Voorhees' section chief of neonatology, and Dr. Robin Perry, chief of obstetrics and gynecology at Cooper University Hospital, each received the March of Dimes Born to Shine Award for outstanding infant and maternity care.
Marlton accountant Brian Greenberg recently marked the 2,000th episode of his radio show on WNJC AM1360, where he's hosted everyone from Isaac Hayes to Mark Fuhrman to Alan Dershowitz.
Wanda P. Hardy, who founded Deptford's Credit Worthy, to help people learn to manage their finances, teaches personal finance and economics at Saint Joseph's University and Cumberland County College, and runs workshops at the Gloucester County College Center for People in Transition.
Next month, Haddonfield resident and prolific children's author Dan Gutman will release his latest book, The Genius Files (HarperCollins).
Published (and copyrighted) in South Jersey Magazine, Volume 7, Issue 9 (December, 2010).
For more info on South Jersey Magazine, click here.
To subscribe to South Jersey Magazine, click here.
To advertise in South Jersey Magazine, click here.