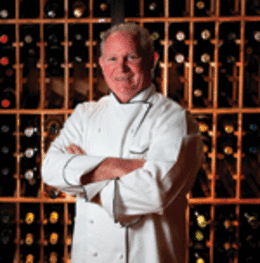 King of the Kitchen
Meet this year's South Jersey Top Chef winner, Café Madison's Jack Connor.
Nearly 100,000 votes were cast during the South Jersey Magazine Top Chef competition this year—more than 43,000 of them in the final round alone—and this year's winner is Chef Jack Connor of Café Madison in Riverside. Connor's take on a three-course holiday meal earned him the title, in what turned out to be a tightly contested affair. "I'm elated, because I realize how tough the competition was. I just think it's a great thing for our restaurant and everything that we are doing here in Riverside," Connor says. Connor first came to Café Madison in 2006, after learning of owner Bob Halgas' vision for the Burlington County space. "I saw Bob was making a strong effort in developing this whole town, and I thought, 'Why not be part of that?' Here I am, Top Chef. It hasn't really sunken in yet," says Connor. A special tip of the toque also goes to runner-up Mark Berenato of Haddonfield's Tre Famiglia. Berenato's seasonal three-course meal also garnered thousands of votes, and, throughout the sixth-month long competition, he was regularly one of the top vote-getters. In fact, Berenato's entry for the "30 Minutes or Less" recipe category—grilled lamb chops with spicy raspberry glaze—drew the most votes in any round outside the finals, with more than 10,000 votes. "The whole restaurant was operating at a different level. The servers were excited. The customers were excited," Berenato says. As an Italian cook, "the competition made me more creative and it educated me," he adds. "It makes you raise the bar a little bit higher." For Connor, the thrill of the contest was twofold. "It's always nice to see what the com­petition is doing," he says. "The thing that was the most important to me was how my culinary staff was involved.... They wanted to put their best foot forward and think outside the box."
What They're Saying
"[The contest] allowed chefs to be a little bit creative this year…. Some of the items made it onto our menu."
—Markese Beverly, The ChopHouse
"I received several e-mails from people that tried the recipes and loved the food."
—Dave Levecchia, Scaturro's
"The idea of this contest is to create a buzz among the customers and for the chef; it is always a challenge to create a recipe to be integrated as a daily special for one month. The customers responded positively."
—Nunzio Patruno, Nunzio Ristorante Rustico (last year's winner)
"It was fun; I'd like to be invited back again next year. It's great for South Jersey restaurants and it's helped us make a name for ourselves and get business in the door."
—Timothy Elliason, Braddock's
"It was fun seeing what other local people come up with for common themes. It did draw in a lot of people that came in for that [month's] dish."
—Ian Palagye, RiverWinds Restaurant
"I personally had a great time in the contest and enjoy making dishes that I wouldn't make on a regular basis. All my customers enjoy my dishes and some of the specials are going to be regulars on the menu."
—Kenneth Sze, Yokohama
Published (and copyrighted) in South Jersey Magazine, Volume 7, Issue 9 (December, 2010).
For more info on South Jersey Magazine, click here.
To subscribe to South Jersey Magazine, click here.
To advertise in South Jersey Magazine, click here.