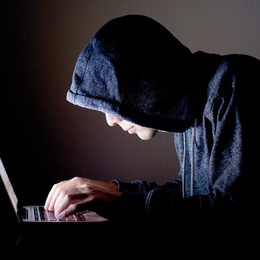 Digital Deception
Cyber scams frequently take advantage of unsuspecting participants, resulting in lost money and big headaches.

Six years ago, Mischele Lewis found love.

It was under unconventional circumstances—although growing in popularity—through a dating website. Nearly a year had passed and though the couple was now engaged, Lewis did not know that her relationship and life would soon be turned upside down.

On one fateful day she noticed that her fiancé had left his wallet sitting on a table at her house. Something compelled her to look through it. That was the beginning of the end.

"He very seldom would ever leave his personal belongings lying around and one day he had left his wallet on a table and had gone to the bathroom and I checked in his wallet—I don't know what made me do it," Lewis says. "That's where I found an ID that had a completely different name on it, which ended up being his real legal name."

Instead of confronting him immediately, Lewis decided to hold onto the information. It wasn't until her fiancé bailed on Valentine's Day plans that she decided to dig a little further. In contrast to the fake name, after searching her fiancé's real name on Google, Lewis found article after article about who he really was. This man, who claimed to be a worldly figure working for the United Kingdom's Ministry of Defence, had been previously convicted of bigamy, fraud and sexual assault while living overseas and was eventually deported back to his country of origin—America.
Throughout their relationship, Lewis handed over nearly $5,000 to support the Cherry Hill native's lies, whether that was to pay his parents' bills or wire transfers needed for supposed security clearance to allow her to see him and "prove her worthiness." However, Lewis never found out the true reason he needed the money, leaving her shortchanged and broken hearted.

Lewis, like many who are victims of fraud, was in a vulnerable position—tricked by the one she trusted and almost married. Romance scams have been on the rise, and in 2018 alone the Federal Trade Commission (FTC) reported $143 million in losses—making romance scams the highest reported fraud type to the FTC—but it's not the only fraudulent activity found online.

When someone in the community is thrust into a troubling situation like a house fire or a sudden unfortunate medical diagnosis, friends, family—even strangers— are able to come together to donate to the cause through online crowdfunding campaigns. In January, a tragedy in Philadelphia left three dead and one critically injured as the result of a car accident. A GoFundMe campaign was started for the Gloucester County woman who survived and donations have been skyrocketing ever since the event occurred. But for all the good a GoFundMe page does for those in genuine need, a few campaigns fall short of legitimacy, leaving donors scammed out of their generous offer.

In 2018, a Medford man started a GoFundMe page to raise money for his ailing dog's veterinary bills. He raised nearly $15,000 before it was discovered that he intentionally harmed the animal, which would later die under suspicious circumstances while under his care. He was charged with animal cruelty and theft.

Of course, one of the biggest crowd-funding scams to ever take place happened right here in South Jersey. Back in October 2017, a homeless veteran by the name of Johnny Bobbitt came to the rescue of Katelyn McClure, a Burlington County woman who ran out of gas on the I-95 in Philadelphia. He walked to the nearest gas station and spent his last $20 to get her fuel.

In response, McClure and her boyfriend Mark D'Amico wanted to return the seemingly selfless gesture and set up a GoFundMe account which gained nationwide attention and ultimately raised more than $400,000 for Bobbitt. The trio did morning television up and down the dial and their story caught on like wildfire.

But when Bobbitt went to authorities and explained he never received the money due to him and that he believed the couple was instead spending it themselves, an investigation was launched by the Burlington County Prosecutor's Office. Investigators pored through nearly 60,000 text messages between the three and soon the feel-good story that had warmed so many hearts turned out to be nothing but a sham, a story made up by the three unlikely cohorts as a get-rich quick scheme.

So where did nearly half a million dollars go? It isn't clear, but D'Amico and McClure are believed to have spent a good portion living in the lap of luxury, purchasing high-end handbags, a BMW and a trip to Las Vegas.

Because of the high-profile attention this case received, Burlington County Prosecutor Scott Coffina thinks people will be more skeptical of crowdfunding campaigns. "The downside of [skepticism] and the sad part of this and part of the reason why the GoFundMe investigation with the Johnny Bobbitt [fundraiser] isn't just an interesting story because of how it went viral and then wound up being fake, but it's important because when there's a lack of trust in donations, the legitimate solicitations get hurt by that."

To combat uncertainty, GoFundMe has a few safeguards in place while offering the "GoFundMe guarantee," which refunds 100 percent of the profits back to donors who give to a fraud cause. The platform gives the public a chance to red flag campaigns believed to be fraudulent, or the company can use their team and tools to delve deeper into campaigns to determine provably untrue causes.

"The technology we use is best-in-class and is on par with verification methods used by the financial industry. We have a dedicated trust and safety team working around the clock to ensure GoFundMe is a safe place to give and get help," says Daniel Gordon, vice president of trust and safety at GoFundMe. "The software technology detects risky behavior on the platform while people on the team are reviewing and vetting campaigns in real time. Because we employ technology and people, the majority of cases of misuse result in no money ever reaching the bad actor in the first place."

Although GoFundMe mentions that fraud cases are less than one-tenth of a percent of all fundraisers, the organization understands these cases do occur and that's why it offers a guarantee, which is not seen with any other crowdfunding site.

"GoFundMe wouldn't exist without empathy, courage and vulnerability of our campaign organizers and donors. It's imperative for us to be the safest place to give so that people are encouraged to help others," Gordon says. "At the end of the day, we believe in the good in people and we want to empower people to help others," he continues. "We are committed to providing the best and safest experience when someone needs to raise money or wants to give to causes they care about."

The charges against Bobbitt, D'Amico and McClure were theft by deception and conspiracy to commit theft by deception, but a new bill would fortify jail time and penalties for those committing theft by deception on crowdfunding sites.

As a result of the case, Assemblyman Ron Dancer introduced a bill in New Jersey that would raise the penalties against those committing fraud online. For example, if a person is currently charged with theft by deception in the second degree ($75,000 or higher), their jail time could be anywhere from five to 10 years and a $150,000 fine at its peak. Under this new bill the crime would be increased to the first degree and entail mandatory jail time anywhere from 10 to 20 years with a $200,000 fine. The money the state receives from the fines will all be donated to a housing homeless trust fund, knowing Bobbitt was a homeless man.

"The goal here is that we want to send that very, very strong message," Dancer says. "If we don't do this, you're going to get other fraudsters like these scam artists and it could literally undermine the charitable giving foundation that we are fortunate to have through the technology of going online and GoFundMe."

Each case is unique when it comes to discovering the truth. In this situation, the in-fighting between Bobbitt, D'Amico and McClure became public and they were ultimately the ones to bring the scam to light. Other times it's not as simple.

"One of the things that you see a lot nowadays on the town bulletin boards that they have on Facebook are very active and very spirited discussions," Coffina mentions. "If you have somebody in an area who's claiming to have cancer and people believe or see that person is perfectly healthy, then they may drop a dime on them because they're offended by it.

"A lot of this stuff has to happen from a tip where something doesn't add up and it winds up falling down," he continues. "That's the nature of a lot of white collar crimes, the other [way] is if the people make a mistake somewhere along the way."

While being cautious and having an idea of what to look for in a scam campaign can help better inform potential donors, there are safeguards in place to help according to Lisa Coryell, public information officer for the New Jersey Attorney General's office. Coryell says the division offers information you should familiarize yourself with before forking over any cash, including never assuming that all crowdfunding requests are legitimate. Verifying the legitimacy of charitable organizations, finding out where your money goes once it's donated, making sure your online donation is secure to hackers and being wary of providing any personal or financial information can go a long way.

Last September, Calla Travia of Mullica Hill was in search for a limited edition product for her fiancé: the Bud Light "Philly Philly" Commemorative Pack to honor the Eagles first Super Bowl championship. A few select editions of the package held a golden ticket for the 2018 season's home opener. Since the product sold out in a blink, Travia looked to the secondary market. The $30 package was priced on eBay anywhere from $80 to $300. She researched the sellers before deciding to purchase the product price from a seller with stellar user reviews. Unfortunately, she would get burned by the transaction.

"I received the package in terrible condition. The box was torn and the front protector was broken. I was devastated I just paid four times the original amount for a damaged product," she says. "I personally believe the seller tried to open each box to see if there was a golden ticket and resell it as new."

Travia reached out to the seller in regards to her damaged product, but he refused to give a refund or help her in any way. After going back and forth and having to get eBay involved, the seller eventually, and Travia believes accidently, refunded her money. But it wasn't without the seller threatening to show up at her home, calling her phone more than a dozen times and terrifying her as a result.

As brick-and-mortar stores place second to online retailers, a shift to reselling products on eBay and other sites like Craigslist, Etsy and Facebook Marketplace has gained momentum as well. With that shift comes more opportunity for scammers to prey on willing, if not unsuspecting, buyers.

Travia's situation might be considered extreme, but her story is one of three million consumer reports to the Federal Trade Commission. According to the FTC, which ranks imposter scams No. 1, "shop-at-home" or online shopping scams amount to $107 million in total losses making it the third-highest ranked scam.
Although eBay was accommodating to Travia, she remains skeptical about making further online purchases from resellers.

"I was always wary of buying products off of secondary retail stores. I looked for good reviews and it still did not pay off," Travia explains. "You have to be willing to take a risk. Be sure to purchase from a secondary company who really stands for its buyers. The only tip I will live by now, is to send the product to a business or P.O. Box; therefore, the seller does not have your place of residence."

To help avoid similar situations, the FTC suggests getting as much detail as you can about the party you are dealing with. They also recommend paying by credit card so that the consumer is protected under the Fair Credit Billing Act, which gives consumers the chance to dispute charges.

Local municipalities are doing their part to help make internet purchases safe and supervised thanks to the creation of several safety exchange zones across the area. These designated meet-up spots give peace of mind to consumers who are making their transactions in person. Evesham, Bordentown, Mantua, Cinnaminson and Moorestown are some municipalities that offer these surveilled exchange zones at police stations or on municipal properties.

As for Lewis being caught in a romance scam, it's the toughest fraudulent activity to track down. The FTC allows the public to submit complaints that go into databases available to all law enforcement across the country. The database is used to look at patterns as well as develop cases.

Although the FTC was unable to comment on the prevalence of online dating scams, it is seeing an increase in consumer complaints.

Lewis' situation was unique, but she was able to stop her fiancé in his tracks and with the help of the Burlington County Prosecutor's Office, ultimately sent him to jail for three years. While she is now living her life differently than before, Lewis remains hopeful that there are still good people in the world and that this was just a hiccup in her story.

Today, Lewis is an advocate for others going through similar experiences to her own and encourages those who have fallen victim to romance scams to not become secluded and find a support system that can help.

"[After this situation], I realized that my suspicion was almost like me pushing people away. … I didn't want to jump back into [a relationship]," she says. "This isn't how I was before. I don't want to be this kind of person who just constantly is suspicious of people all the time. I didn't want him to skew who I was or dull my sparkle."

To read the digital edition of South Jersey Magazine, click

here

.



Published (and copyrighted) in South Jersey Magazine, Volume 16, Issue 1 (April 2019).

For more info on South Jersey Magazine, click

here

.
To subscribe to South Jersey Magazine, click

here

.
To advertise in South Jersey Magazine, click

here

.