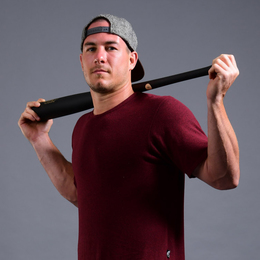 What a Catch
One of baseball's rising stars, J.T. Realmuto is ready to make an impact on a new-look Phillies team.

J.T. Realmuto admits he didn't have much time to think about anything since getting traded from the Miami Marlins to the Philadelphia Phillies back on Feb. 7. Five days after the move was made, he was in Philadelphia, being introduced to the media while donning his new home white and red pinstripe jersey for the first time. The next day, he reported to Clearwater, Florida for spring training.

It's early March when we have the chance to speak with Realmuto and he's about to get on a bus with his new teammates and take the 40-minute or so jaunt over to Tampa to face the New York Yankees that evening. He's been a Phillie for a little over a month at this point and he's still trying to get acclimated to his new team, while also preparing for a baseball season that is rife with high expectations thanks to key additions like himself and another guy you may have heard of, Bryce Harper.

Somewhere along the way, he and his wife Alexis got a new house in Haddonfield. It's a wonderful home in a quiet suburban setting that suits the easy-going Oklahoma couple just fine as they raise their infant daughter Gracie Lane and let their dog run amok in the yard. Alexis found the place after spending a few days in the area house hunting and instantly fell in love. Realmuto was sure he was going to love it too, once he actually got a chance to see it.

"I haven't been there at all," he says at the time, admitting that his hectic schedule since being traded didn't allow for him to check out his new digs in person. "My wife spent two days there and I trust her judgment. I was all for it. … We signed a lease a couple days later. I'm definitely looking forward to it."

While Realmuto is looking forward to seeing where he'll hang his red and white cap for at least the next two years, Phillies fans are just as eagerly looking forward to seeing him in action. Often referred to as one of the best if not the best catcher in baseball, Realmuto had perhaps his best season of his early career last year when he was named an All-Star and won the Silver Slugger Award, given to the best offensive player at each position.

But the personable 28-year-old would rather not fuel the hype and let his play do the talking. If his past performances in Miami are any indication, his play will speak volumes. It's no wonder why when Harper—this off-season's prized free agent—had his introductory press conference that he cited Realmuto as being his favorite player in the game. Harper may be the main attraction, but Realmuto will hardly be just a bit player in this new-look Phillies team that is poised to resurrect the fans' passion for the game.

We talked with Realmuto about being one of the new guys, his thoughts on playing in a sports-crazed city and why he still feels he has room to improve.

Q&A
You joined a new club with the Phillies, but one you had some familiarity with playing against them in recent years as a member of the Marlins. I know you are still getting acclimated to the team, but how would you describe the experience of being a Phillie so far?
It's been awesome so far, everything I expected and more. The clubhouse has been great. There's a lot of new guys, but everyone is jelling really well so far. Everyone is pushing for the same goal.

You are one of several new faces to join the club. What does the team need to do to build chemistry and blend the new guys in with the ones who have been here?
It's just something that takes time. We need to spend time together, in the clubhouse and away from the field. But nothing brings you together like battling on the field. It might not happen the first week of the season, but we'll get more comfortable with each other and be there soon enough.

Expectations for the team have risen with the addition of yourself, Bryce and Andrew McCutchen, but what are your personal goals for this upcoming year?
I don't have any individual goals, I'm pretty team oriented; I want to win a World Series. That's always been my goal in baseball and that doesn't change this year. If anything, I have a better chance than I did this time last year, that's why I'm so excited.

When you were introduced as a Phillie, general manager Matt Klentak called you the best catcher in baseball, an opinion others have echoed as well. Do you embrace that or try not to pay attention to that kind of talk?
For me, I'm not where I want to be as a player, but to be mentioned in that tier is special. Just knowing there are areas I can improve in and focus on, I'll continue to do that.

Obviously, the team made huge headlines bringing in Bryce and he made no secret how much he thinks of you. What is your relationship like and how did you become friends?
We both got drafted the same year and played each other in the minors and then played in the same division every year in the big leagues, though he obviously made it to the big leagues before I did. We became friendly by being competitors and there's a mutual respect about our game, just battling each other. He was always one of my favorite guys to play against. Now I get to watch him every day and not have to worry about getting him out.

That should make your life a little easier.
Yeah, a whole lot easier. (laughs)

Did he reach out to you at all during his free agency process after you were traded here to pick your brain at all?
No. Honestly I thought about reaching out to him, but I wanted him to make his own decision. There was a lot of pressure on him and I didn't want to add to it. I wanted him to make [the decision] for him and his family. I didn't want to press on it too much. And I was pretty confident with everything the Phillies had to offer.

You are going to be living in South Jersey, how did you wind up settling on this side of the bridge?
[My wife and I] were planning on living in Philly and my wife went to check out the areas and she ended up in Haddonfield and loved it there. Other players who live there were pushing the area on me. We are suburban people, not really into the city life, and we have our chocolate lab with us so we were looking for a house and a backyard, a place we could wind down and get away from the city life. We pulled the trigger as soon as we could.

You grew up in Oklahoma, what was your hometown like?
I grew up in a suburb outside of Oklahoma City; I had the best of both worlds, though Oklahoma City is not a big city like Philadelphia. But I was close enough to the city, like a 15-20 minute drive to downtown, but I was also a five minute drive to the country, kind of in between. We are a little more slow-pace, small town type of people.

Do you get back there much at all?
We have a pretty big family, so after the season, we spend usually two or three months back home and then try to get to Florida in January and get back to work.

The baseball season is such a grind and you are on the road a lot with not a lot of off days. How do you put in the quality time with family when you can? What kind of things do you like to do on your downtime?
Usually during my downtime, I play golf a lot with my dad and brother and in the offseason I hunt quite a bit. During the season, it's tough, but I'll go golfing or maybe deep sea fishing with some of the guys. Other than that, I am a homebody and spend time with my wife and daughter and relax and enjoy the downtime because we don't get too much of it.

After playing in Miami where the baseball interest is somewhat tepid, what are you most looking forward to about playing in front of Phillies fans?
Just the enthusiasm they bring. I can remember my first year in the big leagues … it was September and the Phillies were on a playoff hunt. Chase Utley hit a walkoff home run and it was the loudest I have heard any ballpark. And playing there, it's by far the loudest ballpark. [The fans] are passionate people and passionate about baseball and you have to respect that. If you play the right way, they appreciate it and I look forward to playing in front of them.

A lot of athletes have their superstitions or routines they go through to get ready for a game. Do you have anything special or quirky that you like to do?
I'm not a big superstition guy. I say a little prayer before every game and I go in the hot tub before the game every day, but otherwise I just get ready to play.

I'm sure you dreamed all your life about playing in the big leagues; do you remember what the moment was like when you finally stepped onto a professional field?
Yeah it was pretty surreal for me. It was in Tampa, I had my whole family there, it was definitely something I always dreamt of and exceeded all my expectations.

Who were some of the players you idolized growing up since I know you didn't always play the catcher position?
I wasn't even a catcher in high school, but I was always a big Mike Piazza fan. I was a big [Los Angeles] Dodgers fan and he was my favorite player growing up.

Catchers are viewed as captains on the field, what do you think are some of your best leadership qualities?
For me, I'm not exactly a vocal, rah-rah type of leader. I go about my business every day and I try to play the game the right way and if my teammates see me doing that, guys gravitate toward that. I don't do it vocally, but by my actions.

To read the digital edition of South Jersey Magazine, click

here

.



Published (and copyrighted) in South Jersey Magazine, Volume 16, Issue 1 (April 2019).

For more info on South Jersey Magazine, click

here

.
To subscribe to South Jersey Magazine, click

here

.
To advertise in South Jersey Magazine, click

here

.