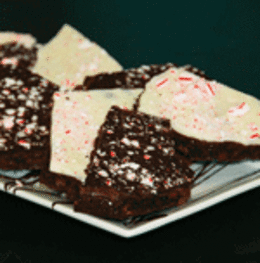 Cravings: Tempting Treats
5 spot
A decadent dessert is the perfect ending to any holiday celebration. And just because you aren't an expert baker doesn't mean that you can't wow your family and friends. Trust us: grandmom will appreciate an indulgent tiramisu from Botto's much more than the traditional (and weirdly nonperishable) fruitcake. Want to jazz up your holiday table? Here are five sweet options.
1. Pretty Sweet Bakery Peppermint Bark. This lauded Haddonfield bakery has flashier desserts, but this part-cookie, part-candy creation offers a colorful taste of the season. The dark or white chocolate atop chewy chocolate cookies would be tasty alone, but the crushed peppermint candy brings the confection to a new level.
427 N. Haddon Ave., Haddonfield, (856) 429-0063
2. Ponzio's Cannoli Cake. This Cherry Hill institution does all its baking on the premises, including this interpretation of an Italian favorite. Ricotta cheese and chocolate chips fill a chocolate cake finished with a chocolate ganache.
7 W. Route 70, Cherry Hill, (856) 428-4808
2. Sweet Eats Bakery Sombrero Cake. Named for a popular drink, this dessert will liven up your fiesta. The Bavarian cream-filled cake, made with Kahlua and cream, is available in chocolate or vanilla—or even half-and-half for those who just can't decide. 3.
310 S. Burnt Mill Road, Voorhees, (856) 429-2005
4. Randolph's Bakery Caramel Apple Tart. Stuffed with caramel cream cheese and plenty of juicy apples, this tart is topped with crumbs and a caramel drizzle. It's a rustic reminder that simple, classic recipes are sometimes still the best.
300 E. Greentree Road, Marlton, (856) 983-0550
5. Termini Brothers Sfogliatelle. You'll want to place your order well in advance for these ricotta-filled pillows of dough. The addition of orange zest and cinnamon give this pastry an unmistakable flavor.
137 Egg Harbor Road, Sewell, (856) 228-8922
"My favorite dessert spot is The Pie Lady in Moorestown. The apple pie with crumb topping is the best I've ever had. In fact, I've been known to skip lunch or dinner and just substitute a slice or two of pie." —Robin Rieger, Burlington County resident and CBS3 reporter
"Family" Style Cooking
What do you get when you mix a love of cooking with a Philadelphia mafia background? The answer is the newest restaurant in Collingswood. Angelo Lutz, a former bookmaker who served more than seven years in prison, has opened The Kitchen Consigliere Cafe on Powell Lane. As executive chef, Lutz cooks everything from prosciutto, fresh mozzarella and tomato paninis to veal and chicken specialties and homemade cheese ravioli. 8 Powell Lane, Collingswood, (856) 854-2156
Vintage Vermeil
Many remember Dick Vermeil from his days patrolling the sidelines as a coach in the NFL. But now the former Super Bowl winner has partnered with winemaker Paul Smith for his own line of vino. Op­tions include a Caber­net Sauvignon, Zin­fan­del, Sauvignon Blanc and Syrah, all from Vermeil's na­tive Napa Valley. Vermeil will be signing bottles and greet­ing fans at a special ap­pear­ance at Traino's Wine and Spirits in Marl­ton on Dec. 17 from 5 to 8 p.m. Traino's Wine and Spirits, 100 Church Road, Marlton, (856) 983-0056, VermeilWines.com Published (and copyrighted) in South Jersey Magazine, Volume 7, Issue 9 (December, 2010).
For more info on South Jersey Magazine, click here.
To subscribe to South Jersey Magazine, click here.
To advertise in South Jersey Magazine, click here.