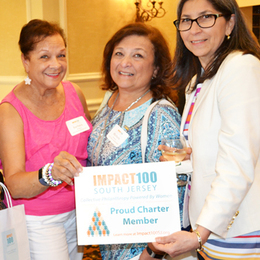 The Spirit of Giving
Local women are making a difference in the community through a unique philanthropic endeavor.

Yanlexis Arizaga only spoke for about five minutes, but that was more than enough time to leave a lasting impression on a room full of people at Tavistock Country Club.
This was last June during the first annual meeting for Impact100 South Jersey, a women's collective giving group that seeks to donate $100,000 a year to a worthwhile nonprofit in the area. Arizaga was representing Hopeworks Camden, one of three finalists for the inaugural grant.
She talked about her traumatic childhood of abuse and poverty and how she overcame it with help from Hopeworks, an organization that teaches youth the technical skills they need to thrive in the workplace, while also providing a nurturing environment to heal from the suffering they've endured.
Arizaga is now employed at Hopeworks as a youth training specialist and helps new trainees to complete the program and prepare for internships. She is also attending Camden County College and plans to pursue a career in human services.

"That was a pretty compelling moment," says Dan Rhoton, the executive director of Hopeworks. "Each nonprofit gets a chance to speak or pitch to the group, and we decided it would be silly to put a staff member up there when our organization works with youth. We wanted to show them what we do.

"She was amazing. Of course we're excited we got the grant and of course it's transformative, no question. But the most exciting moment for me was watching our young woman get up there, share her story and be in a room full of powerful women who all supported her."

The idea of women banding together to support each other and make a difference in their community is how Impact100 South Jersey got off the ground. The Community Foundation of South Jersey hosted an event in 2017 featuring several well-known women philanthropists, and a handful of attendees were inspired to give back. They were later introduced to the Impact100 model—which started in Cincinnati and has branches across the country, including Philadelphia and North Jersey.

The goal of every Impact100 is to bring together 100 female members who each contribute $1,000 per year. They then vote to select one nonprofit to benefit from the entire $100,000 grant.

"I think it's a great concept because it encourages and allows women to leverage their own personal philanthropic dollars," says Nancy Weber, a longtime Haddonfield resident and one of the founding members of Impact100 South Jersey.
"Last year 74 women joined and we awarded one $74,000 grant. I could never support an organization at that level by myself, but because I was able to leverage my philanthropic dollars I was able to be part of something that was bigger than myself. That was very appealing to me and I think it's appealing to a lot of women. One of the other core missions of our organization is to really encourage and educate women so they see themselves as philanthropists. You don't have to be the person writing a check with a lot of zeroes. You can be part of a group that writes a check with a lot of zeroes."


Kyle Ruffin is another founding member and, like Weber, serves on the Leadership Council for Impact100 South Jersey. A Hainesport resident who grew up in Mount Laurel, she appreciates the opportunity to give back to the places she calls home.


"South Jersey can sustain something like this, and I think that's what has made me most proud—proving that we're not just a bedroom community of Philadelphia, but we are a thriving, generous and loving community all its own," she says. "Women are very, very open to that message. We want to know we're helping our neighbors."


Impact100 South Jersey draws members from Burlington, Camden, Gloucester and Cumberland counties. Although the parameters may change in the future, for now its grant is open to nonprofits with an annual operating budget between $300,000 and $5 million with a mission focused on three areas: arts and culture; women, children and families; or education.


Organizations must apply for the grant and submit a proposal for how the funds will be used. Each focus area has its own grant review committee—consisting of volunteers among the membership—who thoroughly review the proposal.

Eventually, two or three nonprofits from each focus area are chosen for a site visit and further evaluation.

Cherry Hill resident Irene Giman, a financial planner at RTD Financial Advisors, was an original member and a volunteer for a grant review committee last year. This year she has added responsibility, as not only is she part of the Leadership Council but is also heading one of the review committees.

"For me, it's been really interesting learning about the grant process, looking at the projects that these organizations are seeking funding for and being stewards of our members' money," she says. "They're trusting us to review everything and make a [worthy] selection. It's a real responsibility but very interesting and there are so many wonderful people involved."

Ultimately, one finalist from each focus area is selected and appears at the annual meeting in June, which will be held at The Community House in Moorestown this year. After the presentations, a secret vote is held by the members to decide which nonprofit receives the grant.

"The annual meeting is a big deal," Ruffin says. "It's very moving to hear the presentations. We were told by other Impacts that it's the most emotional night of the year for the members. We believed them but we did not expect the degree to which it was highly emotional."

Several guests who were present last year were so affected that they decided that night to become members of Impact100 South Jersey for the second year, and many of the original members have also recommitted to the cause.

Weber, the chair of the membership committee, saw a sizable increase in interested women throughout the year and was constantly meeting people for coffee to discuss the group's mission. She also led several gatherings throughout the area this past fall for prospective members, and the result is that at least 155 women have signed on as members.

That means that one nonprofit will receive the full $100,000 grant this year, and the additional money will be dispersed between the other two finalists.

"We surpassed our goal and doubled our number, so it's really great," Weber says. "The region is really embracing the idea of collective giving and this shows the nonprofit community that we are and will continue to be a significant funding source for them.

"We have women executives, women who own their own companies, stay-at-home moms, social workers, attorneys, bankers, physicians. It's a wide range of occupations and ages as well. We are very encouraged by the response of women in South Jersey."

Weber has been inspired by other community leaders to be active in several charitable groups. She hopes her decision to become heavily involved with Impact100 South Jersey will be noticed by future generations.

"I spoke to my 13-year-old granddaughter about this and explained what collective giving means," she says. "I just hope at the end of the day I'm a good role model for my children and grandchildren."

Giman drew that kind of inspiration from her own mother, who was charitably inclined. She finds it rewarding to see what women can accomplish when they work together.

"I'm very proud of what we do," she says. "When people contribute their time and money like this, I think it's wonderful. It's not surprising, though. I think that's what women do."

Hopeworks, which outgrew its original location, recently moved into a new space in Camden, and Rhoton says it would not have been possible without the grant from Impact100. The organization is now able to serve twice as many young people.

He would recommend other non-profits apply for the grant without hesitation. Applications for this year are currently available at Impact100SJ.org, and proposals are due on Feb. 15. Following the review period, finalists will be announced on May 29 and the annual meeting will be held on June 12.

"It's a valuable process win or lose," Rhoton says. "Of course the money is helpful, but getting feedback from a group of really smart, really talented women who are changing the world—that's never going to end badly. … We always encourage folks to just go for it."

To read the digital edition of South Jersey Magazine, click

here

.



Published (and copyrighted) in South Jersey Magazine, Volume 15, Issue 11 (February 2019).

For more info on South Jersey Magazine, click

here

.
To subscribe to South Jersey Magazine, click

here

.
To advertise in South Jersey Magazine, click

here

.