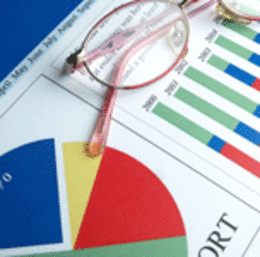 On the Job
South Jersey companies are getting back on their feet following the recession, but are we on firm ground?
Betsy Fischer owns a disco ball, but not a crystal ball. Were it the other way around, the Cherry Hill resident might not have opened her private dance party space, after a three-year search for just the right location.
"I signed my lease July of '08, and I think the next day the economy crashed," jokes the owner of The Groove Lounge, who also works as a mobile DJ.
Undeterred by the collapse of global markets all around her, Fischer pushed ahead. "Anytime you open a business, it takes a long time to get it up and running anyway," she says. "I didn't expect to make a lot of money my first year even if it's a great economy. I just had to roll with it." By the next summer, The Groove Lounge was hosting six parties a month, and Fischer was jumping at every opportunity to market her business, from posting on Facebook to hanging up fliers. Now, the Voorhees-based business continues to grow, and Fischer remains comfortable with her decision. "Had I known [about the recession]," she says, "I wouldn't have walked away. I would have done it anyway."
While the nation casts its eyes to Wall Street—and the White House—for signs of a full economic recovery, Fisch­er's story is evocative of the current business sentiment in South Jersey. Even in a tough economic environment, opportunities exist for lean, aggressive, agile businesses. "Make no mistake, it's tough out there," says Thomas J. Doll, chief operating officer of Cherry Hill-based Subaru of America. "Buyers are clearly more conservative when it comes to spending. They are demanding greater value with every dollar that they spend."
Some companies are rising to that challenge. Subaru of America, for one, managed to boost car sales by nearly 40 percent since 2007, even as the U.S. auto market plunged at that same rate. Yes, buyers are opting for more used cars and fewer new ones, but Doll says Subaru is thriving by targeting its core buyer niches, including consumers with an active lifestyle.
But not everything is rosy. A survey by the Federal Reserve Bank of Philadelphia found that business activity and sales remained positive through the second and third quarters of 2010. But, the Fed reported, "Firms, on balance, expect meager growth in their businesses over the next six months, inasmuch as they are forecasting only slight increases in activity, sales and employment."
That's true even in health care, which is commonly considered a recession-proof industry. "We were experiencing growth, year over year over year," says Cooper University Hospital chief executive John P. Sheridan Jr., "and, quite frankly, I think the economy has caused that to level off." As a result, Sheridan says, Cooper has concentrated on reducing the length of stay for patients and has undertaken a comprehensive review of all budgets and spending. "We're taking the inefficiencies out of the system where people linger longer than they should," he explains.
Small businesses, too, are struggling, faced with the reduced availability of loans and the ongoing plight of flailing industries. "Everybody expected by now [the recession would] be over and we'd all be flourishing," says Bernie Katz, executive vice president of Atlas Wallpaper and Paint Co., an interior design company, "but we're not flourishing. In my business, until real estate turns around, we won't turn around."
As a result, Atlas has done everything it can to cut costs. Beyond reducing the salaries of its executives and juggling the hours of its employees, the Cherry Hill company has slashed inventory and put almost all its merchandise on the floor. "We don't purchase anything unless it's for sale," Katz remarks. But that tactic adds its own strains on business, as his suppliers are often out of stock, too.
Further, companies are faced with customers now used to receiving cut-rate prices on everything from retail merchandise to contracting services. Bringing rates back up to the list price is a prevalent concern for local companies. Fischer notes that potential clients are often intent on negotiating a lower rate, leaving her to choose between letting a potential customer walk away or eroding her profit margins. "I don't like to do that," she says of discounting, "because once word gets out that for one client I made an exception, she'll tell her friends and people will expect that." (Fischer does add that some clients are happy to pay full price.)
But despite all the teeth-gnashing, corporations and businesses are moving forward. "We feel we are starting to see a little bit of growth," says Lisa Morina, director of the Gloucester County Department of Economic Development, "and we see that with the unemployment rate, which has been steadily dropping over the last several months."
Subaru, for example, is selectively adding to its base of 700 employees, including the 400 that work at its two complexes in Cherry Hill and Pennsauken. Cooper is implementing a number of initiatives: a new helicopter medical evacuation service for the region, a refocused web marketing strategy and new construction projects, including the $120 million medical school it's constructing in conjunction with Rowan University.
As for smaller companies, they're finding that the most important thing they can do is ensure their service doesn't suffer, despite the downturn. "I'm trying not to change our service in any way," says Katz. "I am still giving 100 percent as I did when we were flourishing, because a lot of people cut corners. I am not going to cut corners."
That's because Katz, like many other South Jersey businesspeople, is prepared to ride out the storm. "The [economy] has been staggered a bit," Doll states. "It's going to take a little bit of time for it to get its balance. But this country has proven it always comes back stronger."
Annual Report: A roundup of comings and goings in South Jersey business.
Companies come and companies go—that was certainly true in 2010. But while store closings were visible nationwide, South Jersey continues to exhibit promising signs of growth. More businesses are reporting increased revenue, and unemployment rates in Burlington, Camden and Gloucester counties decreased throughout the year, including a 2 percent fall in Gloucester. Thomas G. Morr, president of Select Greater Philadelphia, which promotes economic development in the region, says the local climate has assets that will be attractive to companies across higher education, energy, health care and other industries. "They're doing some things that will position South Jersey for success in the future," says Morr. Here's where we left off in 2010.
Entering The Region
Beneficial Bank has opened two new locations on Haddonfield Road and Route 70 in Cherry Hill. The banks operate on a new education-themed retail banking concept.
Catapult Learning, an extensive provider of education services, moved from Philadelphia to an 11,000-square-foot waterfront location in Camden.
JSH International, founded by Jirair S. Hovnanian, (the owner of J.S. Hovnanian & Sons), began operations this year. The Mount Laurel-based biotech company developed a line of organic liquid products to eliminate grease in the hospitality and food service industries.
Sure-BioChem Laboratories, a full- service, contract testing laboratory, established its headquarters at the Rutgers-Camden Waterfront Technology Campus in Camden and its laboratory facility at the Burlington County College Life Science Incubator in Mount Laurel.
Constellation Energy announced in August that it will be deploying a new 5.2-megawatt solar power system to serve the Johnson Matthey manufacturing facilities in West Deptford.
JVK Operations Ltd. in June purchased a vacant 35,000-square-foot facility and invested $4 million to retrofit it for laundering medical linens and scrubs. The company expects to have 150 employees by 2012.
Layoffs and Closings
AGC Flat Glass North America, a maker of building, solar and automotive glass, sold its 378,000-square-foot facility in Cinnaminson for $4.7 billion. The facility was purchased in January by Sea Box, Inc., a manufacturer of shipping containers.
Office Depot shuttered a distribution center in Westampton. The office supply store planned to transition its operations to Newville, Pa., affecting 135 employees.
Sears Holdings closed its Sears Essentials store in Marlton in May. The move was part of a nationwide consolidation, including the closing of 13 Kmarts and eight Sears stores.
Sony Corporation in March moved DVD manufacturing from its Pitman plant to its main manufacturing facility in Terre Haute, Ind. About 160 jobs were lost in the shift as the Pitman facility switches to CD production only.
Sunoco shut down the Eagle Point refinery in West Deptford in February. While that cost 400 workers their jobs, the corporation said it was examining the site for future uses, including biofuels.
The U.S. Postal Service closed a distribution center in Logan Township—a move that eliminated 650 positions.
Viking Yacht Co., a boat maker headquartered in New Gretna, indefinitely furloughed 175 workers. The manufacturer said that number could go as high as 219 depending on fall sales.
Watson's Quality Food Products and its Blackwood meat processing location closed in 2010, resulting in the loss of 175 jobs.
Expanding in the Region
Campbell Soup Co. completed an 80,000-square-foot expansion to its Camden headquarters that includes a new employee center and state-of-the-art cafeteria with a soup bar (naturally). The project cost $93 million.
Lincoln Technical Institute moved this past summer to a new campus in Moorestown from its previous location in Mount Laurel.
Pinnacle Foods Groups, which makes a number of popular food brands (such as Aunt Jemima Syrup and Vlasic Pickles), opened a new, $6 million, 57,000-square-foot facility at the Woodcrest Corporate Center in Cherry Hill. The facility will retain 130 jobs and create 90 new ones.
Abundant Life Fellowship has completed development on a 52-acre site in Delanco that will be called Living Springs. It will operate apartments for low-income seniors as well as a regional medical center. Michaels Development Company served as a co-managing partner on the project
Pro Computer Service, which was named to the South Jersey 25 list of fast-growing companies, moved from Medford to a larger office space in Marlton. PCS handles network solutions for businesses as well as computer repairs for residential clients.
Radwell International, a Lumberton-based corporation that sells industrial electrical and electronic control devices, is expanding into the United Kingdom with a repair and distribution center, a move that will add to the company's employee base of 450 workers.
Virtua in January opened a brand new, $31 million Health and Wellness Center in Washington Township. The health care company continues work on a 300,000-square-foot hospital in Voorhees that will open in the summer of 2011.
Published (and copyrighted) in South Jersey Magazine, Volume 7, Issue 9 (December, 2010).
For more info on South Jersey Magazine, click here.
To subscribe to South Jersey Magazine, click here.
To advertise in South Jersey Magazine, click here.