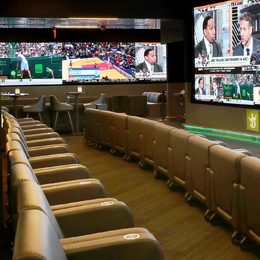 Where the Action Is
Legalized sports betting is doing big numbers in Atlantic City and beyond, but is it the shot in the arm the state was hoping for?
Last spring, a new source of revenue opened up for New Jersey by way of legalized sports gambling. After a U.S. Supreme Court decision struck down a decades-long prohibition in most states (save for Nevada), New Jersey was the first state to act on legislation to allow sports betting, unanimously passing bills in the Assembly and Senate on June 7. After it was signed into law on June 11, just three days later people were lined up at the Borgata Hotel Casino & Spa, as well as Monmouth Park Racetrack, to place their bets.

The mood was optimistic, not just for players' odds, but for Atlantic City and New Jersey for that matter. Surely this would bring new clientele to Atlantic City—players who would want to stay for a couple of nights in the hotels and eat at the local restaurants—and an untapped chunk of revenue for a state struggling to cover budget deficits. But for a city that has been reborn too many times to count, and the ease of app-based betting, many wonder if this new clientele of gamblers will opt forthe convenience of their smartphones over the fanfare of Atlantic City.

Drawing People In
With barely a year of legal sports gambling under New Jersey's belt, the numbers seem quite promising. Reports suggest $1 billion has been wagered on sports since the law went into effect. According to the New Jersey Division of Gaming Enforcement December 2018 total gaming revenue results (the most recent data available at press time), sports wagering gross revenue reached$94 million, including casinos and racetracks. New Jersey's cut has amounted to approximately $10 million.

Frank DiGiacomo, co-chair of the Duane Morris Gaming Law Group and partner at the firm, says sports betting hasn't disappointed thus far. "Looking at the amount wagered, the numbers are encouraging," he says. "New Jersey has seen an overall bump in gambling revenue, not just in sports betting. This is a shot in the arm for the casino industry and for the state generally."

New Jersey's experience with internet gaming set the state up for success, says DiGiacomo. "New Jersey hit the ground running to put in place the regulations and structure to allow for sports betting at casinos on property, but also to allow for mobile apps and internet versions of those sportsbooks," he says. Years of dealing with internet gambling set the foundation forparameters such as geo-location technology—to ensure the phone placing bets is located in New Jersey—and other controls that ensure a minor is not betting. "This helped New Jersey's transition into sports betting go smoothly."

Casinos in Atlantic City can capture bets two ways. One is through a traditional sportsbook, a physical location with betting windows and kiosks, and the other is through an app. (A casino must have a physical sportsbook in order to offer an app.) While most casinos initially launched temporary sportsbooks due to the fast-moving legalization, many have since built all-out high-end sportsbook lounges, or have plans to do so.

"As the first Atlantic City casino to take a legal sports wager in the state of New Jersey, Borgata has experienced a successful inaugural eight months of operation," says Marcus Glover, president and COO for Borgata Hotel Casino & Spa. "We have seen the market for sports betting grow and progress and are excited to further develop our product by investing over $11 million into the development of a new destination bar and sports wagering experience that will debut this summer."

Other casinos with sportsbooks include Resorts, Ocean Resort, Bally's, Golden Nugget, Tropicana, Harrah's, and Hard Rock entered the market just weeks ago, and many have taken a page from Las Vegas, creating an overall experience that engages patrons whether they are betting or not.

Executives at Ocean Resort Casino saw this as an opportunity to build a flagship East Coast location for its partner, William Hill—a brand with hundreds of locations in the U.K. and Nevada and an app. CEO Frank Leone didn't want the sportsbook to be hard to find in the casino, so he and other executives drew from a bit of U.S. history and the town of Steubenville, Ohio, which was once home to the country's most famous illegal sportsbook, Rex Cigar Store.

"This sportsbook was on the busiest street in the city and it became the busiest book. … We put our sportsbook dead-square in the middle of the casino floor, in the heart of the action," Leone says.

The 75,000-square-foot space feels like a small arena, surrounded by high-def TVs and video boards playing the games and displaying odds. "It's high-energy and engaging," says Leone. "We immediately saw interest and it's been well-received by customers. We're seeing crossover play from customers who were traditionally only playing slots and tables now walking over to make a bet with the sportsbook."

It's also been a benefit to other areas of the property, from food and beverage to the hotel, he adds.

Resorts Casino Hotel jumped into the sports betting space last August with a temporary sportsbook and an online presence with partner DraftKings, one of the pre-eminent fantasy sports apps on the market. DraftKings has no other physical sportsbook in the country, and Mark Giannantonio, president and CEO of Resorts, says their goal was to create something state of the art.

Resorts' official sportsbook opened in November and is located near the property's Margaritaville restaurant and bar just off of the boardwalk and features ultra high-def LED video walls, stadium seating, a VIP area with bottle service, five betting windows and 12 kiosks, which will soon be expanded due to the brisk pace of betting, says Giannantonio.

"The increase in traffic was immediate the day we opened the sportsbook," he says. "There were 600 or so people at one time, people we weren't getting before. We've seen it spill over into restaurants and the casino. We installed LED panels above the table game areas so people could play blackjack while keeping an eye on the game they have a bet on. We made it sports friendly on the casino floor."

The App Effect
While casinos are investing millions in creating entertaining sportsbook spaces that emulate Vegas, it might not be enough to draw people away from their smartphones and into Atlantic City. Of the total sports wagers made since launch, approximately two-thirds were done online.

Apps might be one slight advantage Atlantic City has over comparisons to Vegas. According to DiGiacomo, Nevada does not yet allow casinos to use "skins" or third-party brands. Wynn has aWynn sportsbook app, while New Jersey casinos can use white label providers and brand the app as they see fit, he says.

Partnering with apps like DraftKings or FanDuel may also seem like an advantage. "[Those apps] bring a significant database of people who play fantasy sports and it's likely that people who play fantasy sports would be interested in sports betting," DiGiacomo says. "They are able to market to their database of players in New Jersey and possibly convert them into sports bettors." Pete Powell might be one of those converts. The Voorhees resident has played fantasy sports but was never someone who bet on sports before it was legalized, or even played traditional casino games for that matter.

"When you're a huge [sports] fan, [betting] adds a level of entertainment, and as opposed to traditional gambling, you feel like you're knowledgeable about it, like you have an advantage over just going to a table game and betting on red or black," Powell says.

He has been to the books in A.C. several times. "On the basis of what I've seen, Ocean is my favorite because it's the closest thing to a Vegas sportsbook in terms of atmosphere and the experience for watching games," he says. However, apps have become his preferred method of betting.

"The biggest thing with the apps is having the ability to bet in the palm of your hand. It's easy and convenient. ... Back in November I went to A.C. to bet on college football and the line to bet was almost an hour wait. I looked at my phone and thought, 'Why am I standing in line? I can place the same bet within minutes on my phone,'" Powell says. "But it's sort of 'when in Rome,' I might as well bet because I'm here."

The tax rate on winnings could be another consideration for bettors, especially if a lot of money is on the line. Winnings are taxed at 8.5 percent at physical sportsbooks while digital ones are taxed at 13 percent.

"If someone was going to bet a couple thousand on the Super Bowl, it would be worth it to go and do it in person, but if you're just betting $100 then it's not worth it," says Mike Burke, a Pennsauken resident who previously bet on sports in college and now actively bets using his phone, primarily on football. A quick look on his phone shows a half a dozen apps from MGM to SugarHouse.

He says sportsbooks can make it difficult to compare odds, while apps put it in one spot, and also have boosted odds. "Apps will compete with each other. If something normally pays 2 to 1, an app might say it will pay 2.3 to 1. They will also offer deposit bonuses," he says.

Big sporting events such as March Madness—and perks—might draw Burke to the books in A.C. "I haven't been down to A.C. since some of the books finished their renovations, but it would be nice to have something like in Vegas where you want to spend time and watch games, and if they gave free drinks or room comps."

Leone doesn't seem worried about those who prefer apps. "The books are for a different type of person. It's the social interaction, not just making the bet, but talking about the game, what went in your favor," he says. "Our space is so engaging it draws people in."

The Competition
Atlantic City is always reinventing itself, and the casino industry is hoping that sports betting opens them up to new clientele and increased revenue. However, competition is going to get even rougher between not only casinos, but other states as they start to introduce sportsbooks. Pennsylvania is already in the mix, and for someone like Powell who lives in Camden County and works in Philadelphia, it would be more convenient to stop into SugarHouse on his way home than travel to A.C. on a weekend.

Wayne Schaffel, a former casino industry public relations professional, has been analyzing the gaming industry for decades. He says sports gambling will have no impact on A.C. "There is enough business in A.C. for six casinos. There are nine. I believe [some] will close," he says. "Some are stronger and will hold on, but none of them are going to earn money. If every casino offers the same thing then it doesn't provide an advantage to any of them."

He says the casino industry nationally is in deep trouble, except for Vegas, due in large part to how internet gaming is cutting into land-based gaming. "The same way consumer behavior is trending toward shopping online, the same is true of casinos. Just enough people will gravitate to online gambling to put casinos out of business," Schaffel says.

Optimism reigns in A.C. though.

"I think sports betting and internet gaming, as well as a commitment to conventions and events during the week, will be the rising tide to lift all boats in this market," says Leone. "We have a lot more to offer than we did a couple years ago and it's only going to get better."

To read the digital edition of South Jersey Magazine, click here.

Published (and copyrighted) in South Jersey Magazine, Volume 15, Issue 11 (February 2019).

For more info on South Jersey Magazine, click here.
To subscribe to South Jersey Magazine, click here.
To advertise in South Jersey Magazine, click here.