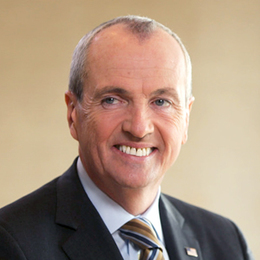 Getting Personal
Gov. Phil Murphy on his first job, his favorite movies and how he met his wife.

1. Growing up, I wanted to be an actor. It was something I actually considered very seriously through college!

2. As part of my dream of being an actor, I was a member of the Hasty Pudding Theatricals at Harvard. It is a well- known musical theater troupe that gives both a "Man of the Year" and "Woman of the Year" award every year. In my senior year, the man of the year was Robert DeNiro and the woman of the year was Candice Bergen. I met them both and even took Candice to class, which was a top-five day of my life.

3. My first job was as a dishwasher in a diner. When I was 13 and 14, I worked under the table washing dishes at a tiny diner where I grew up in Needham, Massachusetts. My parents noticed that the business owner was stiffing me and they ultimately had to confront the guy. I have never forgotten how that made me feel.

4. My wife Tammy and I got engaged 18 days after our first date. We had met seven years earlier when she interviewed for a job at Goldman Sachs where I was working at the time. It took me seven years to ask her on that date. That was 25 years ago.

5. My family currently has three dogs and a bird. Our dogs are named Sasha, Ginny and Lulu. They are all briards, which we got because they are notoriously good with children. Our bird is named JoJo and she is a white-bellied caique, which is a Brazilian parrot. While some caiques talk, JoJo almost exclusively mimics the sound our car-bon monoxide detector made when the batteries died one weekend.

6. Whenever I am in Berlin, my family and I meet up with my former security detail for a pickup soccer game. While I have always loved soccer, my appreciation for the sport really grew when I was serving as U.S. Ambassador to Germany from 2009 to 2013. Meeting with our old security staff for a friendly game has become a Murphy-family tradition.

7. My two favorite movies are The Sound of Music and The Godfather. My four kids, Josh, Emma, Charlie and Sam, don't appreciate The Sound of Music as much as I do. If I am in a more serious mood, The Godfather is my go-to.

8. I love music, particularly rock 'n' roll. Last December I was a guest DJ on Todd Abramson's radio show on WFMU. I had to come up with 10 songs that mean something to me. Along with Bon Jovi and Bruce Springsteen, I chose a show- tune called "You'll Never Walk Alone." It is the song that I walked out to on election night because the lyrics speak to what we stand for.

9. This year Tammy and I have really come to appreciate New Jersey wine and beer. We like it so much that the only wine now served at Drumthwacket— the Governor's mansion—is from New Jersey wineries. We are hoping to make the same commitment to serving only New Jersey beer very soon.

10. One of my favorite things about being governor has been seeing how our administration is creating real change in people's lives. A few months ago, a veteran came up to me in a coffee shop to tell me just how much expanding medical marijuana access for people with PTSD has changed his life. That was a proud moment.

To read the digital edition of South Jersey Magazine, click here.

Published (and copyrighted) in South Jersey Magazine, Volume 15, Issue 11 (February 2019).

For more info on South Jersey Magazine, click here.
To subscribe to South Jersey Magazine, click here.
To advertise in South Jersey Magazine, click here.