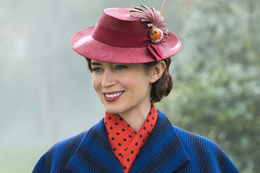 Timing is Everything
Riding her recent wave of success, Emily Blunt revitalizes Mary Poppins for a new generation.
It's been more than five decades since Mary Poppins first graced the silver screen and would go on to become a beloved Disney classic, but Emily Blunt says the timing just feels right for her to reinvent the character for an entire new generation.

"You shouldn't rush a good thing," she says of the 54-year gap between the original and her Mary Poppins Returns sequel. "We all know the industry likes to keep the momentum going when it feels it's on to a good thing, and I think in that respect, it's amazing that [the film] has been left alone for so long."

Well, if the timing is right to bring the movie back, it's hard to argue there's an actress more fit to play the eponymous character. Following on the huge commercial and critical success of A Quiet Place where she starred opposite actor/director husband John Krasinski, Blunt's star has perhaps never been brighter.

The film is certainly a breath of fresh air considering the harrowing roles the actress has taken in the past. In Sicario she wowed critics playing a determined FBI agent infiltrating violent cartel gangs; a role that required intense physical training at a time when Blunt was feeling her most vulnerable following the birth of her first daughter, Hazel, now 4. Girl on a Train required the star to dig deep emotionally to offer up a sympathetic portrayal of a depressed, infertile alcoholic, all the while being stone cold sober and in the early stages of pregnancy with her second daughter Violet, now 2.

Given the choice of playing a tough action hero or a tragic, untidy drunk, Blunt is clear about which she prefers. "I like the stories in action films, but I'm always worried about being forced to spend several months working out in a gym. That's why I was so happy to play a very disheveled alcoholic in Girl on the Train. It helped to look as awful as possible and not worry about appearance," she quips.

It's undeniable Blunt didn't look her best in Girl on the Train, but it's a stretch to claim she looked downright awful. She is a beauty; the quintessential English rose who has barely aged a day since her breakout role 12 years ago in The Devil Wears Prada. For those who have not seen the brilliantly brutal fashion flick, Blunt is a scene-stealer, despite having only a supporting role as the neurotic assistant to Meryl Streep's wicked editor-in-chief of a fictional fashion magazine. The role quite rightly earned her a Golden Globe nomination for Best Supporting Actress and made her a darling of the fashion world. Yet she is at pains to point out that, in reality, the pressure to always look absolutely fabulous can be exhausting.

"As an actress you're always expected to look perfect, wear the latest design, and always look your best. Sometimes you want to wear a T-shirt and jeans when you go to the grocery store, or to a café and read a book or magazine," says Blunt.

For now, the T-shirt may have to wait as Blunt's been busy promoting Mary Poppins Returns—she's even hinted at her willingness to do a sequel—and will soon be gearing up for her appearance alongside Dwayne Johnson in the live-action version of Jungle Cruise slated for release in July 2020.

Disney also tapped Blunt to be prominently featured in their new #DreamBigPrincess campaign. The global video series is based on several digital shorts created by young aspiring filmmakers who all had the chance to interview a female trailblazer who offers inspirational advice for the next generation of women. Shared across social media last year, the goal of the campaign was to raise a $1 million donation to Girl Up, an initiative of the United Nations Foundation that promotes female leadership.

With so much on her plate, Blunt still found the time to talk about the new film and during the course of our conversation, she explains the circumstances that came together to form the Mary Poppins sequel, and says, undoubtedly, this is the right role at the right time.

Q&A
Why was now the right time to bring this character back to life?
Oh it has certainly been long due a comeback. And I feel we're in a much more respectful era now where we can celebrate and build on a character or a concept without simply trying to remake it with new technology. I feel audiences really want a bit more out of movies nowadays and that's why I'm so excited to be doing this now. People have asked me if this is a role of a lifetime—if I say "yes" to that it makes it sound a bit final … like Ishould be releasing my autobiography or something. But to say it is special, certainly; and that it feels differentfrom any other—yes.

Would you go as far as to say this is a career-defining role?
I don't think you ever know that until the cinema-going public make their verdict. What I will say is when I think about where I've come from—a stuttering 12-year-old, a nervy teenager, a young woman with total uncertainty over what to do in life—when I consider how much I've achieved having at one point feared making any decisions, I can only be confident for the future.

Does it feel like a good time to do this, given the ages your children are now at?
You want to protect your children as much as possible, and at times being an actor seems a strange way of doing that, as clearly they want to see you playing "let's pretend" with different characters. But very often the sorts of roles you're taking are a world away from what you would want to put in front of them. But every film is different, and where Mary Poppins is concerned, I'm very happy for them to watch it. That's exactly the kind of film right now that I'm so proud my children will be able to see and understand very soon.

It is definitely something we can all share in. I think becoming a mom has changed so many things in my life—it's made me more vulnerable and more emotionally aware than I ever was before, but it's also given me more strength because I see things more clearly. I actually think I am much more confident as an individual and I feel that I am able to not just live more intensely but also take on roles that I might have been reluctant to play before.

You and your husband appear to be incredibly well suited; what's your relationship like?
I think beyond simply being best friends, we also have a very easy way of being together and having a lot of fun. We trust each other and care for each other very deeply, and that means we can enjoy our lives together and believe in building a future together with our children.

In today's society people are bombarded with images that constantly point to perfection, and that makes us believe that there is always that perfect partner for us. So a lot of people find themselves in a relationship thinking they should do better, instead of building on what they already have.

Previous generations were more willing to work through difficulties whereas today I don't think people are as willing to be as patient or forgiving. I would always look at the future and be positive with what I have.

What really appeals to you about Mary?
For me, she offers great hope and comes at things with a new different perspective, and these to me all feel like the right ingredients for moving forward. When I heard Julie Andrews was glad I was taking on the role, I was close to crying. That was such a wonderful thing to be told and it gave me so much belief and encouragement to take it forward and do my own thing.

It's clearly an American film set in London. It leans on all the British "stiff upper lip" and Oliver Twist-type stereotypes of the era, revealing a society where the bullish rewards of Victorian ambition are gradually giving way to rather more socialist values in the reign of King Edward VII.

It's the idea that everyone can profit, even the desperately poor, such as chipper cockney Bert (Dick Van Dyke), the chimney sweep and general jack-of-all-trades.

It's a fitting tribute to her and the original, but hopefully it's very different too and people will see and like that. It's a musical and has all the components you would expect, but it's been beautifully updated and is a real celebration of the original with plenty of new twists. I'm very excited; I think it's going to be incredible.

How much of yourself can be traced in the character?
I think there is a good proportion of me in her, and I always try to find little traits and idiosyncrasies in my characters that will hopefully make them distinctive and add some depth. When I observe people, I am always fascinated by small things and aspects of human personalities that make us all unique.

I am like a sponge when I spend time with people although I never let them know which character trait I might happen to be stealing from them or exaggerating for a role; but this all adds to the mix, and I think we should all look outside in taking qualities of others to improve ourselves.

How do you think the #MeToo movement has evolved?
I think it's a slow burn. I don't know if we've had a tsunami-like change, more like a gentle baby wave. But I think this is a topic that has entered the Hollywood vernacular and I hope that it sticks around because women are proving time and time again that they make money and that's really a lot of what Hollywood is geared toward.

To read the digital edition of South Jersey Magazine, click here.

Published (and copyrighted) in South Jersey Magazine, Volume 15, Issue 11 (February 2019).

For more info on South Jersey Magazine, click here.
To subscribe to South Jersey Magazine, click here.
To advertise in South Jersey Magazine, click here.