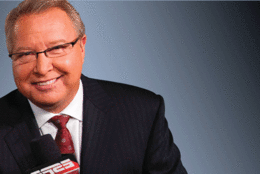 Man in Motion
His playing days are behind him, but Ron Jaworski is still scoring big from the broadcast booth to the boardroom.
One thing is clear: Ron Jaworski knows football. After all, he was a quarterback in the National Football League for 17 seasons. And, in the two decades since the one-time league MVP retired, he has remained a fixture in the game, thanks to a successful broadcasting career at ESPN, where he now holds a coveted seat in the Monday Night Football broadcast booth.
But, the Medford resident also knows a thing or two about leadership in business and in the community. He runs a successful golf course management company that operates five courses in South Jersey and Pennsylvania. He's a majority owner of the Arena Football League team Philadelphia Soul. And, he spearheads the Jaws Youth Fund, a charitable foundation that partners with the United Way of Camden County to help area children.
The man affectionately known as "Jaws" has made South Jersey his home since joining the Philadelphia Eagles in the late '70s. We recently sat down with Jaworski at NFL Films in Mount Laurel to talk football, family and business—and to find out how he got that nickname.
SOUTH JERSEY MAGAZINE: You've told a story about seeing a New York Jets vs. Buffalo Bills game while in college, and think­ing you could throw a ball just as well as Joe Namath. Was that a moment when you thought you could go pro?
RON JAWORSKI: It was my senior year at Youngstown State and we had a bye week. I was born and raised in Buffalo, and a Bills fan, so a bunch of my teammates and I jumped in the car and drove to Buffalo and scalped some tickets outside of the stadium. We were down in the end zone watching Joe throw and I'm going, 'Damn, I can do that. I can throw like that.' It was the first time I was that close to a superstar player, and it really was a confidence builder.
SJM: You played 17 years in the NFL, making you a virtual ironman by today's standards. How do you think the game has changed since you left?
RJ: You don't have enough time. (Laughs.) I think it starts with the speed and quickness of the players and the size of the players. That's the one thing that is really noticeable. The game has become much more violent because the contact is inevitable when guys are flying around. That's the first thing that jumps out. And because of what I do now, being involved in football every single day and here at NFL Films studying the game, I see how the game changes—not every year, but every week. When I came into the league in 1973 with the L.A. Rams, 11 guys played offense and 11 guys played defense on first, second and third down. Now if you watch a game after first down, five guys from offense and five guys from defense run off the field and guys replace them. It's a situational game now, and it makes it really hard on the quarterback.
SJM: You once said that the Eagles' Super Bowl loss in 1980 didn't get easier over time, it got worse.
RJ: Absolutely. In fact, the tape geek that I am, that's one game tape I still haven't looked at. I have the TV tape at home, and I think I had a couple beers one night and I said, "I'm going to force myself to watch this." And they showed the starting lineups and I got introduced, and I turned it off. The further you go out from winning a World Championship, you realize there are very few opportunities to do it, and we had that one opportunity and didn't take advantage of it. At the time, it wasn't as painful—it was painful, don't get me wrong—but we were a young football team and we said, "All right we lost this one; we'll be back next year." Well, there never was a next year. We never got back. So every year I see these teams hoisting the Vince Lombardi Trophy, I feel more pain because the one opportunity we had as a team, we didn't make it happen.
SJM: Current Sixers coach and former player Doug Collins reportedly coined the Jaws nickname. How did that come about?
RJ: Doug was my neighbor when he and I were playing. And we were very good friends and our families were very close, and we've maintained that friendship through all these years. I was a talkative guy, and at that time the movie Jaws was very popular and everyone thought he coined the name because of the movie. But he said, "No, every time I see Jaworski his lips are flapping." So he coined that name because I never shut up.
SJM: Philly can be a tough place to play, and often the great players aren't appreciated until later in life. You also experienced some of that, didn't you?
RJ: At one time or another, we all did. I think the sports fans here are incredibly knowledgeable, they really are. And I get the opportunity now with ESPN to travel to a different city every week and get to experience other cities and sports fans with a little different perspective. But I've always felt in Philly the people are going to let you know how they feel. And some guys, I'm going to be honest with you, couldn't handle the fans being on their butt. You don't have to embrace it, but you have to understand it. The first time I got booed, I was ticked. But you realize, they have that incredible passion. They want to win and they are living their lives vicariously through me or other players. Once I understood that, I was able to deal with it a lot better. That's all you can ask of your fans, that they show up and they care. [Before I came to Philly], I was in L.A. where they sat on their hands. There were 85,000 people, but you thought there were 5,000 [in the stands]. In Philly, if there were 5,000, they sounded like 85,000.
SJM: You obviously made your mark in the league playing with the Eagles, but you went on to finish your career elsewhere. What made you decide that this area would remain your home after retirement?
RJ: The people. As a kid growing up in Buffalo, it was a blue-collar, ethnic-oriented town … a steel mill town where I grew up in Lackawanna.… When I came to Philadelphia, I thought it was a real blue-collar town and living in South Jersey, we've absolutely loved it. I spent 10 years in Philly as a player, then I went to Miami. At that time, we decided, "OK, I am going to go to Miami, but I am just going to play football there." It wasn't going to be home. We went to Kansas City for a year, but we eventually knew we would make this our home. Not only from a sports side, but from a people side. We've felt there were incredible people in South Jersey. There was a certain feeling of community that we really liked. Our kids went to Eastern High School … the environment created in South Jersey for myself and my family was tremendous, and it served us all well. We knew a long time ago this would be home for us.
SJM: You talk a lot about how instrumental former coach Dick Vermeil was in guiding you through not only your career, but also life. What's your relationship like today?
RJ: My dad passed away when I was 19 years old and my mom, still alive by the way, did a tremendous job of raising me, but there wasn't that father figure. There was a void in discipline in my life. Dick became that father figure for me. He would chew my ass out when I needed it and he would give me a hug when I needed it. That really helped me. He really stabilized my life and got my feet on the ground. I attribute a lot of my success and lessons I learned to Dick Vermeil. We talk at least twice a week to this day.
SJM: As a former quarterback, what were your thoughts on the Kevin Kolb-Michael Vick saga this season?
RJ: It's real simple to me: there's no guarantees. It's a performance-based business. Kevin got hurt, but before the concussion in the first half against Green Bay he wasn't performing. I learned a long time ago in the world of football, it's, "What have you done for me lately?" Andy [Reid's] job is to win. What, do you think Andy is going to play the second best quarterback because Andy likes him? No, Andy will be fired. You have to win. You put your best players on the field, it's that simple. We complicate it sometimes.
SJM: Who are your favorite quarterbacks playing in the league today?
RJ: You start with Peyton Manning … Tom Brady and Drew Brees. They are the elite quarterbacks that, for 16 games, four quarters a game, you are going to get optimum performance. After that, you could get into a lot of different players. If there's something wrong with the NFL, there's a dearth of quarterbacks. I couldn't name 10 guys that, every week, for four quarters, are go­ing to give you consistent play. It's a tough position, and I don't think the colleges are groom­ing the quarterbacks. They are limiting the number of hours you can practice a week. You can't de­vel­op quarterbacks at the collegiate level in 20 hours a week.
SJM: You were named the Maxwell Football Club's pro player of the year the same year you won MVP in 1980. Now you're president of the club. Why is this organization so important to you?
RJ: The Maxwell Football Club recognizes football 365 days a year at all levels. It's a bunch of guys that love football and recognize and honor those who love the game just like we do. It's really a privilege to serve as president, because it's the oldest football club in America.
SJM: I imagine one would not envy the schedule you keep. What is a typical week like for you during the season?
RJ: It's nonstop. I have a football responsibility every single day until the day after the Super Bowl. From Monday Night Football to the NFL Matchup show, to all the meetings and my study [of game tapes at NFL Films]. You spin that with kids, grandkids … it's a demanding schedule, but it's the way I've always been.
SJM: Obviously this is your job, but your intensity shows that you are also a big fan of the game.
RJ: Oh, I am a fan. And I think that is where it starts. I have an affinity for the game. I love the game. I love the players that play it. I love the coaches that coach it, the administrators that administrate it. I've always had great respect for people in sports. In fact, when I hire people, I go through re­sumes and I look to see if they were involved in some sort of sport. Be­cause then they know how to compete, they know how to handle los­ing, they know how to be challenged, they know how to strive to be successful. I think those things are always important.
SJM: You talk a lot about breaking down the game tape, but is there a science to watch­ing the footage and fully understanding it? What are you looking for?
RJ: It's a good question because [for my first] four years in the league, I looked at game tape, but I didn't really look at game tape. It wasn't until I came to Philadelphia and under Dick Vermeil and [position coach] Sid Gill­man that I was taught how to look at tape. You have to be taught, like anything else, how to do it.
SJM: The Saint Louis Cardinals drafted you to play baseball right out of high school. How different would life have been for you had you chosen baseball over football?
RJ: Don't know, but it really was a turning point in my life, because I wanted to play baseball. I was a 17-year-old kid drafted by the Saint Louis Cardinals. I don't re­mem­­ber how much I was going to be paid, probably $10 a game, but I was going to be a pro baseball player. But, no one in our family had gone to college and so my dad was adamant that I was going to go to college. And I had like 33 or 34 scholarship offers for not only football, but basketball as well. But I really wanted to play baseball and we argued many a night at the dinner table. But he convinced me to go to college, and, in hindsight, it was one of those great decisions that was made for me.
SJM: So, the Philadelphia Soul win the title and then the league goes on hiatus. How anxious are you not only for the return of the Arena League, but for the Soul to get the opportunity to defend their title?
RJ: We're excited to defend our championship. We were well accepted in Philadelphia. Unfortunately, the business model needed to change. We're pumped up and we're back at the Coliseum over in Voorhees as our practice facility, so our roots are still here in South Jersey as well.
SJM: You've done everything from analyst work to sideline reporting, but when you got the call to step into the Monday Night Football broadcast booth, that had to be a special moment.
RJ: I still get goose bumps when I think about it. It was actually in March four years ago, and at that time ESPN was carrying the Arena Football League. [The Soul] were playing Denver and Norby Will­iam­son, who was heading up programming at ESPN, said he was going to come to the game. Our field goal kicker had just missed a field goal at the half and I sit in the front row right by our bench, and I'm a little vocal and all over him. So I'm red-faced and Norby says, "You got a minute? I want to run some things by you." He said, "I'd like to offer you the Monday Night Football job." I was like, "What's going on? What about Joe [Theismann]?" He said, "Well, Joe's going to leave and you would take his spot." I said "Absolutely!" Anyone in their right mind would covet that position. Then he says, "Well, you can't tell anybody, because I want to get with Joe personally and I don't want him hearing it secondhand." Which is the way it should be done, professionally. So it happened at a Soul game, not some big private meeting, just us and 19,000 of my closest friends. The funny thing is, we won , and we go to Chickie's and Pete's after the game and we are all fired up, having a good time—and I can't tell anybody (laughs).
SJM: Did you have broadcast aspirations during your playing days?
RJ: No. This really was an accident. There was an opening on the NFL Matchup show and we were at the old [NFL?Films] building on Fellowship Road and I think they were probably trying to save some money off flying someone in—I could drive over there in 10 minutes. So they offered me the job, and it's grown from there. If [NFL Films president] Steve Sabol hadn't offered me the job, I would have never gotten into this profession, and he still to this day is my mentor in my broadcast career.
SJM: Aside from football, you are also a very successful businessman. You started Ron Jaworski Golf Management in 1980. What inspired you to build the brand?
RJ: It was fear quite honestly. When you are a player, you know that the next play could be your last. When I came to Philly, John Bunting, one of my former teammates, and I picked up a business in Jenkintown called the Abington Club, which was a golf course, a health club and banquet facility, and we grew that business to be successful. I actually liked the golf business, so it kind of grew off that. I love working with people, and directing and managing them, and putting them in a position to be successful.
SJM: What's your handicap?
RJ: I'm an eight. I'm a decent player, not great because I'm working too hard right now! Get me in the offseason and that will come down a little bit.
SJM: Is there any football experience that you are able to apply to business?
RJ: My approach in business is just like when I played: I want to win. I get daily reports from every one of my companies. I want to know the score. Just like in a football game, you are playing and making adjustments. The lessons I learned on the field, you have to take that fierce competitiveness to business, especially in this economic environment. You have to be working at it all the time. Fortunately, my wife, my sister, my son, my daughters are all involved in my business and they share those same values that I do. We love what we do, but it's also competition. There's always someone trying to knock us off the horse.
SJM: To be able to work alongside your family has to be rewarding in many ways.
RJ: It's incredible. If it wasn't for my family, nothing would be worth it. That's what it's all about. As you know, we've given a tremendous amount back to this community, and even in my businesses and everything I do, I absolutely mandate that my people be involved in philanthropic efforts. I think you have to be involved in community.… From a corporate standpoint with the United Way and from a personal standpoint with my Jaws Youth Fund, we've raised more than $3 million for kids in our community. And that's very important, not only from a business perspective, but as a human being, to be compassionate about other people who are less fortunate.
New Playbook
Ron Jaworski and two NFL Films vets chronicle milestone matchups.
Thanks to his work as a sportscaster, Ron Jaworski has spent more hours traveling than he'd like to count. On one particularly boring plane ride, Jaworski's perch, 30,000 feet in the sky, must have helped him take the long view. He began to think about the strategies and trailblazers that helped shape the National Football League into what we now see on television every Sunday. Excited by the exercise, Jaworski hit the ground running and sought the help of NFL Films colleagues Greg Cosell and David Plaut. The three began piecing together the framework for their new book, The Games That Changed the Game (Ballantine/ESPN).
The book examines "the evolution of the NFL in seven Sundays" and serves as an expansive insight into the minds of coaches who helped revolutionize the way football is played in the modern era. Bud­dy Ryan, Bill Walsh and Bill Belichick are just some of the re­vered play-callers who turn up in these pages. "There's always cool stories behind these guys, incredible substance, a vision behind what they did," says Jaworski. "It was great to learn about these guys as people and not exactly as [strictly] X's-and-O's coaches."
Through extensive research—the book took three years to complete—Jaworski and his co-authors were able to pinpoint specific games that showcased these coaches' innovative schemes. They take time to analyze the groundbreaking moments when terms like West Coast Offense and 46 Defense were born.
Despite the vast library of game tape at their disposal through NFL Films, there were plenty of research challenges. Tracking down footage of the 1963 AFL Championship Game between the San Diego Chargers and Boston Patriots, for example, required plumbing the archives of a sports museum in New England. They also conducted hours of interviews with coaches past and present. Then the trick was to turn all this insider information into something the public could easily digest.
"Our goal was to have a good mix for both [serious and casual fans]," says Plaut. Jaworski and Cosell were able to break down the footage, "almost like a magician explaining a magic trick," he says.
Cosell says they worked hard to capture the visual aspect of each play, "so that when you read it, it doesn't play like a physics theorem. No matter what level of fan you are, you can visualize what you are reading."
This academic approach, combined with colorful anecdotes, serves to portray these coaches as more than just great football men. "The book is a football book, but it's also a book about innovators," Cosell says.
"It's about people who think differently, who see things in a way the average person doesn't."
Published (and copyrighted) in South Jersey Magazine, Volume 7, Issue 9 (December, 2010).
For more info on South Jersey Magazine, click here.
To subscribe to South Jersey Magazine, click here.
To advertise in South Jersey Magazine, click here.