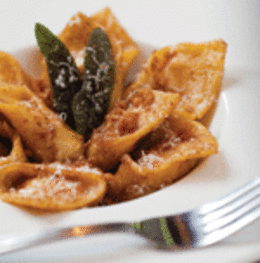 A New Leaf: Arugula
Arugula
373 Egg Harbor Road
Sewell
(856) 589-0475
four forks
By BYOB standards, Arugula in Washington Township is on the large end, with seating for 70 beneath auber­gine ceilings alight with constellations of star sculptures hung from green rafters. During the week, you probably don't need reservations, but I would highly suggest them for the weekend, when the crowds are so thick at this fledgling ristorante, you'd think chefs Nicholas Tom­asetto and Stefano Gervasi were giving food away.
But the brothers, 22 and 27 years old respectively and veterans of their parents' Paulsboro restaurant, Nino Gervasi's, aren't passing out freebies. In fact, they're charging big-city prices. But that hasn't discouraged the already loyal clientele.
After dinner at Arugula, I'm ready to count myself among its acolytes. Though the menu takes some American detours, (lobster mashed potatoes, sweet potato hash), their cooking is closer to what you'll find in Italy than most of the so-called Italian in South Jersey. With the exception of the whole-wheat penne, all the pasta at Arugula is made in-house; and though I'd love the dough rolled just a centimeter thinner, it's still miles better than most. "This is what the chefs are most proud of," our friendly, able server explained, nodding in approval as we ordered the tortelloni appetizer and a half-serving—all pastas are available this way—of the pappardelle. "They're here every morning making them."
The effort showed. Shined with classic brown butter infused with fresh sage, each peaked tortellono housed bits of braised rabbit bound with harvest-spiced butternut squash puree. A scattering of amaretti cookie crumbs added crunch and sweetness, making for an addictive interaction with the nuttiness of the sauce. The ribbons of pappardelle, made with chestnut flour instead of the usual semolina, delivered a similar nutty flavor, wholesome and hearty in a cream-kissed ragu of duck confit and crisp pancetta.
The summery fritto misto was the perfect thing to ward off autumn's chill. The plate of featherweight calamari rings and tentacles, shrimp, bits of artichoke—I wish Arugula used whole hearts—and spears of zucchini was straight off the menu of any beach club cafe in Italy. The fried exterior of the calamari was crisp and airy, nothing like the clunky breaded jackets that encase so many other chefs' misti. Tomasetto and Gervasi serve the dish with three dipping sauces: a "spicy" marinara, (I would have liked it to be spicier); a bright lemon aioli; and anise-tasting emerald pesto.
Basic house salads come with all entrees; for a $3 charge, Arugula will upgrade any of them to the menu's more ornate salads. I bumped up to a special of mixed greens, poached pears, spiced pecans and balsamic vinaigrette fortified with maple syrup. You can also opt for soup instead, though if we're talking the lobster bisque, another nightly addition, that'll cost you $5 for the excessively thick puree with little character and a giant, bell pepper-loaded crab cake like an island in its center.
Budget accordingly, because Aru­gu­la's entrees are enormous. (Exception: a measly $30 halibut I saw pass by.) The mildly sweet, tender, pan-seared veal chop, for example, could have tipped Fred Flintstone's car with its gracefully arching Frenched bone and center stuffed with nuggets of sweet lobster, sautéed spinach and Fontina cheese—surf and turf of the Italian sort. Sage breadcrumbs created a woodsy, herbaceous crust for a perfectly medium-rare New York strip served alongside caramelized Brussels sprouts resting on a pedestal of lobster mashed potatoes. Of the 14 ounces of beef, I ate maybe six and carted the rest home.
As with the pastas, desserts are made in-house and included a seasonal square of pumpkin bread pudding and giant wedge of apple crisp topped with luscious dulce de leche ice cream. Polishing that ice cream off, it became evident this address, which formerly housed San Miguel and M.O. Cafe, has finally found a long-term resident. Book your table now.
E-mail us at edit@southjersey.com edit@southjersey.com.
Published (and copyrighted) in South Jersey Magazine, Volume 7, Issue 9 (December, 2010).
For more info on South Jersey Magazine, click here.
To subscribe to South Jersey Magazine, click here.
To advertise in South Jersey Magazine, click here.