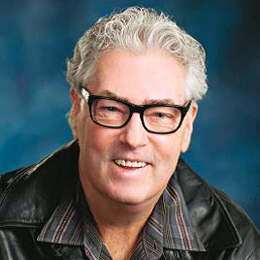 A Real-Life Ghost Story
The following story is 100 percent true.
No names have been changed to protect the innocent. Everything I write actually occurred—and while you may be thinking, "Sure, just in time for the October Halloween issue," it all started happening to me in July. So the tale is extremely fresh to me.

I did not grow up with a dog in my house. The only pets I ever had were Moe, Larry and Curly, three turtles my mom bought in a knock-off version of a Woolworth in my neighborhood called Jupiters. I believe they lived about two weeks and my old man then put a halt to any kind of animals in the house.

Years later, after I moved to Mullica Hill and started a family, my daughters wanted a puppy in the worst way. Of course I relinquished and we got a rescue beagle by the name of Dutch—a hacking, wheezing mutt who sounded like he smoked two packs of Marlboro Reds a day.

To say at that point in my life I wasn't too fond of dogs would be an understatement. I had been bitten twice in my life, by two different dogs, and I frankly was nervous around them. So I was completely caught off guard when I fell madly in love with Dutch. Boy, did I ever. My girls were 2 and 6 at the time, and I swear Dutch helped raise them as much as my wife and I. From the first night we brought him home he would sleep with Keely one night and then Ava the next. He was their best friend and protector against all evils of the world.

Because of this, he became like a second dad to them and I didn't mind having a partner. It made me adore my Dutch even more. Because of the nature of my 94WIP shift, I usually don't get up until roughly 2 in the afternoon, and when I would open my bedroom door Dutch would be quietly waiting for me to go downstairs. We would then lie on the living room floor where I would rub his belly and await the school buses to arrive. My daughter's bus would drop her off at the opposite end of the development that I live in. Roughly the equivalent of a two-block walk.

Since I was new to the dog game, this next phenomenon freaked me out. My daughter Ava's bus would drop her off at approximately 3:15 p.m. At around 3:10 p.m., Dutch would jump up from his belly rub and start barking and scratching at the front door. This was a full five minutes before the bus would even pull up to the stop a couple blocks away. And it wasn't like that bus would arrive at its destination the same exact time every single day. But somehow Dutch knew when it was five minutes away.

Those minutes that Dutch and I would lay in the quiet afternoon waiting for the bus? I couldn't begin to tell you how much I miss those moments. The kids have grown, there's no more waiting for the bus, and Dutchie passed away 14 years ago.

Or did he? One thing that Dutch was legendary for was that he must have been the heaviest 30-pound beagle in history. When he would lay in bed with you he would park himself right next to your leg and use it as a pillow. Good luck to you if you attempted to even slightly move him because it would be easier to move Eagles offensive lineman Jason Peters. You just couldn't budge him.

But in the end, I loved him cuddling up next to me, so I never made a fuss out of this, and our next two beagles were allowed to sleep in bed with us, including our current four-legged friend, Beau.

Well, it started the beginning of this July. I was in my house alone. It was about 6 p.m. and I was lying in bed watching television when Beau moved ever so slightly. I won't claim that it startled me, but I was caught a little off guard because I thought that I was in bed by myself. There was one little problem—I was in bed alone. Beau was somewhere else in my house.

But it definitely had the feel that you experience when your dog moves a little in his sleep when he is laying next to you. But there was no Beau in bed with me. I didn't make a big deal out of it figuring that I was simply just imagining things, which is easy enough to do. I didn't bring it up to anybody, afraid that they would look at me like I was crazy. Remember, this is all true.

Well, it happened about seven more times throughout July and August. Now, I am not one of these people who is fascinated by the paranormal. Sorry, Bill Murray and the rest of the Ghostbusters crew, but I am afraid of a ghost. I do not want to see one. However, this doggie movement in bed never scared me at all. In fact, I had convinced myself that it was the ghost of my first beagle, Dutch, and I found it all very comforting.

Then it got even stranger. I was lying in bed at my house in Sea Isle in mid-August. Again it was the evening, not in the middle of a dark night. And "Ghost Dog" moved in my Shore house bed. He really did. So it seemed Ghost Dog was following me and not haunting one particular Mullica Hill bed. This part of the story did freak me out.

So I went public with this phenomenon on Aug. 20 via twitter and Facebook and I also talked about it on the air. And guess what happened? Ghost Dog stopped moving in the bed. He completely went away. I can't say that he disappeared because I never saw anything to begin with; I just felt him.

And I miss him horribly and wish he would come back. And what's to make of his disappearing after I started talking about it? How would Ghost Dog know any of this? I swear that I am not making any of this up.
Meanwhile, dozens of listeners and readers have written me telling me they also have experienced similar doggie movements in bed. But almost every one of these pet lovers had recently lost their dog and Dutch has been gone since 2004. And while I have taken some comfort in the folks who have reached out to me, I would take much more comfort if Ghost Dog would cuddle up to me again.


I guess I'll never truly know what happened, but I'll tell you this much: It's one hell of a Halloween story.

And every word of it is true.


To read the digital edition of South Jersey Magazine, click
here
.
Published (and copyrighted) in South Jersey Magazine, Volume 15, Issue 7 (September 2018).
For more info on South Jersey Magazine, click
here
.
To subscribe to South Jersey Magazine, click
here
.
To advertise in South Jersey Magazine, click
here
.