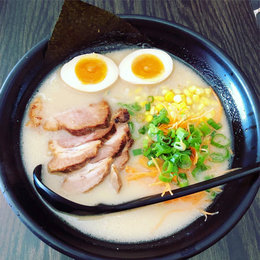 Palate: Street Food with an Upscale Twist
It's no surprise that there is a lot happening on route 70.
It's one of the busiest parts of our area, connecting us from Philadelphia all the way up to the center of the state. But there's a tiny stretch of this congested pathway stuck right in the middle of Cherry Hill that should turn your head.

That's where you'll find Saw Mill Village, an almost inconspicuous shopping center tucked back off the road between super market mavens and overpowering chain eateries. With just five operating store fronts, Saw Mill Village has erupted into one of the hottest dining locations in South Jersey, with foodies looking for eclectic Asian flavors flocking from far and wide.

It houses Han Dynasty—a reliable Golden Fork Award winner four years running—and Dolsot House, a Best of the Best winner for their famous chicken wings. But new to the strip is Rayaki, a modern little dining room dedicated to Japanese street food.

The interior pays homage to Japanese anime, with cartoon characters lining the walls and episodes from popular shows playing on a TV at the register. Japanese street food really stretches wide, and includes starters, bao buns and plenty of ramen.

The starter menu is divided into both appetizers and small plates, with the former focusing more on fried bites like their takoyaki. Beautiful deep fried balls burst open to reveal generous bits of octopus in a molten, creamy sauce. They're so texturally unique, crispy but still melting in your mouth. They're finished with a smattering of bonito flakes for a bit of brininess and a side of Kewpie mayonnaise for dipping. This feels like indulgent Asian bar food; perfect for nibbling but with plenty of flavor from the fry itself and the fresh octopus. We could have easily eaten another 10 servings with a few good beers.

Small plates were called robotayaki, featuring mostly barbecue skewers of marinated meats and veggies. Chicken wings were served skinless, with a slightly bitter char from being kissed by the flames of their gas grill. They were coated in a sweet and sticky soy glaze, and picking the meat off the skewers made for a fun and new way to eat wings.

Beef skewers with a similar glaze to the wings were served in thin strips. The meat itself was properly cooked, but it was overall forgettable because of its simplicity, and a dish that did nothing to add to the meal.

That could especially apply when compared to the Chasu pork bao buns that arrived alongside the beef. Slow-cooked pork shoulder was shredded and drenched in a dark sauce and finished with crisp lettuce. The pork alongside the light and fluffy bao was a dreamy combination, mixing sweet, salty and tender in each bite.

Ramen was the natural star of this joint, and has become sought after all over South Jersey. Especially the Black Garlic Ramen, which featured a developed pork soup broth with a generous drizzle of black garlic oil—known for its rich, fermented flavor. It was served with classic thin ramen noodles, chopped chashu pork, a seasoned, soft-boiled egg, bamboo shoots, kikurage mushrooms and thin-sliced fish cakes. The broth itself was so rich and creamy that it could have stood alone as its own dish, boosted with the earthy flavor of the black garlic oil and made even better thanks to the fattiness of the egg yolk that dripped into each spoonful.

Any entrée would pale in comparison to the black garlic ramen, so it was safe to say that the Shoyu chicken ramen had a big job on its hand. The Shoyu was like a chicken noodle soup on steroids: loaded with chashu pork, a seasoned, soft-boiled egg, bamboo and bean sprouts, fresh scallions, fish cake and finished with soy sauce and a giant nori seaweed sheet on top. The toppings were playful— especially the crisp and briny nori— and went well with the tender pork meat, but once again the broth was what really stood out. It was clear that there was time and energy put into making the base, as it was filled with buttery umami flavors.

With the cold weather finally starting to bite, I keep dreaming about Rayaki's hearty ramen bowls. They're a perfect meal for someone looking for a food experience: balanced and developed, exciting and unique. Pair that with the hustle and bustle street bites found in the robatayaki portion of the menu and you might just find yourself escaping to the streets of Tokyo, right inside a tiny Route 70 strip mall.

Rayaki
404 Route 70 E. | Cherry Hill
(856) 520-8629 | RayakiCherryHill.com
To read the digital edition of South Jersey Magazine, click
here
.
Published (and copyrighted) in South Jersey Magazine, Volume 15, Issue 6 (September 2018).
For more info on South Jersey Magazine, click
here
.
To subscribe to South Jersey Magazine, click
here
.
To advertise in South Jersey Magazine, click
here
.