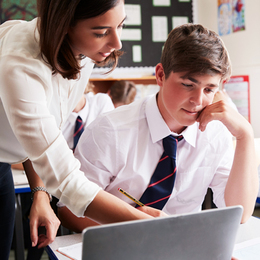 A Private Decision
Despite being products of public education, some local parents have decided that private schooling is what's best for their children.
Robert Andrey and his wife both attended public high school, so the Cherry Hill couple thought nothing of sending their son Jake to one as well, citing their own positive experiences. But after Jake's sophomore year, they had learned a hard lesson: The educational path he was on was not serving him well. They decided he needed a change and so he began his junior year enrolled at The King's Christian School.

Since then, they have seen Jake's focus at a higher level and he is more diligent, even working ahead of most of his assignments. "He's working smarter," Andrey says matter-of-factly.

The Andreys are not unlike many other parents who are faced with difficult decisions centered on their children's academic future. But ultimately, after weighing the pros and cons of the public versus private debate, they felt like there were too many added benefits to a private education that they couldn't pass up.

While tuition cost is always a looming factor, the Andreys were really drawn to certain aspects that they felt private education affords, namely smaller class sizes.

"Honestly, that was the biggest thing for us," Andrey says. "He went from 30 to 32 kids in a class to 8 to 12. It was a more intimate atmosphere, with more one-on-one attention, and he was definitely getting the assistance he needed in the classroom setting."

There are many other issues, of course, for parents to consider when they opt to send their child to private school. Researching institutions for academic success may be paramount, but social and community engagement, athletics and other extracurricular opportunities are just some of the additional aspects to factor in. It's not simply a matter of will a child be a good fit for a particular school, but will that school instead be a good fit for the child and not only challenge them in the classroom, but also engage them outside of the school's halls.

Dr. David May knows this all too well, being a product of private education himself. A 1987 graduate of Bishop Eustace, May admits he may be biased when it comes to private schooling. However, his wife attended public school and the Atlantic County couple were more than prepared to send both their children to public school as well.

But after considering the schools in their area, they were not satisfied with the opportunities and experiences being offered. They even flirted with the idea of moving to be in a more desirable district, but ultimately decided to consider private schools instead. They cited the rigor of academics and the quality of instruction as overriding reasons why they believed private instruction would better suit their children, as well as the "peer pressure" often found at prep schools where students share the same goals.

"In some public schools, sometimes as much as 50 percent may not go to college," May says. "We felt that was an important aspect, that their fellow students, friends and peers are oriented to the same goals of achievement."

The family decided to send both of their children to Bishop Eustace, but May tried not to influence the decision. Instead, it was his wife who visited the school with his daughter Rebecca and became convinced it was the right place. Rebecca graduated last year and their son Sean will get his diploma in 2019.

While things on campus have changed since May's time there, he stressed the overlying benefits of private education remain intact. "My wife and I are the strongest influence on [our children], but some benefits with private education that we've seen are they achieve more than we thought they would having gone to public school," he says. "The opportunities have really broadened their horizons. The amount of independence and emphasis on the students guiding their experience, it's really a lot different than public school curriculum. When they go off to college, it's not as difficult to immerse in the college atmosphere and manage time appropriately."

Brenda Heffelfinger has been sending her son Jack to Moorestown Friends since kindergarten, and though she attended public school herself, now that her son is in his junior year of high school, she echoes the same sentiments.

At private schools, they "are teaching the individual and it's difficult to get lost in the shuffle," she says. "Jack would never get lost in the cracks."

And while that direct engagement with teachers has been a noticeable benefit, Heffelfinger also sees a difference with how private school puts a strong focus on preparing students for life after high school.

"In public school, there are a lot of classes you have to take that the state decides, but with private school, there's a little more leeway to focus on different areas that help get the kids ready for post-secondary studies," she says.

Another big factor that all these parents discussed was the overwhelming family atmosphere they have felt since their children have been attending private school.

"Something I've really enjoyed from a family standpoint is the sense of community," Heffelfinger says, noting how involved parents are with activities, school functions and the like.

Andrey concurs, saying, "The atmosphere was a more open-arms, welcoming situation. We didn't realize how much of an impact it would have on [Jake]."

To read the digital edition of South Jersey Magazine, click here.

Published (and copyrighted) in South Jersey Magazine, Volume 15, Issue 7 (October 2018).

For more info on South Jersey Magazine, click here.
To subscribe to South Jersey Magazine, click here.
To advertise in South Jersey Magazine, click here.