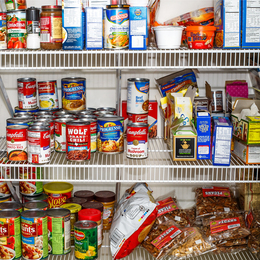 Feeding the Mind and Body
Some college students are faced with a difficult decision: FOOD OR TEXTBOOKS.
Colleges and universities are combating food hardship by providing students with pantries to satisfy their cravings and help them succeed in the classroom.

Maxwell Carlson has been swiping his meal card at Rowan University's cafeteria twice a day but when the summer rolled around, he was left with little to no food and a tough decision. "If The Shop wasn't there, there will be days where I will have to decide whether to eat or pay my bill," he says.

He stopped by Rowan University's food pantry, The Shop, from time to time during his freshman year, but felt it was something he could fall back on during the summer months when money was tight. The campus food pantry was able to provide Carlson and hundreds of other students experiencing food insecurity with nonperishable food items and toiletries.

Between the cost of tuition, food, textbooks, car upkeep and other necessary purchases, some students are struggling to get by even during the first week of school. It isn't uncommon for college students to be short on change or living paycheck to paycheck.

For some students, the last thing on their mind is putting money toward a meal that they can use for a more important matter. However, administrators and staff at colleges and universities in the area are learning of this struggle students are facing and eliminating the need to make a choice.

Rowan created the Affordability Task Force in 2016 and developed a subcommittee that included the student government president and a student board of trustee member at the time. They investigated food pantries and food insecurity in the area and with the help of student support decided to open The Shop on campus in 2017—serving over 400 students since then.

The Shop resembles a grocery store and offers students items such as pasta, soup, macaroni and cheese and tuna, but also toiletries and furthermore, clothing and school supplies—all at no cost to the student.

Although the pantry offers a vast amount of utilities for students, it isn't the only college campus that offers these items. Other institutions such as Stockton University, Rutgers University-Camden and Rowan College at Gloucester County are also supporting the movement.

To use the pantry, students typically walk in, show their student ID and can grab either a pre-made bag or select any item they choose (some pantries have item count restrictions). Although details vary at each college, no questions are asked and students go on their way.

But where do all of the items come from? All pantries stock the shelves through monetary or food donations from volunteers. Some of the bigger universities, such as Rowan, Stockton and Rutgers, have affiliations with food banks, but remain grateful for any volunteer donations.

Creating a Safe Place
On a daily basis, some students have a difficult time getting sufficient nutritional food. Food insecurity can mean something different from student to student, whether it's one missed meal or barely scraping together one meal a day.

Carlson feels no shame in using The Shop, noting that it is one of his favorite parts of Rowan. He does, however, hear talk from students about it being an amenity that "poor people" go to and use. To that end, universities are striving to make students feel as comfortable as possible when using the service.

Samantha VanKooy, executive director of student engagement at Rowan College at Gloucester County, says that some students have developed a sense of community between one another just knowing they are using the pantry and happen to go at the same time. The college, which has Roadrunner's Refuel on campus, is trying to rid the stigmas through raising awareness of food hardship and providing a place where students don't feel judged.

To combat this, Rowan's The Shop upholds a friendly environment and doesn't place logos on any of their food distribution bags. Penny McPherson Myers, associate vice president for diversity and organizational effectiveness at Rowan University, says that the college tries to show students what the pantry looks like on the inside to wipe away preconceived thoughts.

"Although we've had success in students using it, we definitely want more students to use it because we now know that there are more students that need it and we want to combat any type of stigma that comes with it," Myers says.

Stockton University recently moved their food assistance program paper applications to online applications—to make students feel more comfortable—and has seen an increase in students applying. "A lot of people don't like to ask for help when they need it but moving to the electronic application removes a little bit of that anxiety about coming in and asking to fill out an application," Craig Stambaugh, assistant vice president of student affairs at Stockton, says. "When you do it behind the scenes, and we get it and we send you an automated response, I think there's a higher comfort level."

A Lasting Imprint
Stockton University's food assistance program began in 2015 and although the school didn't have the infrastructure for a food pantry, they established a meal voucher program as a result of a student-run survey on campus. By the end of 2017, Stockton converted a few cabinets in the dean of students' office and had 73 total students enroll in the program. In the beginning of this school year alone, Stockton has already seen 72 students apply for the program.

"[Students] don't have to make a choice between a book and a meal or … paying an electric bill if you're off campus," Stambaugh says. "We find a lot of students who are [saying I] can't pay my rent because I have to buy food, I can't pay my electric bill because I have to have food."

The campus food pantries also serve as a way for students to get involved with volunteering and the community surrounding it. A connection with local food banks and campus food pantries creates the support students and their families need. "Since the food that we distribute is sourced from the local communities, everyone is a part of the solution and food donors can know that they are assisting people who need food in their very own communities," says Joe Njoroge, the interim president and CEO of the Food Bank of South Jersey.

"It makes a difference at a family level because [students are not] taking resources from the family," says Maria Serra, director of student health services at Rutgers-Camden. "And these families usually have very little to begin with, [so] by having a food pantry available, really in the long run, also helps the family even if they're not taking food home for the family."

Rutgers University-Camden's Raptor Pantry opened last year as a corner shelf but is expanding with more services. "We are making an effort to also include some educational materials about, for example, nutrition when they pick up things at the food pantry," Serra says. "We encourage students to make a visit with our doctor for a wellness check because a lot of these students have experienced food insecurity throughout their life and probably haven't had the best of medical care."

Whether pantries supply food or act as an amenity to fall back on, they are shaping students' lives in college with a greater potential to succeed and graduate. They are not only producing food and other items students fall short on, but they are offering a nutritional food source so students know they're getting what their body requires. If the pantry presents itself as a mirror image of a grocery store or as a small cabinet in the corner of a room, it's the thought that these colleges care about the students and want them to succeed in school.

"Research has shown that students perform better when they are properly nourished, when they're not hungry," VanKooy says. "So we think that by having this service on our campus and so many other campuses throughout the country right now, we are helping with retention of students at our schools and we are helping our students succeed academically rather than just skate by because they're not having to worry about meeting their basic needs. Therefore they can focus more on doing well in their classes."

To read the digital edition of South Jersey Magazine, click here.

Published (and copyrighted) in South Jersey Magazine, Volume 15, Issue 7 (October 2018).

For more info on South Jersey Magazine, click here.
To subscribe to South Jersey Magazine, click here.
To advertise in South Jersey Magazine, click here.