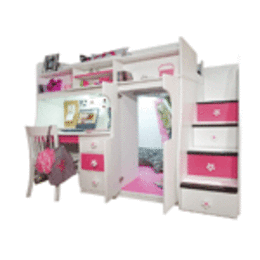 Best Of Home And Garden 2010
You've set your Thanksgiving table—remembering to keep nosy Aunt Rita as far as possible from your kids—and maybe even started decking the halls. But now's the time to think big picture, and lay the groundwork for upcoming home and garden overhauls. Fortunately, our savvy readers have done the leg work, voting at SouthJersey.com in our first-ever reader Best of Home & Garden poll. Read on for this year's winners, and local finds from our editors.
Best Beds
Even if your kid's room isn't huge, it can still feel like a castle. At least, that's the idea behind Berg Furniture, the Barrington-based manufacturer of kids' furniture that ships its multi-use units to stores across the country. Each Berg bed has multiple uses, including loft, study area, storage and playhouse. "Every design is meant to resolve a problem a family has: a small room, two or three kids in one room, young kids who need sleep, storage, play and study in the same room. So we're trying to design everything to meet the needs of the children and the parents," says the company's vice president of marketing, Almog Lieber. Each bed is special order, in one of a number of finishes and models. They are priced from $1,500 to $3,000 retail. And, they're all made here in South Jersey. "There aren't many factories that have stayed in the U.S.—the majority of the business is now done out of Asia. But we believe this is the right thing to do," Lieber says. Available at USA Baby, 2234 W. Marlton Pike, Cherry Hill, (856) 488-1385.
Bright Idea A software developer with a love for woodworking, a year ago Thane Smith saw the light. His inspired concept: His own line of wood-framed lamps, including Japanese-inspired lanterns, modernist floor lamps, and tables that glow from within. Now, the Mount Laurel lamp maker sells pre-made and custom designs, all handmade using woods in contrasting hues, under his ThaneArthur label. (856) 266-6459, ThaneArthur.com.
Going Green
Six services to help you green your life.
Energy audit.
Way before energy efficiency was a byword, Bud Fahey's Optimal Energy Inc. was performing energy audits and saving clients money on utility bills. The first Building Performance Institute-certified contractor in New Jersey saves clients an average of 35 percent to 45 percent of their annual energy use by sealing up drafty cracks, adding insulation and replacing old HVAC systems with new water heaters, air conditioners, geothermal heating and solar panels. 900 N. Lenola Road, Unit 6 Building B&C, Moorestown, (856) 802-0211, OptimalEnergy.us.
Organic paint.
Twenty years of experience with commercial and residential painting has taught Rainer Painting Company that paint can have some pretty harsh effects on the environment. So, the company has been offering customers organic paints and paints that are low in volatile organic compounds, for a healthier house. 1011 Beechwood Road, Riverton, (856) 786-8121, RainerPainting.com.
Window washing.
Evan's Green Clean skips the suds and washes your windows, solar panels and home exterior chemical-free, using only pure filtered water. 10 Haynes Creek Lane, Medford, (609) 257-3053, EvansGreenClean.com.
House cleaning.
You love the way your house looks once it's clean; you hate the chemical stench that lingers. Problem solved: Michele's House Cleaning, based in Sicklerville, uses only non-toxic products while scrubbing your home to a high shine. (856) 371-9539, MichelesHouseCleaning.com.
Landscaping.
Using organic fertilizers, natural pest control products, composting and other green techniques, Tech Terra Organics offers environment-friendly lawn and tree care in Burlington and Camden counties. (609) 468-1905, TechTerraOrganics.com.
Solar paneling.
Renewable energy sure beats high electric bills, which is why solar panels are so appealing. Solar Power March of Mount Laurel will analyze the angles and orientation of your house to optimize the energy generation from your new solar system. (609) 320-0450, SolarPowerMarch.com.
Alterative Energy Contractors
Solar Designed Systems
Marlton
(856) 296-7939
SolarDesignedSystems.com
Builders
Bob Meyer Communities
Medford
(609) 654-4030
BobMeyer.com
Canton Custom Homes
Moorestown
(856) 235-7582
CantonCustomHomes.com
Don Paparone Homes, Inc.
Cherry Hill
(856) 424-7000
PaparoneHomes.com
Massimo Master Renovators & Custom Builders
Moorestown
(856) 234-8411
MassimoBuild.com
Russo Homes, LLC
Swedesboro
(856) 467-7006
RussoHomesLLC.com
Tri-County Development Group, Inc.
Medford
(609) 654-6600
TriCountyDevelopmentGroup.com
Cleaning Services
Maid Pro
Cherry Hill
(856) 427-7880
MaidPro.com
Decks, Gazebos & Sunrooms
CK Construction, LLC
Audubon
(856) 672-9293
CKConstruction.com
Electricians
Raynor Electric
Serving South Jersey
(609) 257-4789
RaynorElectricLLC.net
Richardson Electric, Inc.
Serving Burlington and Camden counties
(609) 654-4676
Richardson-Electric.com
Fencing
Alenco Fence & Supply Corporation
Medford
(609) 654-6060
AlencoFence.com
Amechi Fence Company
Marlton
(856) 988-8118
Turnersville
(856) 227-6691
AmechiFenceCo.com
Fireplaces
The Fireplace People
West Berlin
(856) 768-0009
TheFireplacePeople.com
Rettinger Fireplace Systems, Inc.
Voorhees
(856) 783-5501
RettingerFireplace.com
Star-Mitchell Enterprises, LLC
Williamstown
(856) 728-4444
StarMitchell.com
Stoveworks
Medford
(609) 654-1384
StoveWorksNJ.com
Flooring & Carpet
Avalon Carpet Title and Flooring
Serving South Jersey
(856) 489-4996
AvalonCarpetTile.com
Floors USA
Cherry Hill
(856) 761-1670
FloorsUSA.com
Kepple's Carpet
West Berlin
(856) 767-1999
Marlton
856) 528-4171
KepplesCarpet.com
Furniture Repair & Refinishing
Furniture Doctor
Berlin
(856) 768-0770
Garage Doors
Dependable Doors & More
Serving South Jersey
(800) 606-1922
DependableDoorsLLC.com
Hunter Door
Maple Shade
(800) 575-3667
HunterDoor.com
Handyman Services
A5 Handyman & Remodeling
Voorhees
(856) 719-0200
A5Remodeling.com
Mr. Handyman
Cherry Hill
(856) 429-8991
MrHandyman.com
Hardscaping & Landscaping
Elite Landscaping
Berlin
(856) 753-1944
EliteLandscaping.com
Eric's Nursery & Garden Center
Mount Laurel
(856) 231-0444
EricsNursery.com
Steven Masullo Landscape Design
Serving South Jersey
(856) 252-7372
MasulloLandscapeDesign.com
Young's Landscape Management, Inc.
Serving South Jersey
(609) 654-5441
YoungsLandscape.com
HVAC Contractors
Allen's Oil & Propane
Hammonton
(609) 561-7714
Vincentown
(609) 859-2334
AllensOilandPropane.com
Bovio Advanced Comfort and Energy Solutions
Washington Township
(856) 783-5282
Bovio.com
Hutchinson Plumbing, Heating, Cooling
Serving South Jersey
(856) 429-6138
HutchBiz.com
Jim's Heating & Air Conditioning
Serving South Jersey
(856) 546-3081
JimsHtg.com
RPM Heating &
Air Conditioning, Inc.
Marlton
(856) 983-0273
Shamrock Heating and Air Conditioning, Inc.
Vincentown
(609) 859-2424
Shamrock-Inc.com
Home Organization Systems
The Closet Gallery
Serving South Jersey
(609) 714-8282
TheClosetGallery.com
Specialty Shower & Closet
Serving South Jersey
(856) 235-9915
SpecialtyShowerAndCloset.com
Home Remodeling
A & J Custom Home
Remodeling Center
Swedesboro
(856) 832-4001
A-JCustomHomes.com
Brindisi Builders
Marlton
(856) 985-6219
BrindisiBuilders.com
Cipriani Remodeling Systems
Woodbury
(856) 853-8398
CiprianiBuilders.com
L.J. DiCicco Builders
Cherry Hill
(856) 354-2135
DiCiccoBuilders.com
Nuss Construction Company, Inc.
Marlton
(856) 988-9982
NussConstruction.com
Home Security
Devlin Alarms
Marlton
(856) 983-3456
DevlinAlarms.com
Evesham Lock & Safe Company, Inc.
Marlton
(856) 665-5625
EveshamLock.com
Interior Decorators & Designs
Dashing Designs
Cherry Hill
(856) 424-4405
DashingDesigns.com
Rooms in Bloom
Moorestown
(856) 722-1505
RoomsInBloom.biz
Studio Designs by Chase McKenzie
Collingswood
Moorestown
(609) 922-2493
SDCM.biz
Interior Furnishings
Atlas Interiors
Marlton
(856) 985-5550
Cherry Hill
(856) 665-4010
Atlas-Wallpaper.com
DiEva Designs
Turnersville
(856) 728-3330
DiEvaDesigns.com
Ethan Allen
Maple Shade
(856) 667-7333
EthanAllen.com
Kroungold's Furniture
Marlton
(856) 985-2700 Kroungolds.net
Kitchens & Baths
ABC Discount Appliances
Pennsauken
(856) 665-0711
Marlton
(856) 267-5755
Medford
(609) 257-3182
ABCDiscountAppliances.com
Albo Appliance
Audubon
Maple Shade
Mount Holly
(856) 235-2288
AlboAppliance.com
Cabinet Gallery Medford
(609) 654-7555
CabinetGallery.com
Glassboro Lumber & Kitchens
Newfield
(856) 358-1854
GlassboroKitchens.com
Matteo Family Kitchens & Flooring Inc.
Woodstown
(856) 769-2490
MatteoKitchens.com
Weinstein's Bath & Kitchen Showroom
Collingswood
(856) 833-1576
WeinsteinSupply.com
Marble, Granite & Stone Contractors
Abruzzi Stone
Cherry Hill
(856) 616-0800
AbruzziStone.com
C & S Granite and Cabinet, LLC
Mount Laurel
(856) 222-0855
CAndSKitchen.com
Counter-Fit
Willingboro
(609) 871-8888
Ilkem Marble & Granite
Cherry Hill
(856) 433-8714
IlkemGranite.com
Tabernacle Granite & Marble
Tabernacle
(888) 355-8677
TabernacleGranite.com
Painting Contractors
Giovinetti Painting
Serving South Jersey
(856) 227-1503
GiovinettiPainting.com
Rainer Painting Company
Serving South Jersey
(856) 786-8121
RainerPainting.com
Thomas Woodend
Serving South Jersey
(856) 596-6065
ArtFullWalls.com
Pest Control
Delsea Exterminators
Cherry Hill
(856) 662-3355
DealseaExterminators.com
Humphreys Pest Control
Serving South Jersey
(856) 722-0020
HumphreysPestControl.com
Plumbing Contractors
Eddie B. Plumbing, Inc.
Cinnaminson
(856) 764-1282
EddieBPlumbing.com
Filan & Conner Plumbing, LLC
West Berlin
(856) 768-2888
FilanAndConnerPlumbing.com
Gary Lawrence Plumbing & Heating
Tabernacle
(609) 268-1171
Roofing and Siding
Advanced Roofing Systems, LLC
Serving South Jersey
(856) 428-3222
AdvancedRoofingSys.com
CMB General Contractors
Medford
(609) 953-1798
CMBContracting.com
W. Hargrove Demolition
Camden
(856) 225-1100
WHargrove.com
Spas & Pools
Budd's Pools
Deptford
(856) 845-9000
BuddsPools.com
Del Val Pool Maintenance
Pennsauken
(856) 663-4400
Del-Val.com
Jersey Pools & Spas
Medford
(609) 654-4886
JerseyPoolsAndSpas.com
The Pool Store, Inc.
Sewell
(856) 286-3300
ThePoolStore.com
Swim-Mor Pools and Spas
Serving South Jersey
(856) 456-3332
SwimMor.com
Tropical Pools
Glassboro
(856) 881-2772
Tree Service
Bartlett Tree Experts
Cherry Hill
(856) 547-7170
Bartlett.com
First Class Tree Service, LLC
Serving South Jersey
(609) 714-1202
FirstClassTreeService.com
Trimwork/Molding
A-1 Millwork
Serving South Jersey
(856) 767-5233
A-1Millwork.com
Home Trimwork
Serving South Jersey
(609) 206-8621
HomeTrimwork.com
Waterproofing
Mid-Atlantic Waterproofing
Serving South Jersey
(856) 541-0100
Basements.com
South Jersey Waterproofing & Structural Repair, LLC
Serving South Jersey
(856) 428-8271
SouthJerseyWaterProofing71.com
Windows & Doors<
Sunbeam Window & Door Co.
Serving South Jersey
(856) 662-3300
SunbeamWindow.com
The Window Factory
Haddon Heights
(856) 546-5050
NewWindowFactory.com
The Window Place Plus
Serving South Jersey
(856) 216-1888
WindowPlacePlus.com
Window Treatments
Best Drapery and Design
Cherry Hill
(856) 429-2242
EBestDesign.com
Pasquarello Interiors
Stratford
(856) 784-2864
PasquarelloInteriors.com
Patricia of Mullica Hill
Haddonfield
(856) 795-5555
Published (and copyrighted) in South Jersey Magazine, Volume 7, Issue 8 (November, 2010).
For more info on South Jersey Magazine, click here.
To subscribe to South Jersey Magazine, click here.
To advertise in South Jersey Magazine, click here.