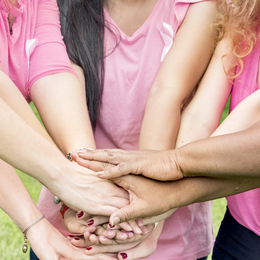 An Ongoing Fight
Some trends in the battle against breast cancer are giving women renewed hope.
When a woman is diagnosed with breast cancer—the second leading cancer among women in the U.S.—her world is thrown upside down and some parts of her life are put on hold. That is especially true for younger women who were planning on having a family, but instead have to go through chemotherapy and radiation which may prevent them from getting pregnant due to possible complications and other medical issues that could arise from those treatments.

But not all hope is lost, as women are able to freeze their eggs prior to cancer treatment thanks to improved technology and experienced doctors able to make a precise diagnosis.

Dr. Lauren Weissmann, director of donor services and preservation at South Jersey Fertility Center, helps women do just this and has given them a positive outlook for the future. There's a lot of information thrown at the patient at once, but helping them along the way is Weissmann's No. 1 priority.

"We're thankful we're able to potentially help them this way during treatment," she says. "It's another layer of information they have to take in and we guide them through every step of the way and make this be the least of their concerns while dealing with what they need to deal with from a health perspective."

Weissmann says getting to a fertility doctor early in the process before they undergo treatment for breast cancer is the crucial first step.

"Between surgery and chemotherapy and radiation, those treatments are the first priority to fight breast cancer, but typically we are able to review options for fertilized preservation and do a cycle of treatment before the exposure to the most harmful drug." she says.

"In an ideal world, we would be able to do a cycle, typically 12 to 14 days of egg banking or embryo banking. … We start any time within a patient's menstrual cycle and work very closely with their cancer-treating doctors to do everything in the quickest and safest manner possible. … We've had many successful patients come back after they beat the cancer and have healthy pregnancies."

Improved Technology Screenings
According to Dr. Catherine Piccoli of South Jersey Radiology (SJRA), she recommends women begin breast cancer screening at age 40—the same guidelines the American College of Radiology (ACR) and Society of Breast Imaging have, but there are some women who are at higher risk who should start getting mammograms earlier.

"Those women include those who have a family history of breast cancer or a woman whose mother was diagnosed with premenopausal breast cancer at the age of 30," she says.

SJRA is on the forefront of breast imaging technologies by having 2D and 3D mammography, also known as digital breast tomosynthesis—an FDA-approved advanced technology that takes multiple angled images and aids in diagnosis if a tumor is present—SJRA is the first imaging center in the region to be designated as Breast Imaging Centers of Excellence by ACR.

"Basically what that means is we are able to do mammography and a breast ultrasound, and with that an ultrasound-guided breast biopsy and breast MRI biopsy," Piccoli says. "Because we do all of those imaging procedures and biopsies associated with them, that means we get our own feedback and have a team of breast imaging specialist reading your scans."

Cosmetic Assistance
Radiation during breast cancer can damage women's skin, particularly in the chest and neck area and can result in scars. Dr. Steven Davis of Davis Cosmetic Plastic Surgery and Skin Care Center performs a procedure that evens pigment and skin tones to make the skin look and feel as close to it did prior to breast cancer.

"We use a laser called the Halo Laser Treatment, which is a combination therapy of using different wavelengths to address the breast, chest and neck area that can be done in a wonderful way without being overly aggressive," he explains. "The texture of the skin may not be as healthy as it once was, but it can give it more color and the texture is much more youthful and supple."

Additionally, he performs reconstructive surgery to make women's breasts look as natural as possible before they underwent treatment and recommends "gummy bear" implants—special silicone gel filled implants that have a soft, cohesive feel and more form.

"If a patient has had a mastectomy, we need to replace it with something that is going to give it form and function, and resemble a natural looking breast," he says. "The 'gummy bear' implant is the latest version of silicone gel implants that have gotten better since we first introduced them to the market and it truly does feel and look the most natural."

Staying Healthy After Treatment
For some women, treatment doesn't conclude once they have gone through surgery, chemotherapy and radiation. Unfortunately, due to effects from these treatments, quite a few patients experience other symptoms that require more medical attention.

"Data shows at least two-thirds of women will have function impairment as a result of breast cancer treatment," says Dr. Michael Stubblefield, medical director for cancer rehabilitation at Kessler Institute for Rehabilitation and national medical director for ReVital Cancer Rehabilitation. "When a woman is being treated for breast cancer, they undergo surgery often with immediate reconstruction and receive chemotherapy that often is neurotoxin and damages nerves. They may also receive radiation therapy which damages tissues in the radiation field."

Stubblefield diagnoses and treats musculoskeletal pain—pain resulting from post-mastectomy surgery and reconstructive surgery; cognitive and function impairment, and other pain issues.

"Experiencing pains in their chest wall or arm, having rotator cuff tendinitis, cognitive impairment from chemotherapy and joint aches [may] continue while on medication, [and to] take [those medications] five years or longer is debilitating," he says. "All of these can be life-altering."

Stubblefield and his team of therapists have a comprehensive rehabilitation program and understand cancer and the treatments each patient has had previously, which is critical in the patients' treatment plan and recovery.
"I think women who are looking for this, it's important for them to find a physician and therapist who understands cancer and the treatment of cancer," he explains. "A physical therapist who does not understand what kind of breast cancer reconstruction they had done may overlook causes of impairment that a therapist trained for cancer rehabilitation will identify and incorporate into a treatment plan."


To read the digital edition of South Jersey Magazine, click
here
.
Published (and copyrighted) in South Jersey Magazine, Volume 15, Issue 7 (October 2018).
For more info on South Jersey Magazine, click
here
.
To subscribe to South Jersey Magazine, click
here
.
To advertise in South Jersey Magazine, click
here
.