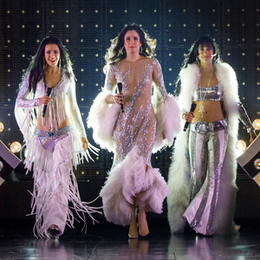 Turning Back Time
From Margate to Broadway, talented teen Micaela Diamond realizes a lifelong dream as she gets ready to portray Cher in an upcoming production debuting this fall along The Great White Way.
Micaela Diamond was about 4 years old when she decided musical theater was her calling, and after years of being involved in community theater productions in Margate, including at her mother's little art studio on Ventnor Avenue, she set her sights on a larger dream: Broadway. By age 10, she was one step closer, performing on stage in New York City.

By the middle of Diamond's seventh grade year, she and her mother packed up their belongings and headed to the Big Apple and it was there that Diamond's career began to take flight. She would go on to attend Fiorello H. LaGuardia High School of Music & Art and Performing Arts and during her senior year an agent signed her after watching her lead role as Louise in Gypsy. She would eventually go on to appear in the live network rendition of Jesus Christ Superstar that aired on NBC this past April.

After high school, Diamond was destined for college and was accepted into the prestigious Carnegie Mellon University, but she wound up declining the offer to attend this fall. Instead, she will have the opportunity to star in a new Broadway show centered on the life of Cher.

Opening on Nov. 1, The Cher Show focuses on three distinct periods of Cher's life, played by three different actresses. Diamond portrays the performer in her younger years, as "Babe," a naïve and optimistic budding star. As the story winds, the audience will also meet the more confident and sassy "Lady," as well as "Star," the Cher we all know today.

We spoke to Diamond about the excitement surrounding the show, turning down college for Broadway and what will come next for the up-and-coming stage star.

On auditioning for The Cher Show…
I almost didn't go, funny enough. I wasn't feeling great that day and I didn't really know the material that well; I love being uber prepared. I didn't want to embarrass myself in front of the big casting office with a horrible Cher impression. It's a bit of a vulnerable state, but my agent called me and they kind of made me go; I'm not gonna lie. … So I threw on a pair of bell-bottoms and went to this audition not really being all that prepared. … I go in and I do these sides and have fun and it's kind of low pressure because I'm leaving for my dream school in a week, and I get a call after the audition saying I got a callback. …. Then I go to the callback, and I sing my face off and the casting directors come out of the room and are like,
'We really like you—would you take this over Carnegie Mellon?' And thinking back, it's kind of hilarious because I didn't just say yes. … Broadway is literally the one thing I've wanted since I was 3 and I didn't say yes, I would take it in a second. I said, 'I think I'm gonna have to talk to my mom first.'
Embodying Cher…
I think one of the hardest things for me is Cher is so unique in that she is so non-theatrical. From when she was 15-16 she's had a camera two inches away from her face and so she's never had to play out to anyone, which I think is one of her superpowers. But she is so still and she has this power of stillness that she just exudes when she's in T he Sonny and Cher Comedy Hour and in her concerts. I just saw her last night and she really does—she never leans forward. She lets the audience come to [her] and that's hard to do in a musical theater show because people have to hear you, first and foremost. Technically we can't be soft spoken and I know people don't think of Cher as soft spoken, but she is. … Trying to zero in on who she is through all of it, not just this one human, trying to zero in on like the essence of her and not just one moment of her has been really hard but so exciting.



On her most memorable moment…


Probably performing the show on the stage for the first time with Cher in the audience. That was pretty epic, I think is the word. … To do it full out for her in costumes and wigs— that was special. Not that I wanted to prove anything to her, but there was a level of just how insane it was. It was just wild to be playing Cher in front of Cher. Not everyone gets to do that.



Settling the nerves…


Taking a moment with [my co-stars] and really looking at myself in the mirror with the wig and the makeup, it kind of starts to relieve those nerves and I can just trust the work and go out there.



The experience of doing Jesus Christ Superstar live on network TV…


That was a once-in-a-lifetime kind of energy. I don't know if I'll ever feel that again but that was an incredible, incredible process. I also understudied Sara Bareilles who played Mary but I got to spend a lot of time kind of working with John Legend which was just unbelievable.



Free time before the show…


Right now I'm on a bit of a break and I'm going to Greece soon, so I love traveling. I've been doing little weekends here and there and spending time with friends and doing other vocal things so I'm not just belting Cher.



What comes next…


I don't know when college will come back in the picture. I'm not leaving theater anytime soon, so I'll be in it for the rest of my life. But it's funny, I'm such a planner but this business you really can't plan anything. So I'm kind of just trying to be open to whatever comes my way and auditioning and keep doing what I'm doing.


To read the digital edition of South Jersey Magazine, click
here
.
Published (and copyrighted) in South Jersey Magazine, Volume 15, Issue 7 (October 2018).
For more info on South Jersey Magazine, click
here
.
To subscribe to South Jersey Magazine, click
here
.
To advertise in South Jersey Magazine, click
here
.