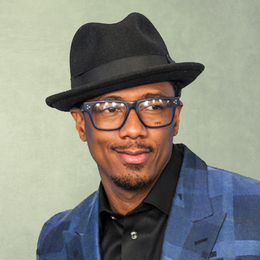 Mr. Versatility
Nick Cannon has proven throughout his career to be a man of many talents, but he feels like he's only scratching the surface.
To call Nick Cannon a Renaissance Man is a bit of an understatement.

Since breaking into the entertainment world as a young teenager more than two decades ago, he has made an imprint in almost all aspects of the industry. Along the way he also became an entrepreneur, building a brand that few can match in their career.

He's an actor, a stand-up comic, a television host, a musical recording artist, a director and a producer. And he's only 37.

For a kid who grew up in a gang-infested neighborhood in San Diego, comedy and entertaining was his way out. After losing a close friend to street violence, Cannon sought refuge in the hills of Hollywood and moved to Los Angeles as a teenager, where he routinely charmed his way into auditions and onto comedy club stages.

Then Nickelodeon called and everything changed. He went from being discovered to spending time in Orlando working on the show All That. And not just in front of the camera, but also in the writer's room, making him the youngest writer in television history at just 17 years of age. Soon after, he was starring in The Nick Cannon Show, which he also directed and produced. His relationship with the network continues to this day—in 2008 he became the chairman of TeenNick.

His rising star status led him to MTV where he created Nick Cannon Presents Wild 'N Out, a popular improvisational comedy show where two teams compete for audience approval that has aired for several seasons. The show helped along the careers of some of today's biggest names in comedy, with Kevin Hart being one notable beneficiary, something that Cannon takes great pride in. And proving his polished credentials, he would go on to host America's Got Talent on NBC for eight seasons before leaving the show in 2017.

These days, Cannon's star is easy to identify. When he's not DJing at the hottest nightclubs around the world, authoring children's books and starring in films, he's working on his own brand of headphones, opening up a Wild 'N Out themed restaurant in Miami and expanding his multimedia company. To put it mildly, he never sits still for too long. Come January, you can catch him on Fox's new game show called The Masked Singer, where celebrities will sing while hidden in an elaborate costume while Cannon and his fellow panel of judges try to guess their identity.

But in the meantime, Cannon has spent recent months taking Wild 'N Out on the road, including an August stop at the Wells Fargo Center in Philadelphia. The always-on-the-go mogul, who also has three children, including twins with ex-wife Mariah Carey, took some time out to speak to South Jersey Magazine about why he's never afraid to take a risk and how mentors like Will Smith gave him the drive to be successful. The scary part? He feels like he is just getting started.

You were recently in Philadelphia on tour, have you gotten to spend much time in this area at all?
I DJ in Atlantic City quite a bit and I love Philly. Living in [North] Jersey and working in Manhattan, it's just a hop, skip and a jump away.

What about your up bringing do you reflect on while trying to raise your kids?
I would just say being able to be creative and being able to implement that [as a father]. Knowing how creative I was as a kid, and knowing how creative my kids are, [I'm] reliving it all over again. Especially at their age—the twins are 7—so to remember those times for myself and then to see them discover things, it feels good.

You've never been afraid to branch out into new ventures, whether that is in entertainment or business. What drives you and how do you think that allows you to be successful?
Always willing to try new things, never giving up and ultimately believing in myself. I'm someone who builds confidence in my brand and my ideas and I hope to see them come to fruition.

During your early Nickelodeon days, you were also writing for the network. Had you always shown an interest in exploring different sides of the industry and is that the main reason you have so many varied interests today?
It goes back to the creativity and having ideas and being able to put them on paper and you understand the process and knowing it was something more unorthodox than the normal career. I became an individual and a trailblazer in that sense. I wanted to do more than just be in front of the camera.

Who were the individuals you wanted to pattern yourself after in that regard?
There were so many people I looked up to from different fields, from [Sean] Diddy [Combs], Will Smith to Quincy Jones and Russell Simmons.

You've been in the spotlight almost your whole life. How do you get away from it all and decompress, if there is such a thing for you?
It's not really a reality. There's nothing too crazy, but it's like I always say, the entertainment industry is so superficial sometimes, it reminds me of The Matrix. You have to know how to operate in the matrix and take time for yourself to meditate, pray, focus on family and the things that really matter.

With regard to Wild 'N Out, I think one of the coolest things is how you've been able to introduce people to talented individuals who have gone on to become household names. Is it important for you to give people you think deserve it a chance?
Absolutely, and to give people a chance who wouldn't otherwise have those opportunities. I look at YouTube stars, local comedy clubs. … I get a kick out of discovering people and watching them blossom into household names.

Who were the people that helped you along the way? I know you had connected with Will Smith pretty early on in your career.
He was super influential with advice and just on that big brother status. He gave me my first deal and kind of opened the door for me and shed the light on [me] and allowed me to be the entertainer that I am.

Do you remember the first check you got and did it reinforce your instincts, that this was what you were supposed to be doing?
Yeah, I do. It was from the deal I got from Will Smith. I remember buying Range Rovers and all this stuff at 18 and Will telling me, "Don't do that." He told me a story about when he went broke at 18 and it was good to have mentors [like him] to help me financially to do the right thing.

Few know better than you how hard it is to break through in entertainment, let alone have longevity and sustained success. With all that you've accomplished, why do you think you were able to be one of the people still standing?
I would say hard work and consistency more than anything. And not getting distracted and keeping my eye on the prize and ultimately the results speak for themselves.

Of all the things you've done in your career at your young age, do you have any more boxes to check off?
I feel like I am just getting started. I am laying a pretty decent foundation, now it's time to get to work.
To read the digital edition of South Jersey Magazine, click
here
.
Published (and copyrighted) in South Jersey Magazine, Volume 15, Issue 7 (October 2018).
For more info on South Jersey Magazine, click
here
.
To subscribe to South Jersey Magazine, click
here
.
To advertise in South Jersey Magazine, click
here
.