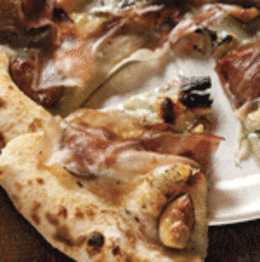 Cravings: Perfect Pizza
Some people are convinced you can't get decent pizza outside New York City. Others say you haven't really eaten pizza until you've been to Italy. But here in South Jersey, we've found plenty of delectable pies. One could make a case for Tacconelli's signature white pie with cheese, spinach, chopped tomatoes and a generous amount of garlic, or the famed hot sausage and cheese pizza at Rexy's. At Frank's II in Washington Township, it takes an hour to perfectly cook "Grandma's Pizza," while Luigi's Pizza Fresca boasts toppings from pepperoni to portobellos. Sometimes, though, the best pizza is outside the (cardboard) box. We bring you five dressed-up pies that are well worth the dough.
1. Treno Pizza
Bar Fig Pizza.
This pie, like the others at Treno, is wood fired, and the result is an audibly crunchy crust thin enough to keep with your credit cards in your wallet. The mild sweetness of the figs is countered with the saltiness of smoked prosciutto and the creaminess of gorgonzola for a unique flavor combination.
233 Haddon Ave., Westmont, (856) 833-9233
2. Pietro's Restaurant
Napoli.
This Marlton restaurant has been using the same recipes for the past six decades, and they've been honed to perfection. Pietro's Napoli pizza blends baby spinach, pine nuts, sun-dried tomatoes and mozzarella, and the combination is quite possibly the best gourmet pie to come out of their coal oven.
140 W. Route 70, Marlton, (856) 596-5500
3. Ristorante Toscana
Signature Pizza.
The signature pie at Ristorante Toscana is one of the more complex pizzas in South Jersey. Cooked in their hand-built, rotating-tray brick oven, the pizza is decorated with fire-roasted zucchini, tomatoes, pancetta and a mix of mascarpone and mozzarella cheeses.
1990 Route 70 E., Cherry Hill, (856) 489-7373
4. Legends
Frank.
Everything on the menu at Legends has star status—with a celebrity name to match. The Frank, as in Ol' Blue Eyes, pizza gives us reason to sing. Roasted lamb shares real estate with prosciutto, kalamata olives and feta cheese, each element enhancing the flavor of the pie. Start spreading the news.
318 High St., Burlington, (609) 386-3001
5. Forno Pizzeria and Grille
Pizza Positano.
This Aldo Lamberti establishment pays homage to the flavors of its namesake Italian fishing village with a specialty pie topped with fresh chopped tomatoes, olive oil, garlic, baby shrimp and Parmesan. It's a taste of Italy that doesn't require a passport.
28 Church Road, Maple Shade, (856) 608-7711
Chef Talk
Q: What comfort food most reminds you of the fall season?
A: For me, the most comforting food for the fall is a nice hearty bowl of soup. As a kid, after coming home from school or out playing, my mom's chicken soup was comparable to nothing else. The aroma alone has the ability to warm you throughout. A personal favorite I make for myself is a creamy butternut squash soup.
—PJ Verratti, chef at Casona in Collingswood
Put A Cork In It
Sharrott Winery was already using sustainable techniques in their grape growing, and they're installing solar panels to power their business. But now they've found a new, er, twist to going green. The winery is collecting used wine corks of all types in a recycling effort with a charitable bent. Not only does a third party pay for the corks, but all the proceeds are donated to local schools. SharrottWinery.com
Sweet Spot
Things on Kings Highway have gotten a whole lot sweeter with the addition of the new Indulgence Cupcakery. Fed up with her 9-to-5 cubicle job, Theresa Hrivnak decided to pursue her passion for baking. She partnered with fellow Cherry Hill native Joseph Halloran and the two opened their doors in September. As if the cupcakes weren't enough, the unusual icing flavors, well, take the cake—think peppermint stick or creamsicle. For Thanksgiving, we'll be going with the pumpkin pie. 43 Kings Highway E., Store 2, Haddonfield, (856) 354-0400
Finding Flavor
Aaron McCargo of Camden won the fourth season of The Next Food Network Star by championing his bold flavors and bold personality. Now, he wants to spice up your kitchen with his very own line of seasonings, including a signature blend. This mix of smoked paprika, cumin, brown sugar, sea salt and plenty of cayenne will enliven your proteins and veggies, but it can also spike dips and even popcorn. AaronMcCargo.com
Published (and copyrighted) in South Jersey Magazine, Volume 7, Issue 8 (November, 2010).
For more info on South Jersey Magazine, click here.
To subscribe to South Jersey Magazine, click here.
To advertise in South Jersey Magazine, click here.