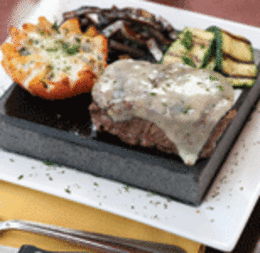 Raising the Steaks; El Sitio
El Sitio
729 Haddon Ave., Collingswood
(856) 240-1217
ElSitioCollingswood.com
4 forks
It's a well-known fact that we Americans like our beef, but want to hear a real secret? So do Argentinians, Ecuadorians, Paraguayans and Uruguayans. Some of the best beef in the world doesn't come from the Midwest's amber waves of grain or Kobe, Japan's cattle spas. Rather, it comes from South America, where cows graze freely on the green pampas that lends the beef trace flavors of grass and minerals.
This is what's on the menu at El Sitio, the South American eatery on Collings­wood's tree-lined main street. As a result, the taste and texture of the steaks El Sitio serves are peerless in South Jersey. Husband-and-wife own­ers Francisco Cabrera and Cecilia Jaramillo are from Quito, Ecua­dor, where they still own the original El Sitio restaurant, just outside town. They know beef.
The couple followed their kids to this region—the oldest of three came here two years ago to attend Drexel—and immediately set up shop on Haddon Avenue, in the boxy space that previously housed the stalwart Word of Mouth. Fresh paint brought cheery blocks of pea green and terracotta into the room. Vial-like vases, fixed to the walls like sconces, spill over with leafy flora. A giant hanging fork and spoon rev the appetite before the menus even arrive.
When the food does arrive, watch out. From the earthy sliced mushrooms in chimi­churri that began the meal to the swirl of sweet, tangy cajeta that ended it, Chef Cabrera isn't shy about putting the vibrant flavors of his country front and center. The dishes his kitchen puts out are bold and exciting, quite possibly the most interesting on all of Haddon Avenue.
After those mushrooms, served with the herbaceous, oily sauce and shards of crusty bread, ceviche is the only way to start at El Sitio. But de­ciding between the Ecuadorian ceviche (with shrimp) and the Peruvian (with corvina) is not an easy call. I wound up letting my server pick for me, a gamble when the server in question appeared young enough to matriculate at Collingswood High a few blocks away. But the Peruvian ceviche she recommended impressed. The tumble of corvina cubes glistened in a sauce of spicy, sour, fruity aji amarillo (a Peruvian yellow chili), spilling into wheels of boiled sweet potato and inflated corn kernels as large as beans—both traditional accompaniments in coastal Peru. The server, despite her youthful appearance, impressed as well. On a busy night, she ran the floor herself, confident and cool, well versed in a menu that even a seasoned pro might stumble over. El Sitio could have gotten by on her charm alone; the good news is, they have the food to back her up.
Like the ceviches, empa­nadas come two ways. Both the Argentinian and Ecuadorian versions are available on the El Sitio Sampler. The former is made from tawny whole-wheat flour and filled with gently spiced ground beef, raisins and olives; the latter from white-corn flour filled with supple, stringy herbed queso. Both these hot pockets were delicious, as was the featherweight calamari—fried, then sauteed in a dazzling lemon sauce—and the tequeños, South American mozzarella sticks inside corkscrew-cut pastry.
Tender, grill-charred octo­pus tentacles, their tips wound into tight fiddlehead coils, crowned one of several salads. Scattered atop generic mixed greens—these could use an upgrade—the octopus delivered a wonderful smokiness balanced by lemony dressing. Patacones were like tostones but more formidable: wider, thicker, twice-fried plantain coasters crowned with mashed avocado and shredded snow-white crabmeat. The creamy avocado was the ideal foil for the chips' golden-crisp exteriors, the delicate sweetness in the crab mirroring the natural sugars in the plantain. Two-bite wonders, they'd be perfectly at home at any cocktail party.
El Sitio portions their plates for troops of gauchos, and by the time the star, the beef, arrived, I was already stuffed.
Yet the Lomo Manchego, the first entrée to arrive, had undeniable presence. This eight-ounce beef tenderloin showed up, spitting and sizzling on a square oven-heated slab of granite with ribbons of yellow squash and a halved tomato. There was just enough Manchego layered inside the steak to add a creaminess and nuttiness that made the medium-rare filet mignon (beloved for tenderness, not flavor) much greater than that cut normally is. Another steak came Huancaina style, veiled in a sort of Peruvian Bechamel enhanced with aji amarillo and queso fresco. Or, it was supposed to come Huancaina style. This juicy hunk of strip arrived naked (perhaps a miscommunication in the kitchen) and rare inside (ordered medium). A quick trip back to the oven, two minutes at most, and the beef returned with an even pink blush. Still no sauce, not that the flavorful beef needed it.
There are areas where El Sitio could improve, dessert being one. Dominoes of queso fresco seemed like the best option from the cake-heavy menu, and though the imported cheese was a bright, salty foil for candied figs, cajeta and honey, the sweet flavors were a bit overpowering. As well, presentation was not all it could be. Many dishes were served on plates lined with lettuce leaves, which comes across as very 1990s catering hall, not to mention wasteful. And hideous spiral-bound menus look better suited to a chain restaurant, not somewhere like El Stitio, serving fiercely authentic food.
There are quite a few non-South American items on the menu, too, like seafood au gratin and several Oscar proteins with crab and hollandaise. Their presence does El Sitio a disservice. The restaurant's greatest asset is how unique its cuisine is to Collingswood. Anyone can serve baked salmon, but only El Sitio can do ceviche and empanadas this well.
E-mail us at edit@southjersey.com.
Published (and copyrighted) in South Jersey Magazine, Volume 7, Issue 8 (November, 2010).
For more info on South Jersey Magazine, click here.
To subscribe to South Jersey Magazine, click here.
To advertise in South Jersey Magazine, click here.