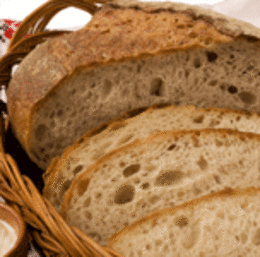 A Full Plate: Botto's Italian Line Restaurant
Botto's Italian Line Restaurant
1411 Kings Highway, Swedesboro
(856) 467-1570
Bottos.com
3 Forks
For all the baroque and obscure flights of epicurean fancy available right now, I still get a chill at the prospect of a great slice of garlic bread. Maybe it's a Proust thing, the perfume of the garlic and crisping fat, the warm aroma of those slices toasting in the oven transporting me back to my mother's kitchen. Or maybe it's the taste: Great garlic bread is one of the headiest appetizer experiences you can have. Whatever the reason, Botto's is now at the top of my garlic bread list, having won me over from the start of my meal there.
The first items to our table, wrist-thick hunks of French baguette were generously oiled, anointed with fresh garlic cosseted in a layer of melted provolone, and crowned with enough broccoli rabe to meet the USDA's veggie requirement for an entire family. It was messy, hearty and as delicious as it was fun.
This is what a certain style of Italian food should be. And while the restaurants that are garnering the lion's share of laurels are focusing on specific parts of the Italian boot, Botto's finds its footing firmly in the Italian-American tradition of comfort classics and well-rendered grill items, though often with a twist.
It also takes its design cues from the grander-is-better school: There's a balcony looming over the main dining room, shimmering lights above the tables, all linear and Deco, and more signed celebrity photos than I imagine plaster Jay Leno's office at NBC. This is familiar and comforting, and makes for excellent games of I Spy during lulls in the conversation.
Botto's does best when working in the heartier end of things. Veal chop milanese—the meat itself nearly as big as my first studio apartment out of college—made the veal, rightly, the focus of the dish, its tender texture a too-rare treat. Onions and long hot peppers added sweetness and kick, but never outshone the meat itself.
Baked penne bolognese, too, was full of big flavors and all the better for it. Here was a lusty bowl of barely overcooked pasta, with generous islands of mozzarella floating on a rich homemade meat sauce complex with beef, pork and veal. The Italian sausage used in the sauce is produced in the family's own sausage factory, as are all the sausages and meatballs here. The bolognese not only made a solid entree, but a great midnight snack and a nice lunch the next day—there's that much of it in an order.
Italian wedding soup, however, needed more seasoning, though the roasted chicken stock itself was well-crafted and nuanced. The issue was one of context, really: So many of the other flavors at Botto's are so big that a more subtle construction like this one tends to get lost in the shuffle. That, however, was one of only two minor stumbles in an otherwise well-choreographed experience. (The other issue was a result of a wine description: When we asked the waitress to describe the Heritage Station Vineyards "Jersey Red," she said that it was too dry for her. It may well have been, but it turned out to be a remarkably sweet wine that showed precious few hints of dryness.)
Desserts, virtually all made in-house, comprise the usual suspects as well as some forays into unexpected territory. The classics are done beautifully here. Cheesecake was dense with cream cheese and thoroughly balanced, and the cannoli allowed the flavor of the ricotta to shine through instead of smothering it with an overwhelm­ing addition of sugar.
Striking that kind of balance be­tween sweet and savory with dessert is not easy. Nor was Botto's other trick, of walking the line between hearty and well crafted, with the rest of its dishes. In the end, that level of competence and honesty is what sets this Swedesboro stalwart apart.
E-mail us at edit@southjersey.com.
Published (and copyrighted) in South Jersey Magazine, Volume 7, Issue 8 (November, 2010).
For more info on South Jersey Magazine, click here.
To subscribe to South Jersey Magazine, click here.
To advertise in South Jersey Magazine, click here.