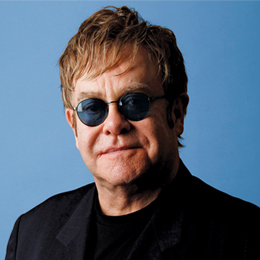 The Final Farewell
As Elton John embarks on his last-ever shows in Philadelphia, the icon assures fans he's not walking away from the music.
Elton John is facing an important crossroads in his life. After over 50 years at the top of the charts, wowing fans around the world with his legendary discography, the icon is hanging up his sparkly shades after one final tour.

But this is far from a sad departure for the singer. In fact, the father of two couldn't be more optimistic and hopeful. "I just look back at the whole thing and can't help but feel overwhelmingly grateful for every piece of good fortune in my life. I've been so lucky."

John will bring his Farewell Yellow Brick Road tour to Philadelphia for two nights on Sept. 11 and 12. Though they may be his last performances in the area, his legacy will live on. In 1971, as his career was beginning to take flight, John performed at the Wildwood Convention Center and a few years later he would pen his hit "Philadelphia Freedom," a tribute to his friend Billie Jean King. Over the years since he's regularly filled crowds to the rafters and these upcoming shows will be no different. After all this time, the man has still got it.

It's clearly evident when speaking with the entertainer that parenthood has changed him for the better. Along with husband David Furnish, he shares sons Zachary, 7 and Elijah, 5 and admits that "nothing is more important than my boys." Which is why the man formerly known as Reginald Dwight is calling it quits. But he's very clear, this is not retirement. Far from it. It appears the star will simply be switching gears and remaining as busy as ever with new albums and movies to make.

And his latest, Sherlock Gnomes, which he executive produced and scored is purely a taste of what's to come. In frank, honest form, John, 71, speaks about his love of family, his frightening health scare after contracting a rare bacterial infection last year and why mortality is a constant concern as well as what fans can expect from his final shows.

Elton John: The Interview
Is it especially gratifying to work on something like Sherlock Gnomes, created for your kids?
They adore [the original] Gnomeo and Juliet, they adore all animated movies, they've seen every single one I think. I hope they like this one as much as they loved The Lego movies, Lego Batman in particular, that's going to be tough to beat. I'm not holding out hope.

Are they fans of your music?
They do like Daddy's music, certain ones more than others.

What's their favorite?
They love "I'm Still Standing" [laughs]. They love coming to the shows, they get very excited but then once we get home, it's all forgotten about. I'm no one special in my own home.

If I was a [soccer player], I would be a god to them. What I do doesn't rank quite so highly.

Speaking of shows, you're in the midst of your Farewell Yellow Brick Road Tour—what made you decide to give up touring?
I've been mulling it over, giving it a lot of thought for a sizeable chunk of time. It's not an easy decision but it's the right decision. It's time. But I'm possibly the most excited I've ever been for a tour because I'm planning on visiting every country in the world who's welcomed me and given me tremendous support. This is my thank you to each and every fan. So it's not a sad goodbye, it's a triumphant thank you.

Is this your retirement?
[Retirement] couldn't be further from my mind, I'll never retire. It sounds so boring to me. I'm simply stopping all the travel. My boys are at an age now where it's no longer practical with their schooling and schedules. If we didn't have children, I would continue traveling.

But I'm still going to record albums. I'm still going to write music. I'm still going to produce movies, I'm still going to write musicals. It's going to free up time for me to focus on other projects.

And I have a family now, my husband, my boys, it's not about me, I can't be self-focused. I have a family who needs me and I have responsibilities and that means I have to pull back. They come first before anything and anyone else.

So if you didn't have children, you'd keep going?
If I didn't have children, I would still continue to tour. It's as simple as that, there's no other reason other than them.

Are you sad to say goodbye to the road?
No, honestly no. Yes, I would still continue to tour because I enjoy it but I've been doing it since I was 16. This is now a different, new chapter in my life and it's difficult for the two to marry. I'm happy to put that last chapter to bed and focus on what's to come with these vibrant, wonderful little people. I just want to be with them.

You did previously say you wanted to die on stage?
Things change. Life happens and I'm so lucky it did.

Do you also see slowing down a little as being beneficial to your health?
Every year, I would do a couple hundred flights and as time has gone on and I've gotten older, it's starting to take it out of me. I'm happy for that to come to an end.

I had a health scare last year, it was quite serious. I'm not going to sugar-coat it. I'm fine now, have a full clean bill of health but yes, it played into the decision. My body isn't invincible, I have to respect it and treat it kinder and chopping out all those air miles can't hurt.

Are you more aware of your mortality after it?
Yes, definitely. It was a wake up call, it changed my perspective, and I'm glad it did.

But you'd already decided to quit before that happened?
I had but this only reinforced it.

When did you come to the decision?
A while ago, yes, three years ago. This isn't a shock announcement, we thought long and hard about it.

What can fans expect from these final shows?
It's going to be very elaborate, memorable and the perfect send-off for the music that changed my life. It's going to be a huge celebration, exploding with color and vibrancy. I want to go out with the biggest bang no one will forget.

And the boys will come I presume, even though this is the reason you want to stop?
They will be with us for some of the way, most likely Australia and Japan, because I want them to experience those cultures. We will be taking them out of school and having a tutor with us but those travel experiences are invaluably educational, it's an amazing opportunity in itself.

As you look back on your career and your life, what lessons do you want to teach your boys?
They are going to have a very different, or they are already living a very different life to the one I was brought up with.

I think that is going to come with its own set of built-in difficulties. They come from a well-off background which will afford its own advantages but I came from a very working class background where I had to work for everything I got and I want to instill those same values in them that I grew up with. But it's harder growing up in this world and David and I are very mindful of that.

They're fantastic young boys; they have good hearts and compassionate, kind personalities. We just want to be there for them, guide them as best we can. It's all you can do really as a parent.


Published (and copyrighted) in South Jersey Magazine, Volume 15, Issue 5 (August 2018).

For more info on South Jersey Magazine, click here.
To subscribe to South Jersey Magazine, click here.
To advertise in South Jersey Magazine, click here.