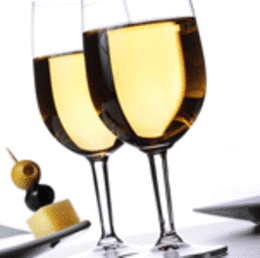 A Relaxing Stay: GG's Restaurant

GG's Restaurant
515 Fellowship Road, Mount Laurel
(856) 256-0004
2 forks
At GG's in Mount Laurel, the glass doors are heavy and the carpets are thick. In the front of the restaurant, situated off the lobby of the DoubleTree hotel, a crooner strokes a baby grand, singing for the middle managers ringing three sides of the handsome bar. When business brings white-collar workers to this corner of Jersey, GG's functions as their clubhouse and haven.
On a dismal weeknight, when most local restaurants were likely nursing just a handful of patrons, this steak-and-seafooder was packed. Over here, tables of strangers, sucking down icebreaking martinis, chatting about weather and children. Over there, lonely hearts miles from home, sharing salad and wine with dog-eared novels or PowerPoint slides. Across the country, there are thousands of GG's—not literally, but restaurants seemingly just like it. Where GG's differs is the polished service, the warm, inviting atmosphere.
That wasn't evident upon arrival, when a severe host seemed flustered by a sudden influx of hungry customers. You could have tickled her and she wouldn't have cracked a smile. But that initial chill quickly thawed as the server took over, clearly a pro in her starched white tux shirt. GG's clings to a sense of formality that few restaurants bother with these days. Water is poured from swan-necked glass pitchers, followed by a cut-crystal bowl of citrus wheels served tableside with shiny tongs. The scrolled charger plates are bone-white, heavy and considerable, like something you'd find in the china cabinet of an antebellum estate. And there's the piano, of course, manned Tuesday through Friday, lending the whole place the air of an intimate luxury cruise.
"That's sinking," came the snarky aside from my dinner date, who'd spent the last 10 minutes pushing around the mushy calf's liver—throwback!—on her fancy plate. I was excited to see it on GG's menu, an old-school protein that doesn't get enough love. When properly prepared, the long strips of liver have the texture of the most tender steak and a flavor that's beefy and quietly suggestive of offal. You could have mashed GG's version with the back of your fork, the way you'd break up cat food. Worse, the liver lay atop two belts of thick-cut bacon, aggressively smoky, though maybe that was a good thing considering the liver's extremely unpleasant funk.
Fortunately, that was the worst of my dinner at GG's. The rest of the food was good enough, but not worthy of the pomp and circumstance the restaurant spreads on like mayo on a deli sandwich. Annoying ticks from executive chef Joe Stewart's kitchen included the use of undressed spring mix as filler, appearing on plates where they weren't welcome. The tumbles of baby greens cropped up on a dish of flatbread pizza, as well as alongside the tuna tartare, which was admirable for the freshness of the fish, not for its utter lack of salt and pepper. Lucky the neat quenelles of tuna came with terrific (and well-seasoned) guacamole, the superior of the two accompanying sauces, the second being a cloying chili sauce that tasted like it came from the Chinese take-out joint down the road. The scattering of red and green tortilla chips was stale.
I did like that flatbread pizza, a crispy, soot-smudged crust draped with slices of prime steak, caramelized onions and tangy blue cheese. Cut into easy-to-eat triangles, they disappeared fast, finger-food, deliciously casual on the cloth-draped tables. I'd imagine Stewart's flatbread—the toppings change daily—are a hit at GG's convivial bar. The well-stocked wine cellar has plenty of easy-drinking bottles to match, like the riserva of Chianti I sipped through dinner.
The beer-battered shrimp were enjoyable, too, smaller than I expected but tasty just the same. They arrived encased in fluffy golden shells, piled over curls of crunchy, refreshingly bitter Belgian endive, blue cheese and ... potato chips? Yes, those were indeed potato chips, functioning like croutons in the slaw, but not in a good way. The effect was strange, as if a child had wandered into kitchen and dumped a bag of Herr's where he wasn't supposed to. These crustaceans would be better piled into a wax paper-lined basket and doused with malt vinegar. Of course, that's not GG's style.
My second attempt at seafood fared better: fillets of grouper, heavily blackened and fiercely spicy, posed over a creamy herb-flecked latke. A gold doubloon of avocado butter sat atop the fish, slowly melting and sliding across the surface like an air hockey puck, leaving a trail of liquid fat that gilded and enriched the sweetness of the grouper. Hills of corn chutney were boldly sweet, sour and spicy, but I just wished it had been warmed through; serving it cold was more distracting than delicious.
I love how GG's upholds the tenets of fine-dining. There's something unexpected and refreshing about how the server crumbed the table, served and cleared from different sides and delivered bread with butter in a three-cup silver tray. One old-world convention they could do away with is the dessert tray, which is never as appealing as it seems. Although, seeing these desserts first-hand does serve a purpose: to clue you into the fact that they're outsourced. Chocolate "trilogoy" brought layers of milk, dark and white in a tall mousse-like pouf. Caramel apple pie was sweet and standard.
I was more tempted by the tins of DoubleTree chocolate-chunk cookies by the reception desk. Talk about an upside to hotel dining. The guests of the DT may all be dining at GG's, but if I was among them, I'd probably go down for a glass of wine and a bite of pizza at the bar, then return to my room for cookies in bed.
E-mail us at edit@southjersey.com.
Published (and copyrighted) in South Jersey Magazine, Volume 7, Issue 8 (November, 2010).
For more info on South Jersey Magazine, click here.
To subscribe to South Jersey Magazine, click here.
To advertise in South Jersey Magazine, click here.