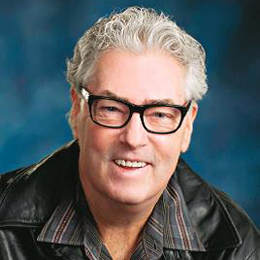 Let's Rock
If you had to make a list of the 10 greatest songs by musicians who spent time in jail, what would it look like?
Here's how it sounded if you listened to "Big Daddy's Classic Rock Throwdown" at WildfireRadio.com recently:

"I Got The Feeling," James Brown
"8 Miles High," David Crosby(The Byrds)
"Almost Persuaded," Merle Haggard
"Stormy Weather," Billie Holiday
"Shout," Ron Isley (The Isley Brothers)
"Mary Jane," Rick James
"Band On The Run," Paul McCartney
"You've Lost That Loving Feeling," PhilSpector (The Righteous Brothers)
"Rocket 88," Ike Turner(Jackie Brenston & His Delta Cats)
"You're My First, My Last, MyEverything," Barry White

I know you're wondering why Johnny Cash or Amy Winehouse didn't make the cut. But they only spent a night or two in the slammer and most ex-cons on this list spent years behind bars. (With the exception of McCartney, who only spent 10 days in a Tokyo jail for a pot bust, but we are talking a Beatle here and this was 1980, years after he had become arguably the most famous musician in the world.)

July is here and it's a month where you spend more time in your car than usual due to Shore trips and other vacation destinations and these days more and more folks are spending those long hours listening to podcasts. Younger readers are going to laugh when I pose this question, but what is a podcast? It's a radio show that you can listen to anytime you want. That's it in a nutshell. Although my show airs live every Thursday at 8 p.m., once it does, you can listen to it anytime you desire. It's like recording a show on your DVR. Freedom!

Wildfire Radio was created by four West Deptford High buddies (Joe Kelly, Marcus Darpino, Jim Grasso and Tom Tusler) back in 2012, and in addition to my weekly show on the network, they have featured othersports talkers and other entertainment experts who each bring their own unique approach and style to the medium.

When I was first approached about doing a show, I was asked about doing either a comedy or sports podcast. Now, I've been a standup for 35 years and have been a full-time sports talk show host at94WIP for close to 25. But my first love? Music. I have a massive collection of LPs, CDs, concert DVDs, 45s and even 78s. I own a working '62 Seeburg jukebox that's the first thing you see when you walk in my front door.

There's barely a musician who ever got a record out that I haven't seen in concert. Go to my website, scroll down to the bottom and click on the "Twenty Greatest Concerts I've Ever Seen" logo. It contains the listing of every concert I've ever seen beginning with the first acts I ever saw live—James Brown at the just-opened Spectrum and The Who at the original Electric Factory when I was just 12 years old.

So I knew I wanted the show to center around music. But how to be different? I wanted the show to be unique. I then realized that while there are numerous stations and shows that play music, none of them really talk about music and if there's one thing I know, music freaks love to argue over guitarists Jimi Hendrix and Eddie Van Halen like sports fans love to argue over LeBron James and Michael Jordan.

For years, my buddy and co-host Spins Nitely and I have been hanging in my basement bar blasting and talking music, so it sort of came naturally. I like to think the show is funny plus informational. And we're in our fourth year and have recorded over 200 shows, so something's working.

Part of the fun of a podcast is the in-depth discussions that take place, and in some cases the in-depth debates over a topic. On one show, we listed the 10 best Who songs of all-time:

"Baba O'Riley"
"I Can See For Miles"
"Love Reign O'er Me"
"The Kids Are Alright"
"My Generation"
"Pictures of Lily"
"Pinball Wizard"
"The Real Me"
"The Song Is Over"
"Won't Get Fooled Again"

Go ahead, you try whittling The Who down to 10 tunes. That's the fun of it.

We've recorded similar shows with acts as diverse as The Killers, The Stones, Eminem, Johnny Cash, Pink, U2 and all four solo Beatles, just to name a few. We've had great guests also. All The Juliano Brothers, Al Morganti, Mike LeCompt, Dave Rogers, Glen Macnow and the brilliant trumpeter Matt Cappy (who has played with Dave Matthews, Jay-Z, Michael Jackson, Jill Scott, Elvis Costello and The Roots among many others).

One of our favorite guests was Ricky Ricardo, who does the Spanish broadcasts for the Eagles. Before Ricky dove into sports, he worked with the legendary Frankie Crocker for years on what was the most popular New York music station, WLBS-FM. Every music and movie superstar who had a new song or movie to promote had to appear on that show. And Ricky got to know them all. So I asked Ricky to put together a list of famous musicians he got to hang with and these are the jaw-dropping names he shared stories about:

Whitney Houston
Mick Jagger
Rick James
Quincy Jones
George Michael
Robert Plant
Prince
Rod Stewart
Stevie Wonder
Barry White

Not a bad list, huh? If you are into music like I am, give the show a listen, as you never know what topic we'll tackle next, but rest assured, it will most certainly rock.


Published (and copyrighted) in South Jersey Magazine, Volume 15, Issue 4 (July 2018).

For more info on South Jersey Magazine, click here.
To subscribe to South Jersey Magazine, click here.
To advertise in South Jersey Magazine, click here.