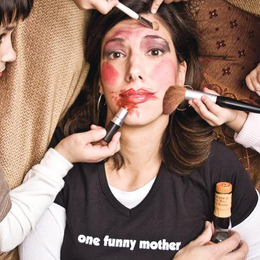 Thanksgiving in July
It's July and we've made it!
School is out. I can finally empty the kids' dirty lunch boxes for the last time and breathe a deep sigh of relief. July means no more 5:30 a.m. wake-up calls. July means everyone around the dinner table at the same time. July means I'm still doing laundry … but it's mostly swimsuits and beach towels and I'm so happy.

July is the moment I get to thank everyone who helped me get through the madness of graduations, confirmations, recitals, finals and birthdays and look forward to 10 weeks of whatever I want or nothing at all. No pressure.

I'm a big believer in the "it takes a village" concept. By July 1, I get to take my deep exhaling breath out, but only because of the many people who helped me get here. Teachers, friends, family and neighbors have all played an important role, and July seems like a great time to thank them for everything they did to help me get there.

Teachers, I thank you. You've inspired another class of learners and it's time to remind ourselves that without you, the cog of the wheel of every household in America, we couldn't function. I thank you for picking, not a "job" but a calling. I've been inspired by so many teachers throughout my career. I hope you remember this while drinking your well-deserved mimosa by the beach this summer. I will do my best to keep my kids from staring at you at the pool while saying things like, "Yes, of course teachers go to the pool" and "Yes, she probably does have children of her own." Relax and enjoy this summer, teachers. You deserve it.

I don't know any mom on the planet who doesn't have that friend who just "knows stuff." That friend who says things in passing like, "You sent in the money for the field trip, right?" or "Don't forget to drop off the plates and napkins for the theater banquet." I couldn't survive without you! Many thanks to all the moms and dads who do their best to hold the rest of us up.

I like to think I'm a "good" mom. I like to think I remember things. The reality is I don't, but I have surrounded myself with great moms. Just by nature of standing next to a great mom, you become a better mom. I beat myself up most days over all the things I've forgotten and missed the mark on but thankfully, I have great friends willing to share a story, some cupcakes or a shoulder to cry on. I realize it's only July, but I'm thankful for you.

Is it weird to say that I'm already pretty sure I won't be as good of a grandmom as my mom? I thought she was a good mom— but the grandmom thing she's nailing! I think my mom was born to be a grandmom. She's always loved making cookies, doing crafts and giving hugs, so grandmother-hood just suits her.

My dad is a "party in a grandpop box." I couldn't explain my dad if I tried, but he's awesome. Without the two of them, we wouldn't have had hot meals and the girls wouldn't have gone to their music lessons—ever. I'm pretty blessed to have such great family around. My sisters are always willing to take the kids and were so helpful last year during Dean's surgery at CHOP. I just couldn't do it without them. I know that.

These are the things I'm thinking about when my feet hit the sand this summer. As I watch my kids head for the waves, I think about how big they are getting, how Dean is heading off to college and how many people have been such an integral part of them growing up.

We've all heard, "You can't pick your family" and the same kinda holds true for your neighborhood. I mean, you pick your neighborhood, but your neighbors you just "get." I've been lucky that so many of my neighbors have become friends and feel like family. Just the other day, my neighbor offered me some extra flowers. I was away for work but asked her to drop them off and I would put them in the ground the next day. When I came home, they were planted … in the ground … in baskets, and it was beautiful. What a neighbor!

Take a moment this summer and thank a friend, neighbor or mom-mom who's helped you this year. Chances are you wouldn't have survived without a little help from a friend. It takes a village. I believe that. I hope I have been part of someone else's village. Do something nice. Say something lovely. Be a part of someone's village—someone will thank you for it.


Published (and copyrighted) in South Jersey Magazine, Volume 15, Issue 4 (July 2018).

For more info on South Jersey Magazine, click here.
To subscribe to South Jersey Magazine, click here.
To advertise in South Jersey Magazine, click here.