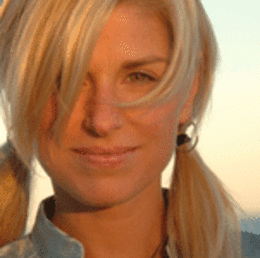 Hart and Soul
Lauren Hart grew up around the Flyers. Now she is part of their culture.
Lauren Hart has sung in front of sold-out Flyers crowds so many times that it has become second nature for her. But that doesn't mean that her pulse doesn't jump every time she steps out onto the ice. "When I first started, you might have called it fear, but now it's all adrenalin," she says. "I like to tell myself that; it scares me less." Hart grew up in Cherry Hill idolizing the Flyers, partly by choice and partly because her father, the late broadcaster Gene Hart, was the legendary voice of the team. Now, all these years later, she has cemented her own lasting legacy by becoming a fixture singing before home games. More than that, Hart and husband Todd Carmichael have gotten involved with several charitable groups locally and overseas. For one, the cancer survivor is dedicated to her work with the regional chapter of the Leukemia and Lymphoma Society. She recently sat down with South Jersey Magazine to talk about why she bleeds orange and black, the new additions to her family and how her singing career began at the Cherry Hill Mall.
SOUTH JERSEY MAGAZINE: You have some new music in the works. Can you tell us about it?
LAUREN HART: I have been working on two projects this past summer. The first was to put another CD of my own music out. I finally have a studio set up at home, so I'm planning on doing most of the recording here, which is great because I can get an idea at 2 a.m. and put it down right away. The music is true to what I have done in the past. The big change is that I have been doing all the playing and recording, as opposed to being in a big studio surrounded by brilliant musicians. I think it is very honest, and I am trying new things that I might not have if I were standing in front of producers and engineers. I'm hoping to have the new music out after the New Year.
The second thing I have been working on is my husband's documentary, Race to the Pole, which chronicles his march across Antarctica. He did it alone and, for 40 days, he literally walked to the South Pole. Much of it is his [video] diary of the trip and it is just amazing to watch … super human to say the least.
SJM: How special is the bond between you and the Flyers?
LH: It is beyond words. I so admired my father and what he did with his life. To even be in his shadow means I am doing something right. To look up and see his name hanging in the rafters, knowing that I have kept our connection alive, means everything. The fans and the team have supported me through thick and thin. They have been my family. They have changed my life forever.
SJM: Were you always a hockey fan?
LH: I was born into it, so I guess the answer is, "Yes." But as time has gone by, I have become sort of a super fan. Greatest game around!
SJM: I read that your first performance ever was at the Cherry Hill Mall. Is that true?
LH: True. I remember it like yesterday. [The song went], "I love coffee in a cup, little baby ducks and … %$#!" I forgot the words, and reacted by saying, "%$#!" I was in sixth grade, and my parents were both standing right in front of me. Nice.
SJM: You do a tremendous amount of philanthropic work. What inspires you to give back so much?
LH: My man and I have passion for people and the planet, plain and simple. We are in the fortunate position of being able to react when we see things that are not right. We work with Echoes Foundation and Wide Horizons for Children, aiding in orphan care and microloans in Uganda and Ethiopia. CharityWater.org is something we are also very inspired by. A billion people on the planet do not have access to clean water. How do you ignore that?
SJM: You and your husband went to Ethiopia last year and adopted a child. How did that come about, and what was the experience like becoming a parent that way?
LH: Well, we now have three girls! Our oldest came home last year, and several months ago we brought her two baby sisters to America. It is something I have always wanted to do, and it has been the greatest gift of my life. I am in awe of these children. Their beauty and resiliency is staggering. My husband and I look at each other and cannot believe we went from zero to three in 10 months. It has been a big change for both of us, but has made us better people. We already had a big life, and now we have a full one.
SJM: How has being a parent changed your perception of life?
LH: The world is no longer about me, as any parent would tell you, and that is a good thing. I feel like I am finally at peace with myself. I am not so hard on myself anymore, because at the end of the day, if I see three happy sleeping faces, then not much else really matters.
SJM: As 2010 begins to wind down, what are you most looking forward to in 2011?
LH: New music, a Stanley Cup and maybe some more Hart-Carmichaels! That's not asking for too much, right?
Published (and copyrighted) in South Jersey Magazine, Volume 7, Issue 8 (November, 2010).
For more info on South Jersey Magazine, click here.
To subscribe to South Jersey Magazine, click here.
To advertise in South Jersey Magazine, click here.