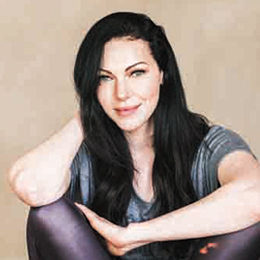 Recipes for Success
As Laura Prepon gears up for another season of Orange is the New Black, she shares how she balances life at home with life on the set and why she was inspired to author a bestselling cookbook.
Laura Prepon has figured out that the recipe for success is being both tough and tender, finding a balance between the two.

The 38-year-old native of Watchung portrays a tough convicted drug smuggler on the riveting Netflix series Orange Is the New Black, but off-screen this tender new mother and inspired cookbook author helps others develop a healthy lifestyle.

Yet, a common thread emerges: There is always something that runs just a bit deeper when it comes to this remarkable modern-day Renaissance woman.

Most of us first became familiar with Prepon from her eight seasons in the teen role of Donna Pinciotti, a sweet-but-sassy redhead, on television's That '70s Show, opposite Topher Grace, Mila Kunis and Ashton Kutcher; a show that provided major career breaks for each of them.

She continued with TV roles on: Are You There, Chelsea?, How I Met Your Mother, Castle and House. She has also appeared in a dozen movies, including Slackers, The Girl on the Train and, most recently, The Hero.

The ingredients for carving out her own way, while never trying to fit anyone else's expectations for her, has held her in good stead.

Prepon is the youngest child of Marjorie, a gourmet chef, and Michael, an orthopedic surgeon, who died during heart surgery at age 49, when she was 13. Prepon, her brother and three sisters grew up in northern New Jersey with fond memories of trips to the Shore enjoying walks on the beach and tasty boardwalk treats. Her fondness of the Shore continues to this day, as evidenced by an April Twitter post where she shared a picture of herself fishing in Cape May.

Prepon did not pursue drama in high school; instead she moved to Milan to pursue a modeling career at the age of 15, and performed in an Italian commercial which got her hooked on acting. Two years later, she moved to New York to attend the Total Theatre Lab, a professional acting school, which led to her role on That '70s Show when she was 18. Her mother was on board with her early life and career choices, "because she always treated us as adults and respected our decisions," Prepon says.

Finding her tender emotional compass appears to be much easier since Prepon became the mother of 1-year-old Ella, with her actor-husband Ben Foster, best known for Six Feet Under, 3:10 to Yuma and an award-winning role in the film Hell or High Water.

The family has settled in New York, where Prepon has three major passions: new motherhood, her acting career and keeping herself, and others, as healthy as possible. The Stash Plan, a cookbook and 21-day guide to losing weight, is her most recent project.

An avid reader and writer, she says that she always wanted to write a cookbook that "was more than just about food— this was a great marriage of science and food and Eastern philosophy."

The New York Times bestseller, co-written with Elizabeth Troy (an integrative nutritionist and well-being coach) is dedicated to Prepon's mother and evokes happy family memories. "My mother inspired me to never fit into any mold, in life, or in the kitchen. My mother was an advocate of organic food, so we always had amazing meals growing up."

Prepon recalls her mother gathering large groups of friends in the kitchen. "I loved the warm comforting feeling of cooking for people and bonding over food, and I've been hooked on cooking and entertaining ever since—so much so that my friends teasingly call me Martha Stewart."

As a self-taught chef, Prepon says she likes to cook "at least 80 percent of my food at home, so I can bring meals to work and not stress about food during the day. I've taught friends how to cook healthy foods in simple ways, so now they bring their own meals to work with them."

Simply put: "It's all about knowing what's going into the food we're eating and the preparation, so that you're not just grabbing something on the run." F

Figuring out motherhood since Ella was born, while juggling a high-profile television career is no easy feat. Prepon leaves home for the set of Orange Is the New Black at 4:30 a.m. and Season 6 started filming the day she gave birth to her daughter. "I had to get back to work pretty quickly," she explains. "My writers and the crew of the show were awesome and everyone was so supportive; it was amazing."

But she was back at work when her daughter was 6 weeks old, and she directed an episode when her daughter was 4 months old, which is something that she loves, but also finds difficult.

Directing is about "running the show, which for me is like being a fish in water; I love it. It's incredible," says Prepon. "But the hours are longer because when you are directing you are always there. You are there before everybody and you leave after everybody."

She says that her husband took paternity leave so that they could switch off doing film versus TV projects, leaving one of them home to care for their daughter. Like most working mothers, she says that the "mom guilt" still rears its ugly head.

"I do feel guilty, but I also know that she'd be proud if she knew what I do. Being a mom," she says, "is my toughest and the most rewarding role so far. It truly makes me better at all of the other things that I do. Being a mom is the most incredible gift in the world, and it's also one of the hardest things, so we just have to help each other through it."

For the past six years, the tall raven-haired actress has seen her career sky-rocket, by starring in the award-winning prison drama on Netflix. The much-anticipated Season 6 premieres on July 27.

In the show, Prepon portrays Alex Vause, who has an extremely complicated, intimate relationship with her former girlfriend, Piper Chapman (Taylor Schilling), and is responsible for Piper's initial arrest on drug charges.

Based on the 2010 bestselling book by Piper Kerman, the two do a love-hate dance in a women's prison, amid the group of memorable federal inmates who have emotionally driven, compelling back stories that reveal how they landed in prison, further drawing us into the episodes.

Initially, Prepon auditioned for the role of Piper after reading the pilots for several shows. "I read the pilots every year, and this show was head-and-shoulders above any pilot I had read in a while," she recalls. "I loved it so much that I read for Piper, even though I knew I wasn't really right for it."

Shortly afterward, on a whim, she flew to Germany for fun and relaxation. "I ended up parasailing, sightseeing and eating bratwurst. When I got back from Germany, I received a call that they wanted me in New York to read with Taylor Schilling."

Prepon got on an airplane the next morning and she and Schilling "had instant chemistry. Fourteen hours later I moved to New York, so I didn't have a lot of prep time. My main thing was that I needed to figure out how to humanize this woman, to make her real and grounded. I asked myself, 'How am I able to relate to an international drug smuggler?'"

Authenticity has been a key ingredient to Orange Is the New Black since the show first aired in June 2013, Prepon says. The actresses wear actual prison issue jumpsuits that don't quite fit right and minimal makeup. In fact, there is a storyline on how her character barters for her signature black eyeliner. Getting into the heart and soul of Alex required Prepon to find that common thread for this complex character.

"I just tried to find things within myself that relate to this woman, so then I could humanize her. Alex has a really tough exterior, but you see that she's actually really very vulnerable; she has her insecurities, and she's really loving," says Prepon. "Piper is the love of this girl's life, and Piper ripped her heart out. So, everybody, on some level, can relate to these heartaches and insecurities that you put on a front for."

It appears that marching to her own beat, and using both her tender and tough sides of her personality at home—and at work—are keeping Prepon happy and healthy.


Published (and copyrighted) in South Jersey Magazine, Volume 15, Issue 4 (July 2018).

For more info on South Jersey Magazine, click here.
To subscribe to South Jersey Magazine, click here.
To advertise in South Jersey Magazine, click here.