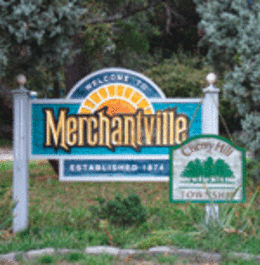 A Tale of Two Towns
Merchantville residents have banded together to push for a merger with Cherry Hill. Could consolidation spark a statewide phenomenon?
In 1874, residents of a small section of Camden County petitioned the New Jersey legislature for independence. As a result, Merchantville was formed, a half-mile hunk of land carved out of the tip of what's now known as Cherry Hill.
Now, more than a century later, concerned.
Merchantville residents are battling to reverse that decision. As the cry of "consolidation!" rings out across the state—issuing outward from Trenton, where leaders are looking to shared services among the state's 566 municipalities as the most practical means of reducing ballooning expenses—some in Merchantville believe their diminutive borough could be the ideal case study. A small group, calling itself Merchantville Connecting for the Future, organized at the beginning of the year. And in just weeks, concerned residents gathered some 700 signatures from the town's 3,800 residents for a petition seeking to merge Merchantville with Cherry Hill once again. In August, the two towns agreed to undertake a study, which could take 12 to 16 months, to determine whether consolidation is in both towns' best interests. If the merger does go forward, some hope it will catalyze a wave of similar consolidations across the state: the most forceful backers of this movement see a future in which New Jersey contains perhaps just 100 or 150 municipalities all told.
But in Merchantville, residents aren't focused on the big picture. They're concerned about the details: the roads that aren't plowed, the tree branches that aren't cut back. Greg La Vardera, one of the organizers, said he and fellow advocates are concerned about their hometown's future, and its sustainability. Since 2009, state aid to Merchantville has decreased from $715,691 to $557,946, making it even more difficult to fund services—like police, education and trash collection—without asking taxpayers to pay more. And the newly enacted statewide 2 percent cap on property tax increases creates a further quandary, preventing towns from calling on taxpayers to make up the difference.
"If we continue the way we're going, we are going to cut services and raise taxes," says La Vardera, who has lived in town for 18 years. "That's going to be just a bad thing for our town and a bad thing for property values. I don't think people will be happy with that level of service, and it will start a chain reaction of people wanting to get out."
Still, there are voices on both sides of this debate, Merchantville Mayor Frank North says. The results of the study will be made available to the public, and both towns will hold a special election for voters to make their choice. If just one of the two towns votes against the measure, it won't move forward. The decision is far from certain, North says.
"Will it save our school, save taxes, keep our police? I don't know," North says. "I'm getting an equal amount of residents on the street saying, 'Mayor, please don't do this,' and people saying that it is the right thing to do."
There are certain fairly evident advantages though, says Mike McLoone, a former president of the Merchantville Board of Education. For one, he says, a merger will result in a better education for high school students, which in turn could make the town a more attractive place to live. The borough's lone school now serves about 400 kids in kindergarten through eighth grade, and employs about 45 people. High school-age students seeking a public education are bussed to Pennsauken, but most parents send their kids elsewhere for high school, whether it's to a private school or the county-run vocational program. Others flee town altogether, selling their homes before the kids enter ninth grade, McLoone says. If Cherry Hill's two high schools were within reach, that would be a game changer.
"It would be a substantial im­provement in the quality of education," McLoone says. "The absence of a good high school program hurts Merchantville in economic diversity. It hurts the community now to not have a good public high school, and people realize that."
La Vardera's daughter just started her freshman year at a private school this fall. "We never considered Pennsauken," he says. "We would have made different decisions" if Cherry Hill were available. No one is certain what would happen to the Merchantville School—or its 45 teachers and administrators—if the merger were to proceed. "But I think you have to put the school at risk," McLoone says. "The vast majority of people in New Jersey agree there are too many communities. You have to start the process somewhere."
The view from Cherry Hill is perhaps more cautious, although Merchantville could bring millions of dollars in revenue into the larger township. North says being small has helped the town stay fiscally conservative, with a municipal budget of just about $4.5 million compared to Cherry Hill's $63 million. "We do have a surplus. We've been very fiscally responsible," North says. "We're better off than a lot of bigger towns."
Cherry Hill Mayor Bernie Platt, who supports the study, says Cherry Hill could be in a position to help as well. Cherry Hill has a bigger police force and a paid fire district, rather than volunteers, as well as a larger business tax base that could help alleviate the burden on local homeowners.
"The state is in a situation where small municipalities are at a standstill, and can't raise funds to meet their obligations," Platt says. "I think Merchantville is in that position now. Cherry Hill has more resources. I think it's a wise thing to do. But until the study is done, we don't know if it will be beneficial for either town."
Whether or not the initiative proceeds, Merchantville residents have broken new ground in New Jersey with their grassroots campaign. Gina Genovese—executive director of Courage to Connect New Jersey, a nonprofit that educates the public on how to push their municipalities toward consolidation—says the residents of Merchantville are the first group of citizens ever to initiate a merger study. (The only other consolidation study currently underway in New Jersey, by Chester Borough and Chester Township in Morris County, was initiated by the towns' elected officials.)
A Rutgers-Eagleton poll this spring found that 54 percent of New Jersey residents support municipal-level consolidation, and 70 percent believed such a move would not negatively affect services in their towns. And while wholesale consolidation of entire townships may seem a daunting measure, shared services agreements be­tween one town and another—or even between a municipality and its school district—are becoming increasingly common. Woolwich and Swedesboro, for example, now share their police forces, while, in the opposite corner of South Jersey, Riverton and Palmyra schools are sharing a single social worker. This summer, Cherry Hill, Gloucester Township and Merchantville, plus Cherry Hill's fire and public school districts, all partnered to share their trash collection contract.
Such changes are happening at the county level, too, as in Gloucester and Atlantic counties, where police dispatch services have recently been combined. In Burlington County, where some townships count fewer than 3,000 residents, a shared services forum has been in place for about a decade to drive collaboration including shared operation of municipal courts, road equipment, emergency management and health issues, centralizing everything from animal shelters to public transit. Municipalities and school districts also share in county bids in order to increase their bargaining power on everything from copy paper to paving materials.
Gov. Christie, an outspoken advocate for consolidation, is doing his part to give any municipal administrators slow to jump on the shared-services bandwagon a kick in the pants. That has come in the form of the Local Government Best Practices checklist, which gauges municipalities' efficiency by tagging how often they share services, alongside a slew of other belt-tightening measures. Those who fail may see their state aid decline by up to 5 percent this year.
In Merchantville, though, merger advocates say it doesn't take an order from Trenton to convince them that there's room for improved efficiency in town. "If consolidation is going to happen, it's here," Courage to Connect's Genovese says. "It's taxpayers saying, 'I don't want to pay for this structure anymore.' That's what's going to make New Jersey sustainable."
However, there's more at stake than just dollars and cents, says former Merchantville mayor Patrick Brennan. Merchantville's small-town appeal might not show up on the spreadsheets of a feasibility study. But having lived in town for 28 years, Brennan says that Merchantville is a place where everyone knows their neighbors and gets involved with the community. Assimilating into the 72,000-population, 24-square-mile Cherry Hill Township could change that. "This is not just hard numbers," Brennan says. "There's a lot of parts to this. Merchantville is a small community that has a real sense of place. I don't know if that would be lost, but it has to be considered. There are values to being large and great assets to being small."
Published (and copyrighted) in South Jersey Magazine, Volume 7, Issue 8 (November, 2010).
For more info on South Jersey Magazine, click here.
To subscribe to South Jersey Magazine, click here.
To advertise in South Jersey Magazine, click here.