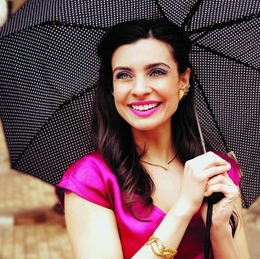 A Dramatic Return
After finding success on Broadway, Julia Udine is ready to showcase her talents in front of a hometown crowd.
As a young girl growing up in Voorhees, Julia Udine was immersed in theater, often traveling to Philadelphia's Academy of Music to see the latest shows. By the time she was 19, she got the chance to step foot on that very stage as part of the national tour of Phantom of the Opera, in which she played the famed Christine Daaé. Two years later she had the privilege of reprising the role, this time on Broadway. It was no small feat given that Phantom is the Great White Way's longest-running show in history.
It's also no surprise Udine has had so much success in such a short amount of time, which also includes television appearances in Law and Order: SVUand All My Children. Her dedication to the arts was evident at a young age. Growing up, her free time was built around taking numerous singing and dancing lessons and dance performances after school, at night and most weekends.
"I remember having to miss out on things because I was very dedicated to growing as a performer," she recalls. "I spent evenings after rehearsals with Melissa Daniels working on my voice and I spent weekends at South Jersey Ballet School with Andrea Duffin rehearsing for [The] Nutcracker, spring ballets or recitals. I wouldn't give any of that up for the world because I think it's that dedication and training that made me into who I am today and prepared me for this business."
Udine credits the drama departments at Voorhees Middle School and Eastern Regional High School with preparing her for the bright lights of the theater world. "Leta Strain was a big advocate and supporter and gave me the confidence to pursue performing," Udine says. "Once I got to Eastern, the opportunities given to me by Gregg Molotsky only furthered my love for performing. … My experience at Eastern was wonderful. I was very fortunate to be able to perform in the shows there, and in a school that appreciates the arts so much. The same goes with Voorhees Middle School, and I think that program really helped prepare me for Eastern. It was just so important to apply what I was learning outside of school into the shows, so I'm grateful I had those experiences."
Udine will get the chance to showcase her talents to area crowds as she takes on the lead role in another Andrew Lloyd Webber show, Tell Me on a Sunday, running through June 10 at the Walnut Street Theatre.
We spoke to her to find out more about her character, life on Broadway and what she looks forward to most about coming back home.
SOUTH JERSEY MAGAZINE: What is Tell Me on a Sunday about, and for people who have never heard of the show before, why should they see it?
JULIA UDINE: Tell Me on a Sunday follows a girl's life after she moves to New York City from London. The audience is catapulted back into the '80s; they are then taken on a journey through the ups and downs she is faced with in each new relationship she finds herself in. One of the most important messages at the end of the show is that she finally realizes she can be herself, and be independent and strong without a man. I think the message is poignant and it's a very important time, culturally, for people to see this show.
SJM: How excited are you to perform in Philadelphia—the area you grew up in?
JU: I am thrilled to be performing back home. This is my first show at Walnut Street Theatre and it's so exciting to tackle such a challenging show with the support of my family and friends close by. When I performed at the Academy of Music with the Phantom [of the Opera] tour, it was such an exciting time. I grew up seeing theater locally and seeing all of the touring shows when they came to Philly, so it was pretty surreal when I was on the stage at the Academy of Music and not in the audience.
SJM: Are you equally as excited to be performing Andrew lloyd Webber's music again?
JU: I am thrilled to be singing Andrew Lloyd Webber's music once again. In fact, a lot of the shows I have performed in since I was 10 have been composed by him, [such as] Evita, Cats, and Joseph [and the Amazing Technicolor Dreamcoat]. I am very glad I was trained classically because I don't think I'd be able to sing his music, especially Phantom, without that training. Because this show is a one-woman show, it is very different than all of them and presents different challenges than any show I've been in. I'd say one very large similarity between Phantom and [this show] is that he writes a very powerful, intelligent and complex woman in each show.
SJM: What was it like to star in Broadway's longest-running show ever?
JU: It was such an honor to have the opportunity to play Christine. It was definitely a dream role of mine and I feel so fortunate to have had that experience. I'm so grateful that I was able to apply my classical training in both voice and dance into such an iconic show. It is a very challenging and demanding role and I feel like I learned so much about myself as a performer and was able to grow so much during that time. I will cherish my time spent at Phantomforever.
SJM: Are there any other dream roles you'd like to play?
JU: I'd love to play Maria in West Side Story again someday. Of course, the little girl in me would love to be any Disney princess or Anastasia. I love the classics like Rodgers and Hammerstein, or Lerner and Loewe. I've yet to tackle any [Stephen] Sondheim roles and that's definitely a dream of mine. I'm pretty much open for anything that may come my way.
SJM: Do you feel any pressure with these large roles at such a young age?
JU: There is pressure no matter what size the role is, but I have learned to be inspired by that and to use it as motivation to try and be the best performer I can be. My body is my instrument, so the biggest challenges come with keeping myself healthy so that I am able to do my job.
SJM: What is it like being back home in South Jersey and what do you do in your free time?
JU: Spending time with my family, friends and my dog is my favorite thing to do in my free time. … I just love being at home and being able to spend time with my niece and nephew who live close by. I will also never get sick of home-cooked meals by my mom.
Published (and copyrighted) in South Jersey Magazine, Volume 15, Issue 1 (April 2018).
For more info on South Jersey Magazine, click here.
To subscribe to South Jersey Magazine, click here.
To advertise in South Jersey Magazine, click here