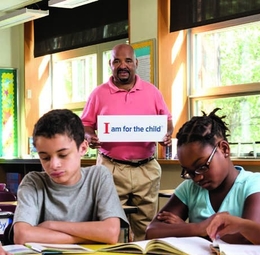 Volunteering a Voice
CASA of Camden County is advocating for the best interests of children who are victims of abuse and neglect.
Every child deserves to have a home where they feel safe, loved and nurtured—and to have that home be permanent. But that reality is not something that every child experiences—even in South Jersey. It's reported that a child is abused or neglected every 35 seconds in the United States, and there are 73 child abuse/neglect investigations for every 1,000 children under 18 every year in Camden County alone.
CASA of Camden County is making it their mission to change these statistics and give underprivileged children a home they deserve.
A nonprofit 501(c)(3) organization, CASA (Court Appointed Special Advocates) is dedicated to serving children in our area who have been removed from their homes as a result of abuse and/or neglect since 2003. Working on behalf of the Camden County Family Court System, CASA's volunteers work one-on-one with these children to ensure their best interests are a priority and that their voices are heard.
"Our only interest is the child's best interest," says Executive Director Jonathan Cummings. "The vision for CASA in New Jersey is that all [of the] children [in] New Jersey who have been removed from their families because of abuse or neglect are served by a qualified, well-trained court appointed special advocate."
These advocates aren't people who are hired with an employment opportunity or paycheck in mind; they are trained volunteers who are appointed by family court judges for the sole reason of wanting to make a difference in these children's lives and in their community. To become an advocate, individuals must complete an application and provide three personal or professional references, undergo a criminal background check complete with fingerprints, be interviewed by a CASA staff member, complete 30 hours of training and then be sworn in by a judge.
"[Court appointed special advocates] make sure that these children receive the services they need, that they are not moved from home to home and that they find a safe, permanent home as quickly as possible," says Cummings. "You don't need any special skills to be a CASA volunteer, just the desire to help children. Training from professionals in the legal and child welfare fields is provided, and you will have the complete support of your CASA program."
Ultimately, Cummings says the CASA volunteer advocates for the child to be placed in a safe, permanent home as quickly as possible. CASA is the only recognized program by the court that can provide these services to children in out-of-home placement.
Once appointed, volunteers will advocate on behalf of their assigned children and help provide them with a voice. CASA benefits resource parents, kinship legal guardians, biological parents and many others by ensuring they are handling the case with an informed and unbiased point of view.
Specifically, being an advocate means meeting with the assigned child and everyone who is important in their life to gather information, review relevant records and prepare a report for the court. These reports will outline recommendations based on each child's circumstances. Each child is different and so are their circumstances, so these reports will help the judges make a well-informed decision for each individual child with their best interests in mind. Volunteers will also make recommendations for services needed to help the child grow and thrive while in care.
"According to statistics from the Center for the Study of Social Policy in their role as the federal monitor of the class action lawsuit Charlie and Nadine H. v. Christie, 12 percent of children who exited care to be reunified with parents, or placed with relatives, reentered the child welfare system within one year," says Cummings. "However, statistics from the Department of Children and Families indicate that only 4 percent of children who had a CASA volunteer re-entered within one year."
CASA benefits the community by helping children achieve permanency more quickly than cases where they are not involved—in turn, saving taxpayer dollars.
On an emotional level, CASA volunteers provide comfort for the children in knowing that they are the same friendly face they will see for the duration of the case—there won't be multiple volunteers.
"Many times resource parents, Department of Child Protection and Permanency workers and law guardians can change multiple times during the [time frame that] the child is in a out-ofhome placement," explains Cummings. "CASA volunteers provide the consistent adult presence that is critical to children in these vulnerable situations."
To become an advocate for children or learn more about CASA of Camden County, please visit CASAOfCamdenCounty.org or call (856) 361-7180.
Published (and copyrighted) in South Jersey Magazine, Volume 15, Issue 1 (April 2018).
For more info on South Jersey Magazine, click here.
To subscribe to South Jersey Magazine, click here.
To advertise in South Jersey Magazine, click here