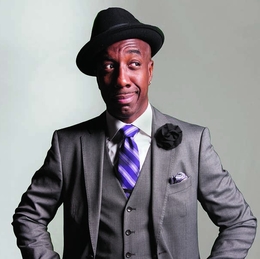 Smoove Moves
Like a rolling stone, Curb Your Enthusiasm's JB Smoove gathers no moss.
JB Smoove has little in common with Leon Black, the character he plays on HBO's Curb Your Enthusiasm. Whereas the finely dressed Smoove radiates thoughtfulness and worldly humor, the lovable Black is crass and confrontational. Those stark differences aside—or, more likely, because of them—Smoove decided to write an adults-only book of life advice in his Curb character's voice. The Book of Leon: Philosophy of a Fool, authored by Black "as told to JB Smoove and Iris Bahr," hit bookstores late last year.
Smoove—born Jerry Angelo Brooks—has his hands in a lot more than just his TV and film work: He has an apparel line that bears his name; he's a pitchman for the likes of Crown Royal flavored whisky; and he's become a welcome voice on the stand-up comedy circuit. Speaking of, he will "bring the ruckus" back to South Jersey on April 7, when he will take the stage at The Music Box at Borgata in Atlantic City.
We caught up with Smoove to discuss his friendship with Curb creator Larry David, Leon Black's penchant for giving "good bad advice" and the value of improvisation.
What made you want to write this book? Or should I say: What made Leon Black want to write this book?
At first I was going to do a JB Smoove book. Then I said, "I wish I could write a Leon book," but I don't own the character. I was on set one day with Larry, and I told him about it and he said, "Awesome, you should write a Leon book. That's what you should do." So I told him I'd have my people call HBO and make that happen. Larry was talking heavy smack, saying, "You should take all your [B.S.] and put it in your book," so that's what I did, and that part even made its way into the dedication.
What's fun about the book is that it's not written over Leon's head. It's everything you love about Leon, and it comes across very directly. I consciously wanted to write it as if you're Larry and I'm talking to you as Leon, giving real good bad advice, because people love it when Larry and I interact.
Is it easier writing the book in character versus writing as yourself?
The character gets away with things I can't get away with, so it's cool being able to step away from yourself. I've been doing the character of Leon Black for four seasons, so it became easier to write in that character's voice. But it's a much different book than if I were to write a JB Smoove autobiography, where I tell you everything about my life and what I've done. But I even think my next book might be another Leon book, possibly Allow Me to Elaborate.
You use the phrase "good bad advice" to describe Leon's musings. Tell me one important life lesson you think people can learn from Leon.
Everything in that book is good advice.
There's a lot of confidence in Leon, even hubris. How similar is Leon to JB?
Leon has confidence, but it's limited to a certain amount of things. There's a lot of Leon in JB, but there's no JB in Leon; he doesn't have the sensitivity. That's why he's so good for Larry. When Larry doesn't know what to do and he needs another person's opinion other than Jeff [Garlin] or Cheryl [Hines] or Richard Lewis, he knows he can get a different perspective from Leon, and he knows it's good bad advice. He's the guy you take with you to break up with a girl. But if you've already got it all figured out, you don't listen to Leon or he'll ruin your life.
Curb Your Enthusiasm returned for season nine last year following a five-year hiatus. Were you happy with what Leon and his buddy, Larry, have been up to?
When I do Curb, I go to the set, shoot my scenes and leave. I'm a real fan of the show, and I was before I joined the show, so I don't like to know what's happening. We end up doing a lot of different takes, so I don't ever know what Larry's going to use. It's always a surprise to see what comes across, how the puzzle comes together. I don't even know who's on the show; at the wrap party, I had no idea of the level of special guests for the season. I saw Damon Wayans Jr., and I had no idea he was going to be on—and he's a friend of mine!
Aside from Curb, the book and your stand-up dates, anything else you're currently working on we should know about? I've got a lot of cool stuff going on— Curb, the book, my clothing line, the Crown Royal campaign—and I'm always waiting to see what's next for me, 'cause, man, it's a great escape from the madness going on. I always say, you plan the destination but improvise your journey.
Published (and copyrighted) in South Jersey Magazine, Volume 14, Issue 12 (March 2018).
For more info on South Jersey Magazine, click here.
To subscribe to South Jersey Magazine, click here.
To advertise in South Jersey Magazine, click here.